Sadiq Khan: Regulation must catch up with tech innovation
London mayor calls for governments to stop "sitting on their hands"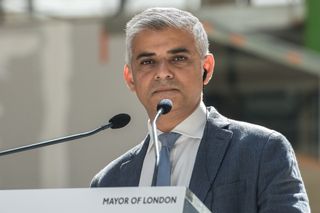 London mayor Sadiq Khan is set to call for sweeping regulatory changes today in order to stop large, multinational tech companies from thinking they are 'above the law'.
Speaking at the South By Southwest (SXSW) conference in Austin, Texas, Khan will remind officials and governments that "rather than blaming companies for innovating ahead of regulation, politicians must fix things when the regulation is out of date," and that the goal should not be to slow down innovation but to ensure that the undesirable impacts of disruption are minimised.
Khan will single out Uber - which had its operating license revoked after it ran afoul of Transport for London's regulators - saying that the company "must play by the rules", and warning that the sharing economy, if left unchecked, could lead to workers' pay and rights being eroded.
The Labour politician is also expected to excoriate politicians for allowing tech firms to have free reign rather than updating legislation to keep pace with technical advancements.
"The onus for change should not just be on tech companies and innovators," he is expected to say. "One of the biggest problems over the last few years is that politicians and governments have just been passive - sitting on their hands - while the tech revolution has happened around them.
"There's been a dereliction of duty on the part of politicians and policymakers to ensure that the rapid growth in technology is utilised and steered in a direction that benefits us all."
Hate speech and fake news have been rife on social media, with Twitter revealing Russian bots retweeted Donald Trump tweets 500,000 times in the run up to the US election, while the government has considered imposing a levy on tech giants in a bid to combat online abuse.
"There's been a failure to ensure that our economies and our regulatory structures are prepared and relevant," Khan will add. "It must ultimately fall to government - working with tech businesses and leaders - to ensure that this revolution is not detrimental to our long-term progress."
Among the other topics covered by the mayor's wide-ranging speech will be the need for social media companies to do more to combat abuse, hate speech and misinformation and how cities can take the lead in the tech revolution.
Khan is in the US in order to promote London's thriving tech scene, meeting with business and IT leaders, investors and government officials. Aside from a keynote speech at SXSW - a first for a British politician - Khan will also be trying to drum up support for his #BehindEveryGreatCity campaign in support of female achievements and gender equality.
"My message today to other cities - and to global tech leaders - is that, collectively, we must do more to champion greater inclusivity within in the tech community," he will say. "It's not only the right thing to do, evidence shows that it's good for business too."
Picture: Shutterstock
A daily dose of IT news, reviews, features and insights, straight to your inbox!
Adam Shepherd has been a technology journalist since 2015, covering everything from cloud storage and security, to smartphones and servers. Over the course of his career, he's seen the spread of 5G, the growing ubiquity of wireless devices, and the start of the connected revolution. He's also been to more trade shows and technology conferences than he cares to count.
As reviews and community editor, he's responsible for leading IT Pro's wide-ranging product coverage, and is an avid follower of the latest hardware innovations. He's never happier than when tinkering with complex network configurations, or exploring a new Linux distro.
In addition to managing the IT Pro Panel and working with the community of IT leaders that make it up, he co-hosts the IT Pro Podcast, where you can hear him ranting about his love of strange gadgets, his disdain for Windows Mobile, and everything in between.
You can find Adam tweeting about enterprise technology (or more often bad jokes) @AdamShepherUK, or you can email him at adam.shepherd@futurenet.com.
A daily dose of IT news, reviews, features and insights, straight to your inbox!
Thank you for signing up to ITPro. You will receive a verification email shortly.
There was a problem. Please refresh the page and try again.