Media and telco consortium calls for social media regulation
Companies including Channel 4, BT and the BBC urge the government to place firms like Facebook under greater oversight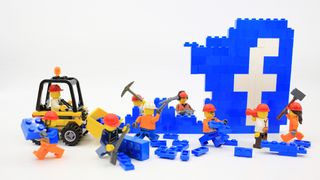 Social media firms should be subjected to oversight by an independent regulatory authority, Britain's top media bosses and telecoms firms have told the government.
In a letter to The Sunday Telegraph, the heads of Sky, BT, Talk Talk, ITV, Channel 4 and the BBC all banded together to demand that tech firms like Facebook and Twitter are placed under greater scrutiny. The group voiced concerns that social networks have the potential to do harm in a number of ways, including allowing the spread of misinformation and fake news, allowing child exploitation and negatively impacting their mental health.
"There is an urgent need for independent scrutiny of the decisions taken, and greater transparency," the letter read. "This is not about censoring the internet, it is about making the most popular internet platforms safer, by ensuring there is accountability and transparency over the decisions these private companies are already taking."
The letter also made a point of highlighting that its signatories pay "high and fair levels of tax" - something that tech companies are repeatedly accused of shirking - and that they also invest heavily in UK infrastructure. Furthermore, they pointed out that they are all subject to communications watchdog Ofcom's regulatory authority, which social media firms are not.
Ofcom chief executive Sharon White has also joined the call for higher regulation of these companies, stating in an editorial for The Times earlier this year that "that the argument for independent regulatory oversight of their activities has never been stronger", and promising to outline what Ofcom thinks that regulation should look like in the Autumn.
Social media companies have been placed under an increasing amount of pressure from governments and advocacy groups worldwide over their seeming inability to effectively moderate their platforms. Campaigners have highlighted issues including hate speech, terrorist recruitment and covert influence by countries such as Russia and Iran as examples where Facebook and Twitter have failed to take adequate action.
Social media bosses are set to be grilled by US lawmakers this week over foreign government influence, but Facebook founder Mark Zuckerberg has regularly turned down requests to testify before Parliamentary inquiries regarding misinformation.
The government has pledged to draw up a white paper on the issue of social media, focusing particularly on online safety. The white paper is due to be published at the end of the year, and media and telco bosses say that it offers a "golden opportunity" to hold firms like Facebook and Twitter to account.
Get the ITPro. daily newsletter
Receive our latest news, industry updates, featured resources and more. Sign up today to receive our FREE report on AI cyber crime & security - newly updated for 2023.
Adam Shepherd has been a technology journalist since 2015, covering everything from cloud storage and security, to smartphones and servers. Over the course of his career, he's seen the spread of 5G, the growing ubiquity of wireless devices, and the start of the connected revolution. He's also been to more trade shows and technology conferences than he cares to count.
Adam is an avid follower of the latest hardware innovations, and he is never happier than when tinkering with complex network configurations, or exploring a new Linux distro. He was also previously a co-host on the ITPro Podcast, where he was often found ranting about his love of strange gadgets, his disdain for Windows Mobile, and everything in between.
You can find Adam tweeting about enterprise technology (or more often bad jokes) @AdamShepherUK.
Get the ITPro. daily newsletter
Receive our latest news, industry updates, featured resources and more. Sign up today to receive our FREE report on AI cyber crime & security - newly updated for 2023.
Thank you for signing up to ITPro.. You will receive a verification email shortly.
There was a problem. Please refresh the page and try again.