Kaspersky blasts Amazon's indoor drone as a 'major security risk'
The IoT device could be used by hackers to locate valuables and map out routes through a home, researchers warn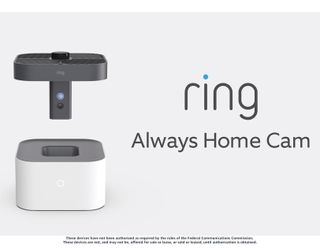 Amazon's newly launched smart home security drone presents a "whole new wave of cyber security risks", according to Kaspersky.
Researchers at the security firm have warned that if the technology is compromised it could give hackers a map of a user's home and access to sensitive data, including bank details.
The flying camera drone, 'Always Home', is the latest product from Amazon's Ring division. It's a black device that sits in a white docking station that launches when something or someone sets off any home sensors.
The drone is controlled via a smartphone and is capable of capturing images which are then sent to the controlling device.
Kaspersky researchers claim it's this functionality that has the potential to be used against the consumers who buy it.
"The development of unmanned security drones presents a whole new wave of cyber security risks," said David Emm, principal security researcher at Kaspersky. "If hacked, this smart technology could provide cybercriminals with a complete map of an individual's home – including the location of valuable items and possible access points to the house.
"The linked smartphone is also vulnerable to attack. If the connection between the drone and phone is compromised, then hackers can gain access to the individual's sensitive data, including contact and banking details."
Emm suggests that anyone considering buying the miniature security drone, or any smart device for that matter, should take steps to improve security, such as changing any default passwords, using WPA2 encryption on home routers and enabling automatic updates.
RELATED RESOURCE
The state of data protection and cloud
The challenge of providing effective enterprise data protection
There have been a number of reports of Amazon IoT products being hacked, or at least found to have vulnerabilities, over the past year. In November 2019, researchers found an exploit in the Ring doorbell that allowed hackers to intercept Wi-Fi passwords in clear text.
Early in 2020, it was revealed that some hackers could gain access to user voice history via an Alexa subdomain attack. This was an exploit of a cross-origin resource sharing misconfiguration.
A daily dose of IT news, reviews, features and insights, straight to your inbox!
Bobby Hellard is IT Pro's reviews editor and has worked on Cloud Pro and Channel Pro since 2018.
In his time at IT Pro, Bobby has covered stories for all the major technology companies, such as Apple, Microsoft, Amazon and Facebook, and regularly attends industry-leading events such as AWS Re:Invent and Google Cloud Next.
Bobby mainly covers hardware reviews, but you will also recognise him as the face of many of our video reviews of laptops and smartphones.
He has been a journalist for ten years, originally covering sports, before moving into business technology with IT Pro. He has bylines in The Independent, Vice and The Business Briefing.
Contact him at bobby.hellard@futurenet.com or find him on Twitter: @bobbyhellard
A daily dose of IT news, reviews, features and insights, straight to your inbox!
Thank you for signing up to ITPro. You will receive a verification email shortly.
There was a problem. Please refresh the page and try again.