Remote workers swap commute for productivity
The UK government might find it difficult to encourage employees to return to their offices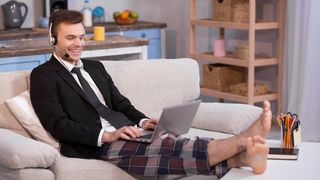 More than half (60%) of small business employees who are working from home due to the pandemic are using the time they would be spending on their commute as work time, a new study by Vodafone has found.
According to the research, which was conducted by Atomik Research and surveyed 1,003 UK adults from SME companies, 40% of employees who are working from home have put in an average of 642 additional hours, equal to 26 extra days, since lockdown began back in March.
A quarter (25%) of the surveyed homeworkers are also contributing to their local economy on a daily basis by swapping major coffee retailers such as Starbucks or Pret a Manger for smaller cafes and coffee shops.
According to Vodafone UK business director Anne Sheehan, "the Covid-19 pandemic has reshaped the working world, seemingly for the long-term".
"Workers are now contributing more where they live, and that will be a boost to local businesses during these difficult times," she said.
The report follows the UK government's campaign aiming to encourage employees to return to their offices and prevent city centres from becoming "ghost towns".
However, research conducted by Cardiff and Southampton Universities found that nine in 10 people in the UK who worked remotely during the pandemic want to continue to stay away from the office. Between 6,000 and 7,000 UK residents were questioned in the survey, with 88% saying they would like to continue working remotely in some capacity, with 46% wanting to do so often or all of the time.
According to the Evening Standard, the government might try to convince homeworkers to return to the offices by providing them with free bus and train credit, as using public transport systems and its potential health implications is believed to be one of the main factors driving employees away from coming back into the cities.
A daily dose of IT news, reviews, features and insights, straight to your inbox!
A daily dose of IT news, reviews, features and insights, straight to your inbox!
Thank you for signing up to ITPro. You will receive a verification email shortly.
There was a problem. Please refresh the page and try again.