Analytics trends VARs should be watching
Here are our top four channel-focused analytics predictions for the year ahead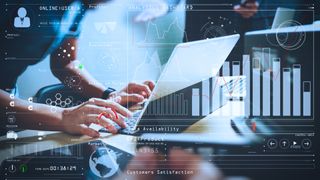 2016 is being touted as another year of significant change for the world of analytics, and one of serious opportunity for savvy resellers and VARs. The big data and analytics market already represents a fast-growing, multibillion-pound landscape, and recent IDC forecasts expect the sector to grow six times faster than the overall IT market through to 2018.
With businesses exploring new ways to capture, understand, and use their data, there are some critical focus areas that channel companies should be aware of for 2016.
1. Huge and diverse growth in analytics end-users
It's no longer news that the demand for data scientists is growing exponentially. In the US, 'operations analyst' is actually the fastest growing job category, and this is symptomatic of an impressive growth trajectory internationally.
Alongside the lack of data scientists, and perhaps partially influenced by it, the number of people across any given business who need to incorporate some form of analytics into their day is rocketing too. As a result, self-service analytics tools are enjoying a swell of interest, as organisations work to ensure that line-of-business users can also harness analytics for data-driven decisions.
This growth and diversification on the end-user side of the analytics equation will lead to two corresponding demands that VARs can capitalise on. For those organisations with dedicated data scientists, the need for more sophisticated, tailored solutions will continue to increase. At the same time, there will be a rise in training and support requirements, not just from the data science community, but from line-of-business users who face a pressing need to become fluent with self-service tools.
2. Movement towards predictive analytics in particular
The most recent Gartner Magic Quadrant for advanced analytics platforms estimates predictive analytics is a billion dollar market. Increasing awareness of, and appreciation for, the power of effectively analysed data has naturally driven businesses to examine whether they might be able to anticipate – rather than just measure – many of their business outcomes.
Every function in an organisation is now likely to have some level of interest in predictive analytics to improve their performance. According to a TDWI survey of senior management, you no longer need a degree in statistics, mathematics, or any other quantitative discipline to do predictive analytics. 74 per cent of the Business Intelligence (BI) and data warehousing executives surveyed say that the most important factor in predictive analytics is a thorough knowledge of the business. The missing link is having the right tools in place to run the analytics, driven by users who know the right questions to ask.
3. Spark goes mainstream
This year will see Spark leading the way with open source data. According to Cloudera's year in review for Apache, Spark is now the most popular Apache open-source project, with over 750 contributors from over 200 companies.
The benefits of Spark are numerous, running the gamut from performance to development, and when married with Hadoop the two can unlock some fascinating possibilities in numerous industries. As this growth accelerates through 2016, expect to see growing demand for unified Spark and Hadoop deployments from sectors including financial services, healthcare, retail, and advertising, amongst others.
4. Data gravity pulls analytics to the cloud
The requirements for analytics solutions in 2016 may well be extensive and diverse, but we can be sure we'll reach the tipping point for analytics in the cloud specifically. The last decade has seen the business world recognise the benefits of the cloud as a phenomenal business delivery platform, and data sources are increasingly moving to the cloud. As a result, analytics is also gravitating towards where the business data lies.
Organisations tend to deploy their analytics tools close to where their data is. This means that if enterprises are harnessing data sources like Amazon Redshift, Microsoft Azure, or Spark in the cloud, it makes sound business sense to opt for analytics tools that also work in the cloud. As 2016 will see an increase in cloud-borne data, analytics in the cloud will grow in parallel.
Even for businesses with the majority of their data on-premise, the rise of the mobile sales force means that multiple data sources still need to be blended, analysed and shared remotely, such as Salesforce data with on-premise SQL server data. Analytics tools that can live both on-premise and on the cloud can therefore keep businesses transparent and up-to-date in real time.
Overall, 2016 is set to be a formidable year for channel players within the analytics space. The type and functionality of tools in demand, combined with varying levels of sophistication from end users, will challenge consultation and deployment capabilities. It's a huge growth market, and it will be fascinating to see who successfully seizes the abundant opportunities.
Stuart Wilson is VP EMEA at Alteryx
Stay up to date with the latest Channel industry news and analysis with our twice-weekly newsletter
Stay up to date with the latest Channel industry news and analysis with our twice-weekly newsletter
Thank you for signing up to Channel Pro. You will receive a verification email shortly.
There was a problem. Please refresh the page and try again.