Creating clarity in a world of ERP confusion
According to Gartner, 75% of all ERP projects fail. Andrew Fox, MD at K3 FDS, examines why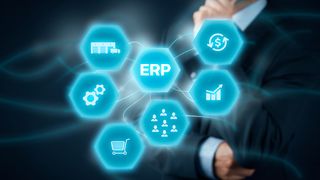 As 2013 draws to a close, businesses of all shapes and sizes are planning their business objectives for 2014 and the role that technology will play in getting them there.
This means now is the time for the channel to take stock and make its own resolutions – particularly when it comes to ERP. According to analyst firm Gartner, approximately 75 percent of all ERP projects fail, despite the industry's focus on delivering better customer service and advanced IT systems. But why?
In order to gain a deeper understanding of these frustrations, we commissioned independent research by Vanson Bourne, who specifically spoke to financial and IT decision makers from mid-sized businesses about the challenges they face implementing new ERP solutions.
The findings of which have helped me shape the following five resolutions for the channel to create clarity in a world of ERP confusion.
Hold the client's hand tightly during the first steps It seems that even before making a financial commitment, ERP decision-makers are struggling to understand the market and choose the right vendor or partner; over half of businesses (48 percent) admit they find the range of solutions confusing. They explain that the lack of industry standards makes it hard to compare solutions (50 percent) and that the level of flexibility the solution has is often unclear (50 percent). In turn, it seems that providers are muddying the waters with a lack of clarity about the costs (39 percent) and scheduling (35 percent) involved, leaving a third (33 percent) of businesses feeling unsure about the level of honest and transparent advice that is being offered.
It's no wonder that respondents spent an average of four months researching potential technology partners and conducting more detailed assessments on a selection of three vendors, only to find that just a quarter (26 percent) were confident they'd made the right choice.
Minimise the implementation drama Even though businesses spent a significant amount of time selecting their ERP partner, they admit they still had serious concerns about implementing the new system. Once the rollout had started they faced an array of financial, time-scale, functionality and resource issues. Over a quarter (28 percent) stated their ERP implementation was successful because it ran over budget (55 percent) and deadline (47 percent), there was a lack of transparency regarding the process involved (53 percent) and it was difficult for staff to adapt to the new processes (37 percent).
Communicate clearly A lack of transparency appears to be at the heart of things, with 71 percent believing that their reseller partner or vendor could be more transparent when it comes to the total cost of the project; while a third admit they are unsure about the level of honesty offered by their partners. Businesses are also exceeding their original budget by almost a fifth (18 percent), costing the average mid-market UK business an additional £76,000.
Go above and beyond As mentioned previously, our research showed that businesses feel confused about ERP before they even make a purchasing decision - which leaves a clear consultation gap for VARs to fill. Particularly as 55 percent also said they wanted ERP partners to have a thorough understanding of their business requirements.
By taking time to really get under the skin of a customer, a solution can become a strategic proposition - rather than just everyday infrastructure. When a customer's budget is cut by 25 percent, IT decision-makers will be looking at where to make savings and quantifiable ROI. Offering them real added value and consultation may tip the balance. Customer service should always be at the forefront of your mind. There's no substitute for human conversation!
Appreciate the simple things in life One of the answers to the overruns and overspends – more standardisation – may seem obvious, but many companies still insist on overly complex and unnecessary amendments to the core platform chosen. With the channel being an extremely competitive market, most ERP resellers are willing to try and deliver a bespoke ERP solution. However this is where they shoot themselves in the foot. When customisation increases, so does the cost and complexity of ERP projects, causing them to be delivered late and over budget. Therefore it makes sense to keep implementations as standardised as possible, focusing on the customisations that really add value.
Given ERP is one of the biggest IT investments businesses make, particularly for mid-size organisations, it's vital that the journey from supplier sourcing to end-users going live is a smooth one. A company's ability to see a return on an ERP project tends to depend on how quickly it can deploy a new system, and whether it's in line with what was promised at the outset. Any delay or overspend can have a massive impact.
These research results suggest that the industry still has a long way to go in delivering the transparency businesses need to ensure implementation success, and in turn, their business goals.
Stay up to date with the latest Channel industry news and analysis with our twice-weekly newsletter
Stay up to date with the latest Channel industry news and analysis with our twice-weekly newsletter
Thank you for signing up to Channel Pro. You will receive a verification email shortly.
There was a problem. Please refresh the page and try again.