The Rise of the SuperVAD
Exclusive Networks' Barrie Desmond explains the concept of the 'SuperVAD' - and why he thinks resellers should harness its power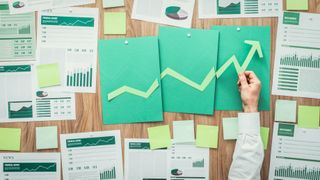 (Image credit: Shutterstock)
A great restaurant is almost always family owned, with the food cooked by someone with an indelible, authentic connection to the place it comes from. OK, so it's never situated in the best part of town, and the decor is never perfect. But the excellent service, like the cuisine, has its own je ne sais pas. Love, care and attention is what the owners and their staff provide; they take it so very seriously, and all for your benefit.
The specialist value-added distributor (VAD) could well be that restaurant, and it would be easy to compare it against the odious 'larger or broadliner' food-court palaces you find at 1990s shopping malls, airports and all-night motorway service stations. One will give you a thin spectrum of paradise; the other is 360 degrees of mediocrity. One gives you maximum value along a sole axis; the other caters for every taste to a minimal extent. And never the twain shall meet...
It has been a consistent failure of the IT industry to address the clear opportunity (and hunger) for something that meets the best of both these worlds. What about a specialist VAD, but one that's accomplished the commercial strength, logistical muscle and market reach to equal its industry leading service and personal attentiveness? Or a billion-dollar broadliner, able to demonstrate an uncommon level of service innovation, market making skills and technical intelligence that stretches to the same lengths as its credit-worthiness?
This is the definition of a SuperVAD, and it needs to exist in order to fill an unquenched gap in the market.
The attraction of the SuperVAD concept to vendors seems abundantly clear. Market development, and especially market entry, must be accomplished quickly, successfully and with minimal risk; hence why anyone with a high-potential, high-margin, disruptive new technology would ordinarily be extremely discerning when seeking out specialist help on a case-by-case basis across multiple territories. But we know that a 'many-arses-to-kick' model simply doesn't scale for vendors like this. To recall my restaurant analogy; they can't invest the risk or resource scouring Europe for 'local speciality bistros' any more than they'd favour the unsavoury prospect of going down market with a burger franchise. However a chain of some description is what we are looking at with a SuperVAD, albeit a good deal more 'Jamies' than 'Wetherspoons'.
Vendors aside, the more critical question is: what would a reseller want with a SuperVAD?
To arrive at an answer, the first thing to qualify is the nature of the solutions. We're not talking about servers here, or indeed any commoditised IT solution. No; resellers that eye the opportunity for more valuable yet shape-shifting technology can now afford to really think big where in the past they've thought 'niche'. And, as far as I'm concerned, that applies just as much to the larger, more mature and proven innovators like Kaspersky, Fortinet and Cisco Ironport as it does to newer market entrants such as Palo Alto, LogRhythm and Arista. Furthermore, as the reputation of SuperVADs grow, partners will get even faster access to the opportunities as the SuperVAD will be the first port of call for all disruptive technologies and start-ups.
Consider: what is a business technology solution becoming nowadays? It is far more likely than even to apply to a geographically distributed workforce and a cloud distributed IT architecture. That raises barriers to entry for resellers that don't have cross-border relationships for support, and lowers the barriers to entry for resellers who want to get it on big projects that don't no longer necessitate complex, bulky hardware installs. In other words, if you aren't thinking big then your competition will be. If they harness the power of a SuperVAD and you don't, then you'll either be left with less muscle in the market or less value-adding services. What's on the menu for you and your customers: The Fat Duck or Little Chef?
Barrie Desmond, group director, marketing and global accounts at Exclusive Networks
Stay up to date with the latest Channel industry news and analysis with our twice-weekly newsletter
Stay up to date with the latest Channel industry news and analysis with our twice-weekly newsletter
Thank you for signing up to Channel Pro. You will receive a verification email shortly.
There was a problem. Please refresh the page and try again.