SSD Grouptest: Crucial, Intel, Toshiba, Samsung and SanDisk
Super-charge your office life with an SSD. We test five of the best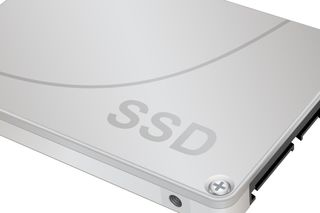 Solid-state storage is found in everything from smartphones and tablets to servers and workstations. Flash has become the dominant form of memory because it's faster than traditional spinning hard disks, more reliable, and prices have dropped dramatically.
Most new laptops and use SSDs as standard or at least have a hybrid HDD/SSD combination. Flash memory can also inject life into existing systems. Upgrading your office PC or laptop with an SSD can improve boot times by up to 3x when compared to traditional hard disks. Applications will also load faster, and laptop battery life may benefit as SSDs use less power than hard disks.
We rounded up five of the best drives on the market to find out which are the most tempting options whether you're looking for speed or value.
Our benchmarking procedure tested every aspect of these drives to find the best performer. Applications including AS SSD and CrystalDiskMark were used for a variety of tests. We measured sequential read and write benchmarks to evaluate raw pace, and we and test each SSD's 512KB and 4KB file abilities perfect for identifying strengths and weaknesses with medium- and small-sized files.
Atto Disk Benchmark was deployed to test the read and write pace of each drive across a wider gamut of file sizes. Our final test, IOMeter, measured how each drive handled a variety of workloads over long periods of time an important ability for an office SSD. Each test was run for 30 minutes.
Warranties
The Samsung and SanDisk drives lead the way in warranties, with 10-years of coverage included with each SSD.
Intel's drive is backed by a 5-year deal, and the Crucial and Toshiba drives are only covered for 3-years.
The Contenders
Samsung 850 Pro
This is the newest drive and most innovative drive on test as it uses a 3D V-NAND design. This technology makes a major change to the structure of the transistors used deep inside the silicon to create memory chips.
Transistors in this SSD are stacked vertically instead of horizontally. The design allows Samsung to cram in more transistors and aim for higher capacities without the squeeze on size that causes electrical leaks and inefficiencies in previous drives.
Elsewhere, the triple-core MEX controller is last years chip, but is a little faster. The slick black chassis uses a slim 7mm form factor.
Samsung's 3D V-NAND innovations aren't cheap: the 512GB drive we tested cost 276, or 54p per gigabyte, making it the most expensive SSD.
SanDisk's Extreme Pro
Another high-end drive, the Extreme Pro is built using 19nm MLC NAND borrowed from Toshiba's faster drives. It's controlled by a Marvell 88SS9187 chip, a piece of hardware in use since 2012, but SanDisk has given it a boost with Custom firmware.
The 480GB sample cost 250, or 52p per gigabyte.
Toshiba's Q Series Pro
Toshiba is secretive about the hardware inside its SSDs. The firm uses 19nm MLC NAND made in-house, and also produces its own controllers but doesn't divulge details. The drive uses the slim 7mm form factor, and their studded metal exterior is ugly.
The 256GB Toshiba drive cots 105, or 41p per gigabyte.
Intel 2500 SSD
The Intel 2500 Series SSD is built using 20nm MLC NAND and uses an unremarkable SandForce SF-2281 controller, which has been around for a couple years. Intel hopes to add value with business-friendly features like vPro and a software tool that allows for remote drive management.
This drive also uses Opal 2.0 and eDrive encryption, but that's also available on the Samsung and the Crucial MX100. Toshiba and SanDisk omit this feature from their drives.
Pricing for the 256GB drive starts at $174 (103) or 43p per gigabyte.
Crucial MX100
Crucial's 256GB MX100 costs just 80, or 31p per gigabyte and includes encryption. It's the cheapest drive here, but it also uses 16NM NAND that's manufactured by Crucial's parent company, Micron.
The budget price tells when it comes to endurance. The MX100 is rated for 72TB, only higher than the 36.5TB rating of the Intel drive. Other SSDs promise longevity: the SanDisk is rated for 80TB, and the Samsung for a mighty 150TB. Typically, Toshiba keeps quiet about those figures.
Get the ITPro. daily newsletter
Receive our latest news, industry updates, featured resources and more. Sign up today to receive our FREE report on AI cyber crime & security - newly updated for 2023.
Mike Jennings has worked as a technology journalist for more than a decade and has been fascinated by computers since childhood, when he spent far too long building terrible websites. He loves desktop PCs, components, laptops and anything to do with the latest hardware.
Mike worked as a staff writer at PC Pro magazine in London for seven years, and during that time wrote for a variety of other tech titles, including Custom PC, Micro Mart and Computer Shopper. Since 2013, he's been a freelance tech writer, and writes regularly for titles like Wired, TechRadar, Stuff, TechSpot, IT Pro, TrustedReviews and TechAdvisor. He still loves tech and covers everything from the latest business hardware and software to high-end gaming gear, and you'll find him on plenty of sites writing reviews, features and guides on a vast range of topics.
You can email Mike at mike@mike-jennings.net, or find him on Twitter at @mikejjennings
Get the ITPro. daily newsletter
Receive our latest news, industry updates, featured resources and more. Sign up today to receive our FREE report on AI cyber crime & security - newly updated for 2023.
Thank you for signing up to ITPro.. You will receive a verification email shortly.
There was a problem. Please refresh the page and try again.