Techspace expansion fueled by demand from UK start-ups
Continued entrepreneurial interest results in mammoth growth for London's tech co-working scene.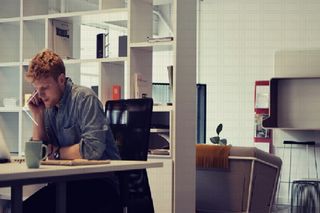 Techspace London, which provides dedicated co-working space for the UK tech start-up community, has confirmed plans to expand its presence by 25 per cent.
This will mean it can open its doors to a total of 50 innovative tech seedlings or fully-fledged IT-focused companies in the Old Street area, and equates to 300 per cent growth since its foundation in 2013. It is currently home to 35 start-ups at various stages of financing.
The shared workspace sees entrepreneurs working alongside like-minded individuals, backed by high-speed internet connectivity, in a flexible leasing set-up that represents a low-risk and low-cost, but high-value proposition, according to Techspace.
"We are seeing an actual demand from member companies growing and needing more space, as well as interest from non-members wanting to come into Techspace. These are mainly technology start-ups looking for easy and flexible office space without long term leases," David Galsworthy, co-founder of Techspace.
"We have been at capacity for some time and we would like to be able to house more start-ups who have expressed interest."
The co-working space's ambitious growth plans don't stop here. It aims to have a 200-strong community in the area by March 2014.
"We will definitely look to grow our presence in the Old Street area, and more widely across other areas of London within the next 24 months," Galsworthy added.
"Getting the basics right of not overcrowding the space, a solid internet and good location has really helped to create a very happy community. Also, as most of our start-ups are at a similar point in their growth path, having secured an angel or first round of investment, they are able to meaningfully collaborate with one another which brings real quality to networking at Techspace.
"What has evolved is the strength of the Techspace community around this, and our daily interaction with our members has led us to pinpoint common requirements, and provide them with additional services. We offer advice and resources on a range of relevant issues, including accounting, marketing and PR, finance and legal."
A daily dose of IT news, reviews, features and insights, straight to your inbox!
Maggie has been a journalist since 1999. She started her career as an editorial assistant on then-weekly magazine Computing, before working her way up to senior reporter level. After several years on the magazine, she moved to 'the other side of the fence' to work as a copywriter for a marketing agency, writing case studies and working on ad and website copy for companies such as eBay, Dell, Microsoft and more. In 2006, just weeks before IT Pro was launched, Maggie joined Dennis Publishing as a reporter. Having worked her way up to editor of IT Pro, she was appointed group editor of Cloud Pro and IT Pro in April 2012. She became the editorial director and took responsibility for Channel Pro, in 2016. Her areas of particular interest, aside from cloud, include management and C-level issues, the business value of technology, green and environmental issues and careers to name but a few.
A daily dose of IT news, reviews, features and insights, straight to your inbox!
Thank you for signing up to ITPro. You will receive a verification email shortly.
There was a problem. Please refresh the page and try again.