Things to see and do in New York
We explore what New York has to offer business travellers in the second of our City Guide series...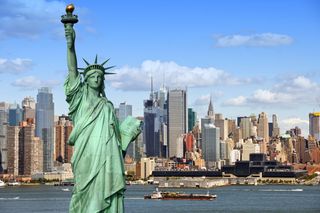 Why New York City?
New York City is filled with things to see and do. According to Forbes, New York City is number 71 in terms of the best places in the world to visit for business and working life. Forbes also states: "New York City exerts a significant impact upon global commerce, finance, media, art, fashion, technology and entertainment, and is often referred to as the City That Never Sleeps'."
The United Nations Headquarters is located in New York, making the city a vastly important location for international affairs.
The city has a metro population of 11,855,900 and is considered by some to be the cultural capital of the world. Its top industries are media, communications, technology, and financial services.
New York is home to people from around the globe. It is a real hub of diversity and culture. Furthermore, it is one of the most visited cities in the world, and one of the most iconic cities in the world.
How to get there
New York offers a variety of options for traveling to and from the city. The main three airports that take you to New York are John F Kennedy International Airport (JFK), La Guardia Airport (LGA), and Newark Liberty International Airport (EWR). JFK and Newark are primarily used for international flights, whereas LGA is mainly used for domestic travel. Both JFK and LGA are located in the borough of Queens, whlile EWR is located in New Jersey, just outside of the city.
Once you have landed at one of these airports, you're presented with multiple options to get into the city. If you are traveling to JFK and want a cheap way to get into the city centre, the easiest way to do this is to take JFK's AirTrain. The AirTrain costs around $5 and will take you to trains A, E, J, and Z on the New York Subway, or to the Long Island Railroad (LIRR). Both of these options will take you to either Brooklyn or Manhattan.
To get to the city from LGA without much expense, the best option is to pay for a MetroCard. For just $2.50 you can take the Q70 bus to the Subway. You'll want to go to the Jackson Heights-Roosevelt Avenue station. You can use your MetroCard or pay with exact change and, once you've arrived at Jackson Heights, you can then transfer to a variety of trains, which will transport you to many locations in Manhattan and Brooklyn.
If you are traveling from EWR, you should take the AirTrain Newark. It is a type of light rail system and it will take you to Newark Liberty International Airport Station. You can then take either the New Jersey Transit or the Amtrak (which is more costly) to get to New York City's Penn Station.
You can also get a yelllow cab from all of these airports, however, that will be far more expensive than the alternative options listed above.
Getting around
New York City has a multitude of options when it comes to local transportation. Two of the major options are the Subway and the buses and both are fairly cheap to use. They cost $2.75 for a single-ride or $2.50 for each ride if your buy a MetroCard. A MetroCard is a plastic card with a magnetic strip. It costs $1 to purchase one, after which you refill it as you need. If you plan on riding the Subway more than 11 times, you should definitely pay $30 and get the seven-day unlimited-ride MetroCard.
If you have more time on your hands and want a good view of the city, taking the bus is a great option. If you're a little more pressed for time, the Subway is definitely a better choice.
Taking a taxi is also another good option, but they can be pretty expensive and hard to get a hold of during busy times of the day. Although, if you are willing to pay extra and it is not rush hour, taking a cab will normally get you to where you want to go pretty quickly.
Walking is also definitely one of the best options for getting around New York City. It doesn't cost anything, it's good exercise, and you get to see some beautiful sights. New York is meant to be walked. Walking is extremely efficient and can often be the quickest way to get around if traffic is particularly heavy.
Should I tip?
It is expected of you to tip not only in New York City, but in all of the US. If you do not tip, people will think you are rude and very cheap. The only time when it is acceptable to not tip - at establishments where tipping is expected - is if they gave you particularly bad service.
Tips are expected in certain situations in the US because jobs that provide services often do not pay the best wages. As such, giving a decent tip is considered proper etiquette in the States.
There are many different situations where tips are expected: taxi drivers, bellhops, hotel maids, doormen, waiters, bartenders and, sometimes, hotel concierges. A good rule of thumb for New York is to tip just about anyone whose job involves some kind of service.
Waiters and taxis drivers usually get a tip around 15 to 20 per cent of the total bill. At high-end restaurants, 20 per cent or more is more customary. Bellhops, doormen, and taxi drivers should usually get $2 minimum. Hotel maids should get $2 as well, but they should get a tip every day of your stay at the hotel. If a concierge does something for you then the tip can depend on the service that you have asked of them. Finally, bartenders should get $1 or $2 for each drink that you order. Keep in mind that similar to waiters bartenders also make a majority of their living from tips.
Get the ITPro. daily newsletter
Receive our latest news, industry updates, featured resources and more. Sign up today to receive our FREE report on AI cyber crime & security - newly updated for 2023.