National Lottery apologises after social media initiative backfires
Users exploit Twitter stunt to leave messages like "Justice for Saville"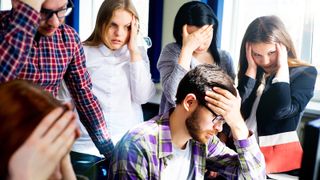 The National Lottery has issued an apology after a social media stunt on Twitter backfired spectacularly, resulting in the charity's official account inadvertently tweeting offensive messages.
As part of The National Lottery's sponsorship of the World Athletics Championships in London, the company ran a social media campaign whereby users that retweeted certain messages would be greeted by one of Team GB's athletes holding signs thanking them for their support.
However, users of the social network were baffled as British athletes such as Tom Bosworth and Sophie Hitchon were pictured holding signs bearing slogans including "Bolt's a roid head" and "Justice for Saville" (sic).
Early analysis indicates that the system worked by taking the Twitter display name of users that retweeted a given tweet, and digitally adding it to the boards held by the athletes.
However, it appears that Twitter's more mischievous users quickly realised that the integration would do this regardless of the content of an account's display name, and started exploiting this in order to force the account to spread distasteful and offensive messages.
A public apology stating it was "hugely sorry for any offence caused" was posted on Twitter and the posts in question were deleted.
IT Pro contacted Camelot for comment and was issued the following statement: "We are aware that some people were maliciously targeting our British Athletics Twitter campaign overnight on Monday 14 August with offensive and abhorrent content. We have disabled the campaign, deleted the inappropriate tweets from our feed and are continuing to look into exactly what happened. We are hugely sorry for any offence caused to our players, the athletes concerned and British Athletics by this deliberate act."
Many have criticised the organisation for not thinking the stunt through thoroughly enough, saying the charity should have more closely moderated the content generated by users.
The incident is not the first case of a company landing itself in hot water by letting social media users have a say over something. A poll to let fans name a new flavour of Mountain Dew infamously resulted in the top spot being claimed by the name "Hitler did nothing wrong" - although the company eventually went with 'Apple' instead.
A daily dose of IT news, reviews, features and insights, straight to your inbox!
Adam Shepherd has been a technology journalist since 2015, covering everything from cloud storage and security, to smartphones and servers. Over the course of his career, he's seen the spread of 5G, the growing ubiquity of wireless devices, and the start of the connected revolution. He's also been to more trade shows and technology conferences than he cares to count.
As reviews and community editor, he's responsible for leading IT Pro's wide-ranging product coverage, and is an avid follower of the latest hardware innovations. He's never happier than when tinkering with complex network configurations, or exploring a new Linux distro.
In addition to managing the IT Pro Panel and working with the community of IT leaders that make it up, he co-hosts the IT Pro Podcast, where you can hear him ranting about his love of strange gadgets, his disdain for Windows Mobile, and everything in between.
You can find Adam tweeting about enterprise technology (or more often bad jokes) @AdamShepherUK, or you can email him at adam.shepherd@futurenet.com.
A daily dose of IT news, reviews, features and insights, straight to your inbox!
Thank you for signing up to ITPro. You will receive a verification email shortly.
There was a problem. Please refresh the page and try again.