Top 10 social media slip ups
After a juror gets in trouble for contacting a defendant over Facebook, we look at some notable social media snafus.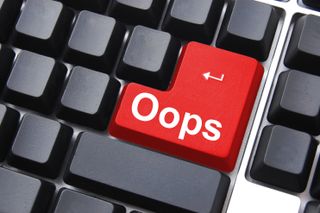 This week, we've seen a certain Facebook member getting themselves involved in a contempt of court investigation.
We've also seen the Ministry of Defence (MoD) warning everyone about posting potentially risky messages on Twitter.
Both have served to highlight a point all businesses should now recognise: people post things on social networks that can damage a company.
Workers themselves should note they risk their livelihoods by putting certain content on the web. If you have a problem with your employer, either air it with them directly or be discreet.
To highlight what dangers await risky social media hounds, we've put together our top 10 Twitter and Facebook gaffes.
10. CNN editor fired over Twitter "respect" comment
This was a fairly controversial one when it came to a head in July last year.
Veteran Middle East editor Octavia Nasr was given the sack for saying she "respected" a late Lebanese cleric, who was believed to have inspired Shia Muslim militant group and political party Hezbollah.
Nasr admitted her tweet about Grand Ayatollah Mohammed Hussein Fadlallah was an "error of judgement."
Here was Nasr's comment: "Sad to hear of the passing of Sayyed Mohammad Hussein Fadlallah... One of Hezbollah's giants I respect a lot."
Following the tweet, Nasr had some rather wise comments, delivered via her own blog: "Reaction to my tweet was immediate, overwhelming and provides a good lesson on why 140 characters should not be used to comment on controversial or sensitive issues, especially those dealing with the Middle East."
9. Inspiring ire via Twitter
We've all seen arguments erupt over Twitter and often comments via social media sites can have a profound real-world effect.
This was epitomised in May 2010 when the Unite union and British Airways held discussions over strike action. Unite joint leader Derek Simpson decided it would be a good idea to send tweets informing people how the talks were progressing.
An infuriated BA chief executive (CEO) Willie Walsh went on the BBC's Andrew Marr show to let people know what he thought about Simpson's tweeting.
"Sending out his version of events to the wider audience, that really did undermine my confidence in his desire to resolve this situation," Walsh said.
"It is a really serious issue."
Social media can be a great tool for your business, but it can undermine it too if you don't use it in the right way.
8. Obscene Vodafone tweets
Ever had your Twitter account hijacked by a so-called friend who then posts rude messages, besmirching your good name? Well, something similar happened to Vodafone not so long ago.
In February of 2010, Vodafone had to apologise profusely and suspend a member of its staff after they logged into the UK's official Vodafone Twitter feed and posted an obscene tweet.
Even though Vodafone removed the offending message as soon as it could, the tweet got retweeted numerous times.
That's the beauty of Twitter deleted tweets won't necessarily disappear.
So what did the tweet contain? Let's just say it was far too offensive to post on a website of IT Pro's repute.
Get the ITPro. daily newsletter
Receive our latest news, industry updates, featured resources and more. Sign up today to receive our FREE report on AI cyber crime & security - newly updated for 2023.
Tom Brewster is currently an associate editor at Forbes and an award-winning journalist who covers cyber security, surveillance, and privacy. Starting his career at ITPro as a staff writer and working up to a senior staff writer role, Tom has been covering the tech industry for more than ten years and is considered one of the leading journalists in his specialism.
He is a proud alum of the University of Sheffield where he secured an undergraduate degree in English Literature before undertaking a certification from General Assembly in web development.
Get the ITPro. daily newsletter
Receive our latest news, industry updates, featured resources and more. Sign up today to receive our FREE report on AI cyber crime & security - newly updated for 2023.
Thank you for signing up to ITPro.. You will receive a verification email shortly.
There was a problem. Please refresh the page and try again.