Gender gap widens as fewer women employed in IT
Figures released by a UK institute suggest the number of women in IT is in steady decline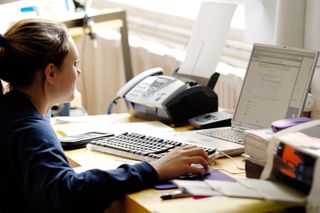 A chartered institute for IT and electronic skills has highlighted a worsening gender gap within the IT industry.
The BCS, which describes itself as the "champion of the global IT profession", has revealed the results of its "Women in IT" scorecards, which focuses on gender trends from secondary school through to the workplace.
According to the results, women account for just 16 per cent of the UK IT workforce. Despite female students consistently out-performing males in computing exams at A-level, they make up only 6.5 per cent of those taking them.
Only 13 per cent of entrants to GCSE computer science are girls, indicating problems with getting women interested in IT early in their school careers.
In the working world, the proportion of women working as self-employed IT specialists has doubled in the past ten years, while female specialists earn around 16 per cent less on average than men.
Female representation is a particular problem in the UK compared to the rest of Europe, according to BCS.
While traditionally low, female employment in the industry has seen a steady decline. In 2001 women accounted for 22 per cent of employees in the industry; that number has since fallen to less than 18 per cent.
"The continuing decline in women entering the IT profession is a real threat for the UK and an issue that clearly we need to address," said chairwoman of BCS Women, Gillian Arnold.
The government launched its "Your Life" campaign earlier this year in a bid to encourage more young women to embark on careers in engineering and technology. The campaign aims to see women account for more than 30 per cent of the workforce in the two sectors by 2023.
Tech companies in the US have announced plans to improve the diversity of their workforces, too.
Both Google and LinkedIn released demographics figures online that showed a lack of female employees in their companies, but promised to improve the statistics in the future.
A daily dose of IT news, reviews, features and insights, straight to your inbox!
A daily dose of IT news, reviews, features and insights, straight to your inbox!
Thank you for signing up to ITPro. You will receive a verification email shortly.
There was a problem. Please refresh the page and try again.