Microsoft Surface 3 tablet runs full fat Windows
The slimmed down tablet is more akin to the Surface Pro 3, with a cheaper price tag and lower-rate Atom class processor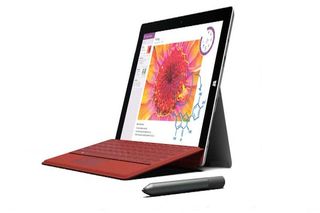 Microsoft has launched the Surface 3 tablet, with a 12in screen and running on full Windows 8.1 (an instant upgrade to Windows 10 will be available when it arrives), rather than the slimmed-down version Windows RT the Surface 2 utilised.
This addition of full fat Windows means a wider selection of applications can be used on the Surface 3, including Photoshop, CorelDraw, Spotify, World of Warcraft and Google's Chrome browser.
It also runs on Intel's new x86-based Atom X7 processor rather than the ARM-based chip in the Surface 2, making it a serious contender in the tablet space.
However, more memory intensive apps may stutter a little, so it's recommended you stay away from those that demand 3D visualisations such as video editing or CAD software.
The Surface 3 sits halfway between the super-powered Surface Pro 3 and last year's Surface 2, which means it may not be as expensive as the top of the range device, but it'll set you back more if you're looking for a like-for-like upgrade to the newer tab.
The basic version of the Surface 3, with 64GB of storage, 2GB of RAM costs 419. If you want to upgrade and add he touchscreen pen and keyboard cover, you'll need to shell out another 155, making it not too far off the Surface Pro 3's 639 price tag.
With a standard USB 3.0 port rather than microUSB as you'd expect to find on a tablet, the Surface 3 is a little chunkier than its rivals at 8.7mm, but until USB-C becomes mainstream, its a blow you'll have to take for computer-like transfer rates on a tab.
Panos Panay, corporate vice president of Microsoft's Surface division said: "We've taken everything we learned making Surface Pro 3 and poured that innovation into this newest Surface. It's beautiful, versatile, powerful and productive, and our customers are going to love what it lets them do."
A daily dose of IT news, reviews, features and insights, straight to your inbox!
A daily dose of IT news, reviews, features and insights, straight to your inbox!
Thank you for signing up to ITPro. You will receive a verification email shortly.
There was a problem. Please refresh the page and try again.