EU proposes strict regulations to curb AI misuse
The draft regulations call for the use of systems that allow 'social scoring' by governments to be banned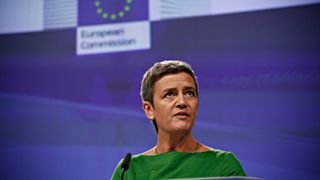 (Image credit: Shutterstock)
The European Commission (EC) has proposed a new set of wide-reaching regulations that aim to combat the misuse of artificial intelligence (AI).
Under the draft regulations, EU citizens will be protected from the use of AI for mass surveillance by law enforcement, which was ruled unlawful in the UK last year. The use of AI in recruitment, credit score evaluation, as well as border control management will be also be classified as "high-risk" due to discrimination concerns, while systems that allow 'social scoring' by governments will be banned.
The 100-page document, long-awaited by digital rights campaigners, aims to deliver "harmonised rules" on AI across the EU's 27 member states and proposes "laying down effective, proportionate and dissuasive penalties for their infringement". Similarly to the fines imposed by GDPR reaches, companies that break the rules face fines up to 6% of their global turnover or €30 million, whichever is the higher figure.
Commenting on the newly-drafted rules, the EC's executive vice president for the digital age Margrethe Vestager said that, regarding AI, "trust is a must, not a nice to have".
RELATED RESOURCE
AI thought leadership digest
Expert outlook on the future of AI
"With these landmark rules, the EU is spearheading the development of new global norms to make sure AI can be trusted. By setting the standards, we can pave the way to ethical technology worldwide and ensure that the EU remains competitive along the way. Future-proof and innovation-friendly, our rules will intervene where strictly needed: when the safety and fundamental rights of EU citizens are at stake," she added.
BCS, The Chartered Institute for IT stated that, by directly prohibiting the use of AI for indiscriminate surveillance and social scoring, the new AI legislation sets Europe on a different path to the US and China. BCS director of Policy, Dr Bill Mitchell OBE, said that "there will be a huge amount of work to do to professionalise large sections of the economy ready for this sweeping legislation".
"These ambitious plans to make AI work for the good of society will be impossible to deliver without a fully professionalised AI industry. Those with responsibility for adopting and managing AI will need to ensure their systems comply with these new regulations, as well as those designing and developing these systems," he added.
Mitchell also predicts that "those involved in AI" will need to provide "evidence they have behaved ethically, competently and transparently".
"In principle this is something we should all welcome, and it will help restore public trust in AI systems that are used to make high stakes decisions about people," he added.
The EC will now have to thrash out the details of the proposed regulations with EU national governments and the European Parliament before the rules can come into force, a process that can take a number of years.
A daily dose of IT news, reviews, features and insights, straight to your inbox!
A daily dose of IT news, reviews, features and insights, straight to your inbox!
Thank you for signing up to ITPro. You will receive a verification email shortly.
There was a problem. Please refresh the page and try again.