Dreamforce 2023: Benioff says generative AI needs a 'trust revolution'
Salesforce wants to do things "very, very differently" with responsible AI innovation, Marc Benioff told Dreamforce 2023 attendees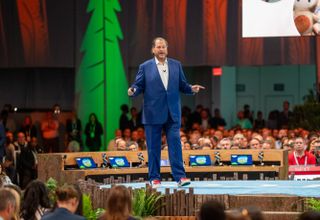 (Image credit: Salesforce)
The generative AI boom over the last 12 months has given rise to a growing appetite for a 'trust' based counter revolution, according to Salesforce chief executive Marc Benioff.
Speaking at Dreamforce 2023, the outspoken chief executive fired a broadside at industry counterparts when discussing the topic of 'hallucinations', whereby a generative AI system presents false information as factually correct.
Benioff said AI hallucinations are a lingering issue that the industry must deal with if it is to tackle a widening "trust gap" that has emerged in recent months.
Research from the firm earlier this year revealed that 73% of employees believe generative AI raises "new security risks" while nearly two-thirds (60%) of those who plan to use the tech "don't know how to keep data secure."
This hesitancy among technology practitioners shows there is still work to be done to sow trust and emphasize the potential benefits of generative AI, Benioff noted.
"Like a lot of new technologies in our industry, there appears to be this thing called a trust gap," he said. "Somehow there might not have been as much trust built into these technologies as was widely expected. That's not unusual in our industry.
"They call them hallucinations. I call them lies. These LLMs are very convincing liars. They can turn very toxic, very quickly. That's not necessarily great in a customer situation, not great in an enterprise employee situation."
It was a bold statement from Benioff, and one that will likely have hit a nerve among industry counterparts such as OpenAI CEO Sam Altman, who has been repeatedly questioned by lawmakers on the dangers of generative AI.
RELATED RESOURCE
Get insight into how companies are unlocking value with Salesforce.

DOWNLOAD FOR FREE
Benioff's position appears pinned around the idea that large language model (LLM) developers are unfazed by the ethical aspects of training models with data trawled from the web, for example.
These firms have an insatiable thirst for data, and once they're done they simply move on without regard for where it's come from, or the legitimacy of the data used.
"I don't have to tell you, I don't have to explain to anybody here," he said. "It's a well-known secret at this point that they're using your data to make money."
Critically, Benioff suggested that the question of data security and the use of data in the training of LLMs should be one that executives across the industry pay close attention to.
"Where is the data going when I'm using my LLM? Where did that data go? The model is using it to get smarter and you'll never see your data again. These LLMs are hungry for our data, it's how they get smarter," he said.
"The LLM companies are just algorithm companies. They only work when they have data and the data that they get, they've mostly stolen, or just go out onto the net and get whatever data they can get."
Benioff warned attendees that the "next set of data" LLM developers want is corporate data. This, he suggested, represents the holy grail for developers.
Access to corporate data will "make them even smarter" and benefit only a select few organizations rather than benefiting the broader enterprise industry.
With this in mind, Benioff underlined the importance of closing the "trust gap" and pursuing a responsible approach to AI development and use.
It's an area that Salesforce has focused on heavily in recent years. The tech giant went out of its way to create an 'ethical and humane use officer' to examine and assess the responsible use and development of AI tools.
Similarly, the firm created a chief trust officer "way before anyone" else in a bid to guide and direct its responsible AI goals.
"We created a chief trust officer in our company because we recognize at Salesforce that your data is not our product," he said. "That is not what we do here - you control access to your data."
"We prioritize accurate, verifiable results, our product policies protect human rights, and we advance responsible AI globally, just as we always have. Transparency builds trust."
Salesforce's trust-based approach to AI is one that differentiates it from industry counterparts, Benioff suggested. And it's a policy that has fostered valuable relationships with customers over the years.
"We want to turn AI over to you, but only with trust," he said. "That is our mission on AI. We want to build a trusted AI platform for customer companies so that everyone is Einstein and more productive."
Salesforce's recent product announcements appear to align closely with what Benioff discussed during his keynote.
Promotion of the firm's recently-launched Einstein Copilot assistant was frequently accompanied by comments highlighting the 'Einstein Trust Layer', which is a privacy-focused, "zero-retention architecture" which underpins Salesforce's Einstein AI tools.
Moving forward, continuing its trust-based approach is a key objective at Salesforce, Benioff told attendees. The tech giant wants to "do something very, very different" and stick to long-established values rather than favoring development at all costs.
"As we go through this next wave of generative AI and as we start to head towards autonomy, my engineering teams have said 'we're going to do something very, very different'," he said.
"We are going to stand behind our values."
Get the ITPro. daily newsletter
Receive our latest news, industry updates, featured resources and more. Sign up today to receive our FREE report on AI cyber crime & security - newly updated for 2023.
Ross Kelly is a staff writer at ITPro, ChannelPro, and CloudPro, with a keen interest in cyber security, business leadership and emerging technologies.
He graduated from Edinburgh Napier University in 2016 with a BA (Hons) in Journalism, and joined ITPro in 2022 after four years working in technology conference research.
In his spare time, Ross enjoys cycling, walking and is an avid reader of history and non-fiction.
You can contact Ross at ross.kelly@futurenet.com or on Twitter and LinkedIn.
Get the ITPro. daily newsletter
Receive our latest news, industry updates, featured resources and more. Sign up today to receive our FREE report on AI cyber crime & security - newly updated for 2023.
Thank you for signing up to ITPro.. You will receive a verification email shortly.
There was a problem. Please refresh the page and try again.