Need to Know: Apple's Snow Leopard
We give you the low down on Apple's newly announced next-gen operating system, Snow Leopard.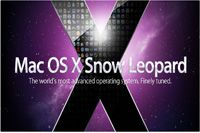 At Apple's worldwide developer conference (WWDC), the company spilled the details on the world's worst kept secret with the iPhone 3G S, but if you're a business person and a Mac user then the improvements to the Mac operating system could be of even more significance to you.
What is Snow Leopard?
The current operating system (OS) is called Leopard, but though Apple has been working on it a long time, the new version doesn't get an all-new name it's now called Snow Leopard. It will come preinstalled on new Macs from September or cost a mere $29 to upgrade.
Remarkably, Apple says that due to a more efficient installer upgrading to it will actually save 6GB of space, and installing will take 45 per cent less time than with Leopard. That's great news if you've got Macs in your business.
I hear it will support Exchange. Is that true?
The big addition is Exchange support directly in the OS out of the box. This means that Mail, the Calendar and the Address book will populate automatically when you enter your Exchange server details no need to use the frankly horrible Microsoft Entourage anymore! And because these are native Mac applications, features such as Spotlight and Quick Look will interact with all your Exchange email and data. This alone will help Apple be taken that bit more seriously for business use.
Isn't it much faster too?
Apple claims that it has re-written all the major parts of the system to give better support for the 64-bit nature of the OS. This means the memory limit is now effectively limitless (well, 16 billion GB to be precise).
Support for multi-core CPUs has also been improved with a technology it calls Grand Central Despatch, which shuffles processing threads more effectively than before. The result? More responsiveness from the same CPUs.
What about OpenCL?
Another key technology that Apple announced in Snow Leopard is OpenCL. This is an open source programming language for the graphics chip, equivalent to Nvidia's CUDA. This will enable developers to use the power of the graphics chip for complex tasks such as financial modelling, and advanced media manipulation, much faster than the CPU would be able to do it, and it should really speed up many business-focused applications.
The search spotlight function has also been rewritten, so Quick Look preview and straightforward searches will be even quicker which is nice, as time is money.
Other improvements that businesses will like the sound of are the fact that Apple's Time Machine backup speed has been boosted by up to 50 per cent. There's also better support for printer drivers, with Snow Leopard going online to find the best driver.
Apple has also said that connecting to a wireless network in now faster, and you will also now get a signal strength indicator so you can choose the stronger network when you manually join one.
Will it help grow my business?
In a way, yes. Do you do business in China? It's a country with the most internet users, so there's a good chance you might be sooner rather than later.
Snow Leopard now lets you use the trackpad on the MacBooks to enter Chinese characters directly on the screen making it far easier to get them into your documents.
Other small but potentially time saving features are easier copy and paste from PDFs making it possible to copy text across multiple columns and reduced bandwidth requirements for iChat, improving the smoothness and quality of video calls.
And if you need to get footage onto YouTube, you can now do it directly from an enhanced Quicktime, which will also let you make minor edits to your footage.
When is it available?
All in all, it looks like September will be a good time to buy a Mac for your business. We think it's certainly worth the $29 upgrade fee.
Want more background on the latest IT topics? Click here for all the tech cheatsheets in our Need to Know series.
A daily dose of IT news, reviews, features and insights, straight to your inbox!
A daily dose of IT news, reviews, features and insights, straight to your inbox!
Thank you for signing up to ITPro. You will receive a verification email shortly.
There was a problem. Please refresh the page and try again.