Q&A: Jim Killock, Open Rights Group
As the debate surrounding the Digital Economy Bill heats up, we spoke to the executive director of the Open Rights Group who feels the copyright aspects need to change.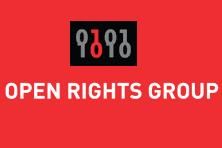 ISP TalkTalk hasn't hesitated in criticising the Government's proposed Digital Economy Bill.
From slamming the broadband tax to slating the free PC scheme, senior executives are not afraid to be outspoken when it comes to Whitehall.
Today, the company took its thoughts right to the heart of Westminster and held an event, metres from the Houses of Parliament, to voice its own condemnation of copyright infringement laws set out in the Digital Economy Bill, currently being debated in the House of Lords.
The ISP invited other groups with similar concerns - including Which?, Liberty and the Open Rights Group - to the event and we took the opportunity to talk to Jim Killock, executive director of the latter, for his thoughts on the Government's controversial plans.
Why are you here at the event today?
We are trying to outline to politicians [and] journalists exactly what the problems are with the bill at the moment.
[This] includes sweeping liability for anybody with an internet connection or anybody else using their internet connection. As a result [it is] a very blanket approach for copy infringement or infringers.
There is a total lack of clarity in the bill of what those liabilities are. Whether people can appeal, what the natures of appeal are, what the tribunals are. None of this is in the bill.
We are promised further detail in statutory instruments and the Ofcom codes, which of course we know nothing about at this stage so the commons [is] being asked to vote for something that they can't read. [This] is not an acceptable way of dealing with the matter of justice.
Peter Mandelson is heading this up. Why do you think he has gone about things this way?
Because it is extremely difficult to try to say who has or has not infringed copyright so he has gone for a really draconian approach which extends liability in an unacceptable way. That is part of it and the other is simply he has been very heavily lobbied by industries who are struggling and he has accepted their arguments, frankly, on fairly thin grounds.
Six to 12 months ago, the Government wasn't taking this approach and it has leaped several stages forward essentially because of industry pressure.
What are our thoughts on the specifics of the bill, especially clause 17?
Obviously we are against sweeping plans to amend copyright law without proper parliamentary debate.
It is important for everybody that copyright law is stable and predictable because there are a big range of people who use copyright material, from hardware manufacturers through software developers, through online services.
All of these people can potentially use copyright materials and to weight the whole balance, to say the whole issue of copyright is infringement [and] we will keep copyright law as hard line as possible on infringers, is to skew the debate away from the people that are actually making a lot of the value [from it].
Software and hardware developers could end up with constant new obligations to deal with infringement using their technologies and that will spiral costs up, it will prevent technologies from reaching consumers [and] it could cause all of kinds of damage to innovation. That is bad for everybody.
What does your group feel is the best way to deal with the copyright issues as they grow?
Well, I am not sure it is growing. Actually it is reducing by most recent estimations because the legal offerings are getting better and they are getting closer to what people want.
People who infringe copyright [do so] because they are looking for access to that material quickly, easily and cheaply. If you can do those things in a way that is better for consumers then actually you are going to stop people from infringing.
That is exactly what has happened with BBC iplayer and Spotify. I bet the number of people file sharing BBC programmes after they are released on television has been hugely reduced since the release of iPlayer and I bet that Spotify has reduced a lot of casual infringers as well.
That is what the evidence shows so that is the way to do it, provide the legal offerings in a way that consumers want.
What do you think your chances are, along with the other people here, of stopping the bill from going through as it is at the moment?
I think the Lords debate has been encouraging. We have seen both the Conservatives and the Liberal Democrats looking at the problems in the bill very closely, and also Lord Whitty one of the Government's own back benchers, so there is a chance that some of the bigger issues will be dealt with.
Obviously we have a very big fight on our hands. It is a test as much for the Government's ability to show that they actually understand the industry and where consumers' social benefits really lie as to whether they can get this bill right and that will be a voting issue for some people too.
Get the ITPro. daily newsletter
Receive our latest news, industry updates, featured resources and more. Sign up today to receive our FREE report on AI cyber crime & security - newly updated for 2023.
Jennifer Scott is a former freelance journalist and currently political reporter for Sky News. She has a varied writing history, having started her career at Dennis Publishing, working in various roles across its business technology titles, including ITPro. Jennifer has specialised in a number of areas over the years and has produced a wealth of content for ITPro, focusing largely on data storage, networking, cloud computing, and telecommunications.
Most recently Jennifer has turned her skills to the political sphere and broadcast journalism, where she has worked for the BBC as a political reporter, before moving to Sky News.