Yahoo hatches plan for green "chicken coop" data centre
Hydro-power and natural air cooling are key features of Yahoo's new data centre.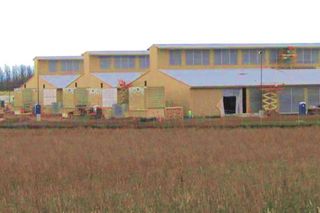 Yahoo will open a sustainable data centre at Lockport near Niagara Falls in New York State, later today.
David Filo, co-founder, boasted that the Yahoo Computing Coops (YCC) will be one of the greenest, most-efficient data centres in the world.
"Keeping Yahoo running smoothly for more than 500 million people around the world calls for a lot of server power" he said. "So we've made it a priority to become a leader in designing and building data centres that are environmentally sustainable, investing millions to design facilities that make the best use of the energy we consume."
One of the innovative features of the three 120 feet long buildings is the use of outside air to cool the servers. Each coop, so-called because it resembles the chicken coop that inspired the design, has louvers built into its side.
The louvers allow cool air to flow in between two rows of cabinets through a central, enclosed hot aisle. The resulting air flow directs waste heat into the top of the facility where it can either be recirculated to heat the rest of the buildings in cold weather or vented out.
Cooling normally accounts for up to 50 per cent of a data centre's energy supply. The ambient air cooling system will require virtually no power. A further concession to environmental awareness will be the use of the hydroelectric power generated from the nearby waterfalls.
The company expects the yearly power usage effectiveness (PUE) average to be 1.1 or better. PUE is determined by dividing the amount of power entering a data centre by the power used to run the computer infrastructure within. It is expressed as a ratio which means overall efficiency improves as the quotient decreases towards unity. A conventional data centre would have a typical PUE around 2.5.
Filo added that the company would cease using carbon offset payments and rely entirely on reducing its carbon footprint to deliver a 40 per cent reduction by 2014. He said this would be accomplished by using renewable energy sources, altering building designs and improving server efficiency.
Chief executive Carol Bartz will cut the ribbon at today's opening ceremony, attended by New York Governor David Patterson and US Senator Charles Schumer.
A daily dose of IT news, reviews, features and insights, straight to your inbox!
A daily dose of IT news, reviews, features and insights, straight to your inbox!
Thank you for signing up to ITPro. You will receive a verification email shortly.
There was a problem. Please refresh the page and try again.