Google slams Apple and Microsoft for patent 'campaign'
Apple, Microsoft and Oracle are accused of trying to be Android patent party poopers.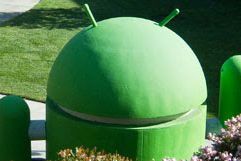 Google has lashed out at Apple, Microsoft and Oracle amongst others for running a "hostile, organised campaign" against Android.
David Drummond, senior vice president and chief legal officer at Google, took to the tech giant's official blog to blast rivals' use of what he called "bogus patents" to disrupt the success of Android.
"They're doing this by banding together to acquire Novell's old patents (the CPTN' group including Microsoft and Apple) and Nortel's old patents (the Rockstar' group including Microsoft and Apple), to make sure Google didn't get them; seeking $15 licensing fees for every Android device; attempting to make it more expensive for phone manufacturers to license Android (which we provide free of charge) than Windows Phone 7; and even suing Barnes & Noble, HTC, Motorola, and Samsung," Drummond said.
He claimed competitors wanted to impose a "tax" for "dubious" patents in smartphone design to make Android devices more expensive for consumers.
"They want to make it harder for manufacturers to sell Android devices. Instead of competing by building new features or devices, they are fighting through litigation," he added.
Google is involved in numerous court cases involving Android, the most significant being with Oracle over use of Java in the mobile operating system's code.
To cover its back in patent cases, Google has been buying up patents. It now holds over 800, with over a thousand still pending.
Instead of competing by building new features or devices, they are fighting through litigation.
Google also kicked off bidding for Nortel patents by offering $900 million in April. Nortel patents were eventually purchased for $4.5 billion by a group including Apple and Microsoft.
Microsoft: We offered to help!
Microsoft has responded to Google's claims by saying it offered to join up with the Mountain View company on a bid for the Novell patents. According to Brad Smith, Microsoft general counsel, Google turned the offer down.
"Google says we bought Novell patents to keep them from Google. Really? We asked them to bid jointly with us. They said no," a tweet from Smith read.
Lead corporate communications for Microsoft Frank Shaw took to Twitter as well, posting a picture of an email from Kent Walker, Google senior vice president and general counsel, to Smith. The email appeared to confirm Smith's claims.
"Sorry for the delay in getting back to you - I came down with a 24-hour bug on the way back from San Antonio. After talking with people here, it sounds as though for various reasons a joint bid wouldn't be advisable for us on this one," the email read.
"But I appreciate your flagging it, and we're open to discussing other similar opportunities in the future."
Read on for our look at learning from the trouble Google is in.
Get the ITPro. daily newsletter
Receive our latest news, industry updates, featured resources and more. Sign up today to receive our FREE report on AI cyber crime & security - newly updated for 2023.
Tom Brewster is currently an associate editor at Forbes and an award-winning journalist who covers cyber security, surveillance, and privacy. Starting his career at ITPro as a staff writer and working up to a senior staff writer role, Tom has been covering the tech industry for more than ten years and is considered one of the leading journalists in his specialism.
He is a proud alum of the University of Sheffield where he secured an undergraduate degree in English Literature before undertaking a certification from General Assembly in web development.