Oracle updates HCM capabilities to focus on value and set employees up for success
Reward and recognition - especially by peers - are key tenets of the update to the Oracle Me employee experience platform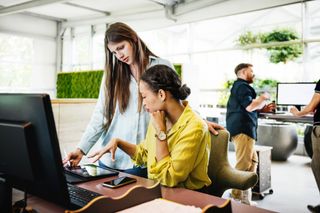 (Image credit: Getty Images)
Tech giant Oracle has unveiled yet more updates to its My Experience (ME) platform that sits within Oracle Fusion Cloud Human Capital Management (HCM).
Dubbed Oracle Celebrate, it does exactly what it says on the tin and is designed to ensure managers and decision-makers can not only more effectively recognize and reward employees, but also be able to better track insight and actions around these key themes.
A business' success is very reliant on its employees so it's important to ensure a sense of being appreciated and valued, or risk losing good people and experiencing productivity declines, according to Yvette Cameron, senior vice president of product strategy at Oracle Cloud HCM.
"In the last year [or so], Oracle announced GROW, an AI-driven platform that brings together everything you need to be successful," Cameron told ITPro.
"Now with Celebrate, we're really bringing forward the opportunity for organizations to develop and support that culture of appreciation, as well as recognition of what matters for the business.
"What makes Oracle so different from the probably hundreds of reward and recognition programs in the market, [is] that this is truly part of a unified and complete cloud HCM suite."
Oracle is aiming to provide a more personalized and meaningful experience for employees.
Oracle Celebrate aims to remove informational siloes to ensure better data cohesiveness and deliver more accurate insights about what is and isn't working within any given business.
Specifically, Oracle Celebrate offers:
Peer-to-peer recognition, which ensures everyone - whether peers or managers - can celebrate success. It's about celebrating the small as well as the big 'win' moments.
A Generative AI assistant, which generates recommendations relating to improvements regarding peer-to-peer recognition.
Nomination and event-based awards to acknowledge and celebrate everything from work anniversaries and promotions to everything in between and more.
Redeemable points that allow employees to derive value in a similar way to many retail loyalty schemes, but based on what matters to them.
A recognition insights dashboard to help managers better understand, digest, and action insights.
Real-time recognition and engagement data, which enables continuous monitoring of recognition programs.
A recognition-based social feed designed to provide a real-time stream that celebrates success.
"From the users' perspective [it's about] making it completely frictionless to recognize and share that appreciation for others or celebrate successes. And doing that by introducing this opportunity - through nudges and prompts - in a widget-type form that can be embedded anywhere throughout the application, so that you can recognize where it matters," Cameron adds.
RELATED RESOURCE
How the way we work will change the office of the future
Design a workspace that creates meaningful work experiences.
"It's also about making it easier for users. Over the years, I think IT leaders and HR managers have fallen into this mindset of [thinking] 'integration is easy in the cloud. We all know how to do it [so] let's just pop it in place and do it. Here's a bespoke tool for this process. Let's go.' But the challenge is the fact you're creating silos.
"You're propagating these multiple versions of the talent profile. In this system, because it's focused on rewards and recognition, you have this view of who this person is in their activities and what's valued and what's not."
Oracle's announcement has been well-received by industry experts such as Zachary Chertok, research manager for employee experience at research firm IDC, who said recognizing employees' efforts is one of the main modern methods organizations are trialing to improve employee success.
"Building an ecosystem for recognition helps source the roots of achievement, moving the needle on best practices as success happens, stimulating cultural acceptance around process innovation, and building belonging through community acknowledgment and appreciation," he said.
By ensuring organizations have a better - and more holistic - view of how employees are doing and how their performance and success are being reported and recognized, firms can create a more supportive environment that results in happier employees, according to Cameron.
There is a strong research base that supports the idea that happy employees remain with their employers longer, and are more loyal to them, often also showing greater levels of productivity and motivation.
"Too many organizations feel that the words happiness and work cannot be used together. Somehow it's not professional, it's not focused on outcomes," Cameron added.
"But what a great environment to have somewhere where people are happy and helping others be happy on their way to successful journeys."
Stay up to date with the latest news and analysis from the world of cloud computing with our twice-weekly newsletter
Maggie has been a journalist since 1999, starting her career as an editorial assistant on then-weekly magazine Computing, before working her way up to senior reporter level. In 2006, just weeks before ITPro was launched, Maggie joined Dennis Publishing as a reporter. Having worked her way up to editor of ITPro, she was appointed group editor of CloudPro and ITPro in April 2012. She became the editorial director and took responsibility for ChannelPro, in 2016.
Her areas of particular interest, aside from cloud, include management and C-level issues, the business value of technology, green and environmental issues and careers to name but a few.