Micro Focus suffers shares slump amid revenue fears
CEO Chris Hsu leaves as analyst points finger at HPE merger difficulties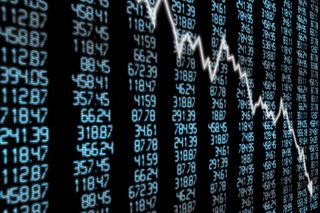 Micro Focus has seen its shares collapse and CEO depart after it issued a sales warning to investors this morning.
The British company, which completed an $8.8 billion "spin-merge" with the software division of Hewlett Packard Enterprise (HPE) in September 2017, warned year-on-year revenue is likely to fall by between 6% and 9%.
Previously it had predicted a slowdown of just 2% to 4% for the 12 months ending 31 October 2018, but worse than expected results in January have caused it to downgrade its forecast.
The company's shares fell 41% to their lowest value since 2006 as markets opened in London, hitting 11.16. The price has continued to fall throughout the day.
CEO Chris Hsu, who joined Micro Focus from HPE following the spin-merge last year, departed the company with immediate effect on Sunday. Stephen Murdoch, until now the organisation's COO, has taken Hsu's place.
In a blog post, TechMarketView analyst Angela Eager pointed squarely at the HPE deal as the cause of the problem.
"It was always going to be a big meal but Micro Focus is finding it harder to digest HPE Software than expected," Eager said.
"There will be a knock-on effect on adjusted EBITDA (earnings before interest, taxes, depreciation and amortisation) margin percentage (which is the KPI Micro Focus rates above revenue), although the company says it will be mitigated by the cost reduction programme which is ahead of schedule. Micro Focus now expects an Adjusted EBITDA margin percentage of approximately 37%, which is way down on the 46.2% of the year ending April 2017 (prior to the HPE Software merger)."
Other areas blamed by Micro Focus for its troubles include implementation issues with a new IT system that has cause problems with sales efficiency, the ability to transact with partners and cash collection; sales staff attrition due to integration and the IT-related issues: disruption of ex-HPE global customer accounts as a result of the spin-merger; and continued sales fulfilment issues, particularly in North America.
In an interview with Bloomberg, Kevin Loosemore, chairman of Micro Focus, said: "Clearly we have let people down with this execution and we have to rebuild that trust."
He remained positive about the HPE deal, however, adding: "The strategy remains the same. We believe this deal will turn out to be a good deal. We think the market in infrastructure software will continue to consolidate and we hope to participate in this consolidation."
A daily dose of IT news, reviews, features and insights, straight to your inbox!
Jane McCallion is ITPro's Deputy Editor, primarily covering security, storage and networking for ITPro, CloudPro and ChannelPro.
Jane joined ITPro and CloudPro in July 2012, having previously written freelance for a number of business and finance magazines. She has also covered current affairs, including the student, public sector workers and TUC protests and strikes in central London while studying a Masters in Journalism at Goldsmiths, University of London.
Prior to becoming a journalist, Jane studied Applied Languages at the University of Portsmouth.
A daily dose of IT news, reviews, features and insights, straight to your inbox!
Thank you for signing up to ITPro. You will receive a verification email shortly.
There was a problem. Please refresh the page and try again.