Maintel to acquire Azzurri Communications
Systems integrator also posts strong financial year on back of acquisitions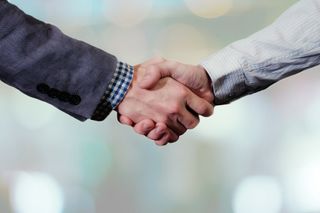 Systems integrator and managed service provider Maintel has announced it will buy Azzurri Communications in a bid to grow and diversify its revenue base.
Azzurri Communications is a managed communications provider, offering communication services including telephony, mobile services, document management, workforce optimisation, security, unified communications as a service and managed services.
Maintel says the deal will strengthen Maintel's market position across both the private and public sectors.
Eddie Buxton, CEO at Maintel, says the acquisition will "accelerate Maintel's shift into hosted cloud and data, ensuring we are well positioned to take advantage of these high growth areas of the unified communications market".
"It will also build scale in managed services, continuing the shift in our business mix, which we have been driving following previous acquisitions," he adds.
With Azzurri in the picture, Maintel says it will be able to provide a broad suite of solutions and services including a network services division, a mobile division, managed services, and technology and professional services. The new combined business will become one of the largest and highly skilled resellers in the communications sector, the firm claims.
The integrator has also posted revenues for 2015 of £50.6m, rising from £41.9m in 2014. It said the 21 percent increase in revenues reflect the success of integrating its Datapoint and Proximity acquisitions with recurring revenue at 69 percent.
The firm's adjusted earnings per share grew 29 percent to 60.3p and there was also a 42 percent increase in the second interim dividend. Adjusted profit before tax was £7.3m (2014: £6.1m), a 19 percent increase year on year.
Buxton says that 2015 "saw strong sustained margins".
"This was also the first year that Proximity, which we acquired in 2014, became fully integrated, with further cost synergies realised during the year. Contact centre and network services were particularly rewarding growth areas for us over the past year," he says.
Buxton adds that over the past year Mantel launched a new Partner Services division to help the channel win service, support and managed business. The SI was also appointed a supplier on the G-Cloud7 framework and on the Crown Commercial Service's Network Services framework agreements.
"This year the Maintel Group not only won its largest ever contract but we also had a number of fruitful wins via competitive tendering, allowing us to enter the 2016 financial year in a strong position as we continue to see a healthy pipeline of opportunities come through," says Buxton.
Maintel's current group sales director Stuart Legg and current consultant Mark Townsend are joining the company's board as group sales and marketing director and chief financial officer respectively, while Dale Todd, the current finance director, is stepping down but will remain with Maintel as company secretary.
Stay up to date with the latest Channel industry news and analysis with our twice-weekly newsletter
Stay up to date with the latest Channel industry news and analysis with our twice-weekly newsletter
Thank you for signing up to Channel Pro. You will receive a verification email shortly.
There was a problem. Please refresh the page and try again.