Teneo all smiles following acquisition
Acquisition of network and security management specialist iSimile expands its nanagement offering into the enterprise market, putting the firm a year ahead of its business plan.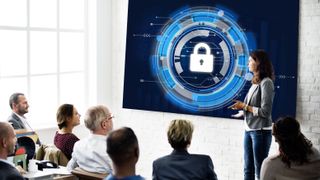 (Image credit: Shutterstock)
Network optimisation specialist Teneo has made its first acquisition in its nine year history with the purchase of Swindon-based network and security management firm, iSimile.
iSimile has an annual turnover of around £1m, and partners with such vendors such as CA, netForensics and BlueCat Networks. The deal will boost Teneo's enterprise management portfolio, providing Teneo with sales and technical ability in infrastructure and security management.
Piers Carey, CEO, Teneo tells Channel Pro: "The acquisition puts us a year ahead of our existing business plan (based on organic growth-based predictions) because the company has such strong enterprise software skills and also an impressive enterprise customer-base to complement our own."
He continues: "Teneo also identified the need to offer a wider range of services to our customer-base. As a consultancy and service-led organisation, iSimile has the skills to help launch new services across the board and cross-sell our whole range of products and services into the combined Teneo customer-base."
The acquisition adds 10 percent to Teneo's revenues which totalled £9.2m for the year end June 30 2009, with 2008/09 turnover growing by 10 percent year-on-year. Teneo says it has set a target of 25 percent growth for its financial year 2009/10, and sees acquisitions such as iSimile as key to maintaining its growth.
Says Leigh Collett managing director of iSimile: "Bringing iSimile within Teneo gives both companies an excellent opportunity for future growth as we capitalise on each company's expertise. We know that this will benefit our existing iSimile customers as it enhances the support, resources and product breadth that they demand. We look forward to quickly integrating our business within Teneo to realise our combined synergies and push for growth."
"With professional services in particular, Leigh Collett's role will be dedicated to the management of our service offerings and this focus and his ability will be key in driving forward our service revenue," adds Carey.
Stay up to date with the latest Channel industry news and analysis with our twice-weekly newsletter
Christine has been a tech journalist for over 20 years, 10 of which she spent exclusively covering the IT Channel. From 2006-2009 she worked as the editor of Channel Business, before moving on to ChannelPro where she was editor and, latterly, senior editor.
Since 2016, she has been a freelance writer, editor, and copywriter and continues to cover the channel in addition to broader IT themes. Additionally, she provides media training explaining what the channel is and why it's important to businesses.