What makes an effective diversity strategy?
Having a comprehensive diversity strategy is no longer a tick box exercise, it's a vital business imperative.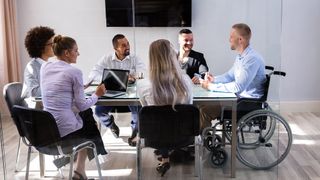 (Image credit: Shutterstock)
Events in 2020 have highlighted and exacerbated inequalities in society – the increasing gender divide, systemic racism and the impact of a global pandemic on jobs and mental health; all under the spectre of a potential economic crisis. Knowing this, it would be all too easy for firms to deprioritise diversity and inclusion (D&I) as a matter to be revisited post crisis. But instead this year has served as a societal wakeup call.
"It's time to enact long lasting change," says Dawn Jones, director of policy and external partnerships at Intel. "D&I is as crucial now – if not more so – than ever before and it's imperative that we don't let it slip off the agenda. D&I can no longer be viewed as just a tick box exercise or a bolt-on enterprise initiative; it is a complex issue that requires continuous work and we all have a duty to change and improve current practises."
It seems, however, that facilitating real change is easier said than done. According to PwC's recent D&I survey, 79% of leadership engagement on D&I remains at a basic or emerging level, only 26% of organisations have D&I goals for leaders, only 17% have a C-Suite level diversity role in place and nearly 30% have no D&I leader at all. Meanwhile, the 2020 Parker Review Report has found that 69% of the FTSE 250 companies analysed have no ethnic diversity on their boards.
Take a deep dive into the tech sector, and the picture is even gloomier. 2017 research quoted in the UK government's Digital Strategy estimated that 17% of tech roles were filled by women. Compare that with a 2019 report from WISE which put the number at 16%, and it becomes clear that we are heading in the wrong direction.
Meanwhile, data from the Office of National Statistics' 2019 Labour Force Survey point to a lack of progress in increasing both the representation of women and ethnically diverse tech workers in the sector over the past five years, with just 1% and 2% uplifts respectively.
According to Tauhidah Shakir, chief diversity officer at cloud-based payroll technology provider Paylocity, however, these numbers don't tell the full picture. "There has been meaningful progress when it comes to the way people understand bias, discrimination and the way people think about D&I," she says. "Ten years ago, the words 'unconscious bias' were only heard in academic circles, but now many organisations are training employees on this very topic. Similarly, organisations used to approach D&I from a compliance perspective to meet all requirements they were legally obligated to. Now, leaders understand that levelling up their D&I efforts is critical to attracting and retaining top talent while instilling a culture of care."
Debbie Forster, CEO of UK-based non-profit organisation Tech Talent Charter, is also hopeful that things are starting to change. "With the widespread Black Lives Matter demonstrations in 2020, companies can't hide behind empty statements and we're seeing more meaningful action," she says. "At the same time, this has come up against the hugely damaging impact of COVID-19 which has disproportionately affected women and ethnic minorities. We are hopeful that businesses will continue to see diversity as a priority – research we carried out earlier this year suggested that 68% of business decision makers still consider diversity vital for their business success, despite the pandemic."
Taking decisive action
In order to take action, then, it's time for businesses to start focusing on how they can implement an effective diversity strategy, instead of why they should do so. "We are fed up with talking about the issue – we want organisations to commit to taking concrete actions to address it," says Forster.
With that in mind, IT Pro asked a number of experts for their take on what makes an effective diversity strategy. Here's what they said:
Focus on inclusivity first
"If you can focus on becoming a truly inclusive business first, then diversity will often follow," explains Forster. "Too many organisations take a check-box approach where they think having ethnic minority team members, or an LGBTQ person (for example) on the board means they have no more work to do, but research shows that people from minority backgrounds experience discrimination at work every day. Focus on building a truly inclusive culture – and remember that inclusion is something you must do with people, not to them."
Lead from the top
"Any initiative needs to be supported from the top down, so getting buy-in and commitment from the organisation is a critical first step," says Lisa Roberts, senior director of human resources and D&I lead at US-based software company Deltek. "Over time, organisations should see movement in reaching their goals and in related metrics, and more importantly a mindset shift in employees."
Improve hiring practices
"One of the most effective places for tech companies to start is looking at their incoming and outgoing talent," says Shakir. "The rate at which they're hiring and separating from employees of diverse groups gives them a sense of where their workforce is heading and lets leaders know where to focus efforts. From there, IT companies should work with their hiring managers and recruiters to ensure their job postings are reaching diverse candidate pools. Though not all candidates will self-identify all these different demographic categories, being intentional about the candidate pool is impactful and the best way to make real progress towards changing the diversity outlook for the tech industry."
Improve education and awareness
Paylocity has incorporated diversity and unconscious bias training into its internal continued learning program and expects all employees take part. "Meanwhile, to heighten awareness around human rights and social justice issues, we host forums and dedicate episodes of our PCTY Talks podcast to discussing important topics like the Black Lives Matter movement," explains Shakir.
Training is also a critical piece of the puzzle at Deltek. "We have D&I focused training not only for our leaders, but also for people managers and every employee at Deltek," says Roberts. "We use resources from LinkedIn Learning – which are phenomenal – as well as professional workforce experts, including Dr. Shirley Davis."
Measure results
"A successful D&I programme combines metrics and data with actions that will achieve a fundamental culture change within a business," says Arun Batra, a partner at consulting firm EY, and CEO of the National Equality Standard. "We need numbers and targets to hold an employer to account and to help measure the progress that is being made and to understand the makeup of a workforce. However, this must go hand in hand with actions that will achieve underlying cultural change, such as targeted talent programmes, mentoring, sponsorship, and allyship alongside a review of legacy talent processes and procedures."
Intel's Jones agrees: "Only by uncovering the inconsistencies that are contributing to a lack of diversity can we introduce the change needed to better our workforce and society as a whole."
Think about the words you use
Deltek has made a concerted effort to think about the words its employees use when communicating with each other, as well as what they write in documentation and code. "Words like 'blacklist/whitelist' and 'master/slave' have long been used and accepted, without much thought as the origins of those words," explains Roberts. "The words we use matter, and our team is committed to finding the right words – such as 'denylist/allowlist' and 'parent/child' – to replace those less inclusive terms."
The path to a more diverse future
While instigating real change is a large undertaking, those firms that pay attention now will be much better placed to achieve success in the future.
"[In addition to] moral reasons, embracing diversity has brought new ideas, voices and perspectives into play helping to push the boundaries of creativity and innovation," says Jones. "This has been proven by McKinsey, whose research shows that companies in the top quartile for gender diversity outperform their competitors by 15%, and those in the top quartile for ethnic diversity outperform their competitors by 35%."
Recent Intel research, meanwhile, suggests that Gen Z will make their career choices based on diversity and inclusion. Over half (56%) of 18-24 year olds say they would be hesitant to accept a job from an organisation that does not have any underrepresented minorities in senior leadership roles. Not only this, but the majority of Gen Z (those born between 1997 and 2012) in the UK say a company's stance on D&I is almost as important as the pay offered.
"For Gen Z, D&I matters," says Jones. "From climate change to social equality, this is a generation that takes positive action. As Gen Z employees enter the workforce, they will not shy away from expressing their demands and expectations of D&I."
With the impact of the pandemic continuing to play out, many businesses are reviewing investments and future planning as they consider how they might operate post-COVID-19. Batra says that, during this process, there is a unique opportunity for leaders to cement their commitment to D&I and use lockdown learnings as a catalyst for sustainable change. "This will be key for maintaining the loyalty of their customers, their brand reputation and investor confidence," he says.
Forster shares this opinion: "It's hard right now," she says. "We see great intent from big and small companies who have the power to make a real difference, but the effects of Coronavirus pandemic have dramatically set back progress for women and minorities. And our whole society will suffer for it. We are hugely energised by the positive action we see from our signatories and we are seeing those numbers continue to grow, which fills me with hope. Ultimately, the UK's economic recovery will depend on a diversity of talent to succeed."
Get the ITPro. daily newsletter
Receive our latest news, industry updates, featured resources and more. Sign up today to receive our FREE report on AI cyber crime & security - newly updated for 2023.