More than 6,000 new UK cyber security jobs created in 2021
The cyber security sector contributed around £5.3 billion to the UK economy in 2021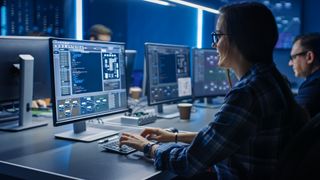 (Image credit: Shutterstock)
More than 6,000 new jobs were added to the UK's cyber security workforce in 2021 – a 13% rise in cyber jobs since 2020.
The workforce grew from 46,700 to 52,700 over 12 months, according to the latest Department for Digital, Culture, Media and Sport (DCMS) annual cyber sector report, released on Thursday.
As of last year, 1,838 cyber security firms were active across the UK, of which more than half are based outside of London and the South East.
The cyber security sector experienced significant growth in the North East and East Midlands – a trend largely credited to increased regional opportunities due to the shift to remote working.
These firms generated a total revenue of £10.1 billion – a 14% increase since the previous financial year, while the UK's cyber security sector as a whole contributed around £5.3 billion to the UK economy in 2021, compared to £4 billion in the previous year. At 32.5%, this was found to be the largest increase since the annual DCMS report began in 2018.
Commenting on the findings, digital secretary Nadine Dorries described cyber security firms as "major contributors to the UK's incredible tech success story".
RELATED RESOURCE
Moving forward in a work from anywhere world
A gorilla guide
"Hundreds of British firms from Edinburgh to Bristol are developing and selling cutting-edge cyber tools around the world that make it safer for people to live and work online," she said, adding that the government is "investing in skills training and business initiatives to help the UK go from strength to strength as a global cyber power and open up the sector to people from all walks of life".
This includes the £2.6 billion National Cyber Strategy as well as the addition of nine new Institutes of Technology in Blackpool, Cheshire, Chichester, Sheffield, Stoke on Trent, Southampton, Derby, Salford, and South Essex. Announced in December 2021, the institutes aim to tackle regional skills gaps and level up local economies by providing skills training for understaffed industries, including STEM and healthcare.
However, despite 2021 being a record-breaking year of investment for the UK's tech sector, IT vacancies across England and Wales saw an increase of 105%.
A daily dose of IT news, reviews, features and insights, straight to your inbox!
A daily dose of IT news, reviews, features and insights, straight to your inbox!
Thank you for signing up to ITPro. You will receive a verification email shortly.
There was a problem. Please refresh the page and try again.