How Edinburgh Napier University mastered e-learning during the pandemic
Iain Russell, head of infrastructure at Edinburgh Napier University, speaks to IT Pro 20/20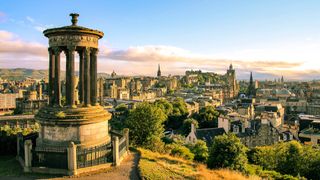 The following article originally appeared in Issue 14 of IT Pro 20/20 as part of a new series that invites industry experts to share their experience of tackling some of the most pressing issues facing businesses today. To sign up to receive the latest issue of IT Pro 20/20 in your inbox every month, click here. For a list of previous issues, click here.
Universities are typically ahead of the curve when it comes to consumer demand around connectivity. It's no question that the consumerisation of technology has been one of the key drivers of enterprise IT trends for decades, but trying to keep up with the expectations of young, tech-savvy stakeholders that have new tastes every year is another ball game altogether.
This is a challenge that we've proudly invested in at Edinburgh Napier University. We understand that our students need secure and continuous access to all the relevant applications and resources that form part of their studies; 24 hours a day, 7 days a week. After all, there is no 9-5 university experience. Many of our students are studying around families, jobs, and – in more normal times – an animated social life. Some are also in different time zones.
Now, of course, we're also operating remotely. At Edinburgh Napier, we have more than 19,500 students that come from over 140 different countries, in turn supported by 1,500 university employees. Meeting all the different IT needs when the majority of stakeholders are on campus is challenging, and having an IT infrastructure that meets them when they're at every corner of the globe even more so.
RELATED RESOURCE
Five lessons learned from the pivot to a distributed workforce
Improve employee experience and support IT teams for a more adaptable distributed workforce
It's without question that the investments we made to provide secure, remote access to university services before the crisis have been critical to our ability to quickly adapt from our students physically attending lectures to attending online courses. We had previously implemented VMware's Horizon solutions, which provide virtual desktops and applications through a single platform. We also deliver virtualised applications through a technology called AppsAnywhere, which allows students to run them within a web browser. This means that students can access any application from any device at any time, exactly as they would if they were interacting with a desktop on campus. We have also been able to give secure remote access to specialist Apple Mac labs using a technology called Leostream. All this in an attempt to replicate the on-campus experience the students would normally enjoy in non-pandemic times.
The shift towards empowering students with seamless remote access has undoubtedly served us better in the crisis than we could ever have anticipated, but I believe that this is just the beginning of universities' shift towards more remote learning. We've certainly seen the trend bubbling up over the past few years starting with Massive Online Open Courses (MOOCs), but I believe that the transformation starts now for our more traditional institutions.
E-learning improves the accessibility to university services and, just as we're seeing shifts in the corporate world towards more hybrid workplace models, there will be an expectation that the learnings and benefits of this experience are harnessed in higher education too.
That said, there are a few key learnings we've taken away from this experience that have made our shift to remote education a success.
The first is that we benefited enormously from our IT architecture being simple and versatile. There's no way that we could have adapted as fast as we did without having a single platform for virtual desktops and the technology we have for accessing applications. It took so much complexity out of the process: there was no mad scramble to create new services. Our students and staff were already experienced and comfortable using these platforms, and when we can all return to campus, I have no doubt that the shift back will be equally seamless.
Security was also a key focus for us in the shift to remote learning. VMware NSX has been key to keeping the cyber challenge manageable with the use of security bubbles of services and apps. This allows the IT team to provide specific bespoke solutions for a variety of individual research projects and departments. It also allows us to separate the environments of the different institutions we support; for instance, we have separate hosted learning environments for Edinburgh College and for the University of St Andrews. This makes our attack surface much more manageable, which is critical when there are even more variables to control in the remote learning environment.
It's impossible to predict the long-term changes to the higher education sector that have been catalysed by the shift to remote learning. But preparing for the future is what we do, and any IT teams that are looking at this move to e-learning as a "temporary fix" are missing out on key learnings that will empower them to provide a more connected experience for their students and staff in years to come - no matter where they are.
Get the ITPro. daily newsletter
Receive our latest news, industry updates, featured resources and more. Sign up today to receive our FREE report on AI cyber crime & security - newly updated for 2023.