How to digitally upskill your staff on a budget
Retraining your employees doesn't have to cost the earth – and can even cost nothing at all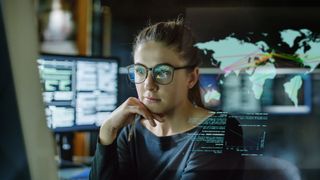 (Image credit: Getty Images)
The importance of retraining your staff can't be understated. Not only does doing so ensure that employees are able to learn in-demand skills and develop their capabilities, but it can also lead to greater job satisfaction, and ensures organisations don't fall foul of the widespread digital skills shortage.
Indeed, according to the Open University, almost 69% of IT employers are struggling to recruit new staff members with adequate digital skills, and 77% say they are currently facing a digital skills gap in their organisation. At the same time, a recent poll from software company EDP found 54% of tech workers are open to new opportunities. They also found that one in three employees would move for greater training and certification opportunities – so it's crucial companies offer training if they want to attract the best talent.
In the UK, employers invest roughly £42 billion in training each year, with an average spend of £1,530 per employee, according to 2020 government figures. This means, although crucial, retraining staff can also be a costly exercise for businesses, with many already feeling the pinch of the current economic storm. The worsening conditions have already forced even the biggest organisations within the tech industry to make cuts, and instigate sweeping layoffs.
Dr Alex Young, the founder of Virti, an NHS Innovation Accelerator, tells IT Pro retraining staff has traditionally been an expensive endeavour that can be tough to scale. Businesses, however, with the right strategy in place and a willingness to embrace cutting-edge technology can deliver high-quality staff training on a budget. "My best advice to small, medium and large organisations is to explore how you might best harness the emerging potential of new immersive technologies," he says.
Immerse yourself in opportunities
On the face of it, adopting new technologies in order to retain staff might not sound particularly cost-effective. Immersive technologies such as virtual reality (VR), however, may hold the key to the future of training – and help save money in the process. Not only has the cost of VR hardware significantly reduced over the past few years, but it can also allow employees to be retrained no matter where they are – which is ideal for organisations embracing hybrid working.
VR can also be easily updated to adapt to in-demand skills needs or changing working practices, which gives your training programme longevity and lowers long-term redevelopment costs.
Looking for off-the-shelf solutions, rather than forking out on bespoke hardware, can also help organisations to increase their return on investment. As Young tells IT Pro, while VR is typically associated with futuristic-looking headwear and expensive PC hardware, immersive training simulations can now be accessed on existing devices, such as smartphones and laptops, thanks to the growing number of cloud-based platforms.
"As well as providing a low-pressure, effective, scalable, consistent way to upskill, immersive training has a higher engagement rate that reduces the total number of sessions that each learner needs – and time investment," he says. "The only costs involved for the employer are the licences for the platform and an investment in the creation of the personalised training content itself."
Embracing peer-to-peer learning
Depending on the size of your business, the thought of digitally retraining your entire workforce might seem like a daunting – and expensive – task.
RELATED RESOURCE
Mastering retention
Turning user behaviour insights into retention strategies
One simple way to overcome this is to embrace peer-to-peer learning, whereby if an employee attends a training session or seminar, they share their key learnings with other members of the team. This is something Aiona, a Newcastle-based marketing agency, has embraced; learnings are shared in a Slack channel, and then other employees can decide whether they'd be interested to attend the same course.
Aiona, which also records all training sessions to be used at a later date, also uses co-mentoring, which sees teams swap their expertise on various topics in one-to-one sessions. Similarly, rather than making use of the services of external experts, the company makes use of staff that already have digital skills in certain areas. If somebody wants to learn a new skill that exists within the company, it asks them to have a session with that team member to establish whether they want to learn before they embark on any training programme.
This could be particularly useful for cyber security training. Regular awareness training is critical to ensure that employees are clued-up on the latest risks. If you have an in-house cyber expert, therefore, who can show employees how to use multi-factor authentication (MFA) and how to spot phishing emails, it could prove much more effective than hiring an external provider.
Looking for freebies
If you know where to look, it might even be possible to retrain your staff in digital skills at no cost whatsoever. Not only do some organisations offer free professional development seminars on platforms such as LinkedIn, but there are also a number of online tools that you can employ.
Google's Digital Garage, for example, offers personalised digital training in a number of areas, such as digital advertising and speaking in public, that can help your staff to upskill for free. Similarly, the government's National Careers Service offers a number of no-cost digital courses, from beginner courses such as how to use Word and PowerPoint to expert-level courses in data science and coding.
Of course, before adopting any of the above, it's crucial that your business first assesses its needs and goals. Look at what you want to accomplish by training your employees, and figure out which digital skills your business needs the most. It's important to prioritise. Once you're aware of those gaps, you can explore your training options and figure out which pathway is the best and most cost-effective method for you.
Get the ITPro. daily newsletter
Receive our latest news, industry updates, featured resources and more. Sign up today to receive our FREE report on AI cyber crime & security - newly updated for 2023.
Carly Page is a freelance technology journalist, editor and copywriter specialising in cyber security, B2B, and consumer technology. She has more than a decade of experience in the industry and has written for a range of publications including Forbes, IT Pro, the Metro, TechRadar, TechCrunch, TES, and WIRED, as well as offering copywriting and consultancy services.
Prior to entering the weird and wonderful world of freelance journalism, Carly served as editor of tech tabloid The INQUIRER from 2012 and 2019. She is also a graduate of the University of Lincoln, where she earned a degree in journalism.
You can check out Carly's ramblings (and her dog) on Twitter, or email her at hello@carlypagewrites.co.uk.
Get the ITPro. daily newsletter
Receive our latest news, industry updates, featured resources and more. Sign up today to receive our FREE report on AI cyber crime & security - newly updated for 2023.
Thank you for signing up to ITPro.. You will receive a verification email shortly.
There was a problem. Please refresh the page and try again.