Appian talks up mobile at annual global conference
Year of disruption and pivot towards mobile has shown low-code's strengths, claims CEO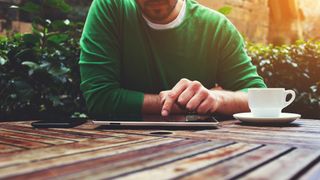 (Image credit: Shutterstock)
While 2020 in general can hardly be described as "mobile", with people worldwide under lockdown for most of the year, from a tech standpoint mobile has very much been at the forefront of the shift in working patterns seen over the past 12 months.
Speaking at the opening keynote of Appian World 2021, once again held virtually, Appian CEO Matt Calkin described how corporate mobile usage "surged" in the past year. Corporate mobile usage, he noted, was up 220% over the past four quarters, as workers shifted to using tablets and laptops – their own as well as corporately provisioned – to make it easier to work from home.
"This was all [obvious] in retrospect … but it wasn't obvious in 2019," Calkin told viewers. As a consequence many applications and providers struggled to deal with this shift. He claimed that 17 apps out of 20 were unable to pivot to mobile usage, causing problems for them and their customers.
"You can see there was a lot of hold back, that software got in the way of a lot of people's preferred usage patterns, and prohibited a kind of a lot of flexibility in work behaviour, and process behaviour," Calkin told IT Pro.
Appian, however, managed to deal with the sudden change in working practices easily, he said, as it was already mobile ready. Consequently, its corporate mobile app usage grew 1,970% over the same 12 month period.
RELATED RESOURCE
Seven steps to successful digital innovation and transformation
What to invest in and what to avoid when pursuing digital transformation
These growth figures, both 220% and 1970%, both show how much the world wanted to change, Calkin said, with Appian's success showing the strength of low-code in a changing environment.
"The value proposition is clear. Low code allows you agility, and businesses want that – which is all of them – have been coming to us and looking for it," he said. "I heard that businesses are talking about low code 10 times as much as they were a year ago. So the hype is definitely up. But I think also the value provided is up. There's a realisation that low code is a good route to the kind of digitalisation and agility that businesses are looking for."
Calkin echoed these sentiments during his keynote, saying that this switch to a mobile-focused business landscape is the reason low-code is here to stay.
"All customers are going to want to write once and deploy everywhere," he said, adding that low-code enables that, which low-code companies "should be shouting from the rooftops".
A daily dose of IT news, reviews, features and insights, straight to your inbox!
Jane McCallion is ITPro's Deputy Editor, primarily covering security, storage and networking for ITPro, CloudPro and ChannelPro.
Jane joined ITPro and CloudPro in July 2012, having previously written freelance for a number of business and finance magazines. She has also covered current affairs, including the student, public sector workers and TUC protests and strikes in central London while studying a Masters in Journalism at Goldsmiths, University of London.
Prior to becoming a journalist, Jane studied Applied Languages at the University of Portsmouth.
A daily dose of IT news, reviews, features and insights, straight to your inbox!
Thank you for signing up to ITPro. You will receive a verification email shortly.
There was a problem. Please refresh the page and try again.