Five business benefits of Digital Transaction Management
What is Digital Transaction Management and how can it help your business?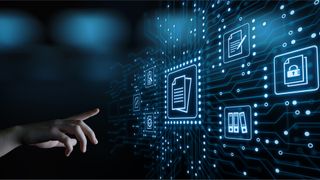 Digital Transaction Management (DTM) is a category of business applications that use cloud-based software and services to digitally manage document-based transactions. It encompasses digital signatures (e-signatures), document workflow and archiving, authentication and automation, and is seen as a key step in an organisation's digital transformation journey.
In other words, DTM takes the processes many businesses have traditionally conducted on paper - proposals, contracts, forms, data assembly and agreements - and makes them 100% digital.
However, DTM is about more than just digital documents. Many services now include an audit history, identity proofing, secure transactions and enterprise administration tools that bring a whole range of business benefits beyond ridding the office of piles of paper.
The global digital transaction market is expected to reach over $8 billion by 2025 according to market reports, and it is an area that both SMBs and enterprises are beginning to see the value of, particularly as part of their digital transformation strategies.
This is in no small part due to the huge costs of paper-based processes. When evaluating the total cost to produce paper documents, one estimate puts it at 1-2% of enterprise revenues.
Although we may be some way from an entirely paperless office, the COVID-19 pandemic of 2020 has forced organisations to speed up their digital transformation plans and many paper-based processes have been forced to go digital.
With that in mind, it is worth being aware of the benefits that fully digitising document processes can bring.
Time savings
Digitising your document workflow makes documentable processes much more efficient, saving time for both employees and customers. Even without the physical restrictions of coronavirus, printing, mailing, faxing, signing, and scanning documents complicate things and take up valuable time.
RELATED RESOURCE
Moving beyond E-signature
How to elevate the digital customer experience
When you cut down on time-consuming paper-based processes like new customer sign-ups, terms and conditions agreements, contracts, and legal documents, you create a better customer experience. Customers expect experiences to be quick, seamless, and reliable, which paper-based processes are certainly not. In a 2020 DocuSign-commissioned Forrester study, 32% of respondents said manual processes resulted in abandoned deals and reduced contract completion rates. Meeting customer expectations is clearly important for retention and your bottom line.
What's more, digital processes give you full visibility over business deals, so that you can easily look back on things like contract history afterwards.
The time-saving benefits for employees are also considerable, especially in paper-heavy departments like HR, where DTM can bring together hiring paperwork, contracts, onboarding, and payroll forms into a single process.
In fact, according to a recent Forrester survey, 41% of business leaders said that improving efficiency was their top reason for adopting DTM. Automating and streamlining routine tasks gives employees the freedom to focus on more important tasks and can make them more motivated if they're wasting less time with inefficient processes.
From more productive employees and happier customers, to time freed up for things like business development, saving time translates to saving money in both the short and long run.
Effective collaboration
Many businesses are still reliant on email for collaboration, and whereas it is a good communication tool, it's not necessarily the easiest way for multiple people to work on the same document. With the rise of cloud-based messaging platforms like Slack and Microsoft Teams, it's now easier than ever to relay necessary changes to a document and boost efficiency.
A good DTM software or service will make it much easier for teams to collaborate, with time-stamped changes, reviewers, authentication and more, speeding up the entire business lifecycle.
DTM also makes it possible for remote workers to work effectively alongside on-site employees on documents, rather than being unable to access printed files or having to carry sensitive information around in paper form. This is particularly useful right now, as a distributed workforce has become the norm thanks to COVID-19 office closures.
When many of the analogue processes involved in everyday business interactions are automated by DTM, employees are no longer tethered to the office, so as well as having the time to focus on their wider job role rather than document processing, they are also able to take advantage of more flexible working hours and locations.
Increased compliance
Since every DTM transaction leaves a digital audit trail, documenting compliance for laws, regulations and internal processes is much quicker and easier than paper.
Rather than posting copies of contracts or scanning and emailing copies of sales agreements, e-signatures provide an easy way of keeping these records without relying on proper filing or tracking the physical documents.
E-signatures also ensure all documents are signed legally, employing technology compliant with industry standard regulation. The best DTM for your business is one which can seamlessly integrate with existing applications, allowing for the technology to be utilised across each department.
Digitisation of processes also greatly reduces the risk of human errors. Through strict management of transaction workflows, compliance with legal and industry regulations can be in-built within the DTM, retaining customer privacy and data-protection.
Stronger security
A DTM system not only provides productivity tools, but is also beneficial for security and confidentiality through reducing the risks associated with storing files in a physical format.
With DTM, there is no danger of printed documents being left around, stolen, or going missing in the post, ensuring the information doesn't fall into the wrong hands. Digital documents can also be tracked, whereas once you print a physical document, it could be grabbed from a shared printer or sent to the wrong person without any means of finding out where it's gone.
Additionally, digital tools often come with security features such as password protection and biometrics to provide access control, meaning that that documentation is managed and viewed only by authorised users, also going some way to achieving increasingly difficult compliance goals.
Supports digital transformation
Digitising paper workflows should by its very definition be a key part of any organisation's digital transformation strategy. But digital transformation is about more than just digitisation - it's about linking each aspect of the business to create an efficient digital operation.
Because Digital Transaction Management is all about the end-to-end process, it can play a key part in bringing together different processes and departments within an organisation, reducing errors and increasing efficiency, as well as making it much easier to do business with clients and customers.
Businesses can implement DTM on a departmental basis, prioritising sales, finance or HR, but some companies may find it more beneficial to introduce it at a company-wide level. However, it's important to make sure that there is stakeholder buy-in and enough training and support to make the transition. A mass-shift from any paper-based to digital requires making certain your employees fully are up to speed.
One point to note is that although there are many providers that have DTM offerings which may address the individual goals of a paperless office, a DTM service or software by definition encompasses every step of a digital workflow, and it is this end-to-end aspect which is most beneficial to digital transformation efforts.
Get the ITPro. daily newsletter
Receive our latest news, industry updates, featured resources and more. Sign up today to receive our FREE report on AI cyber crime & security - newly updated for 2023.
Get the ITPro. daily newsletter
Receive our latest news, industry updates, featured resources and more. Sign up today to receive our FREE report on AI cyber crime & security - newly updated for 2023.
Thank you for signing up to ITPro.. You will receive a verification email shortly.
There was a problem. Please refresh the page and try again.