The evolution of Android: from tablets to digital signage
Can Android-driven digital signage move to the next level of suitability for retail?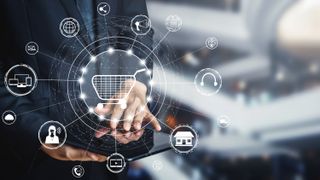 Advertising, like most other media that feature in our lives and work, has "gone digital." We all spend enough time on the internet and reading spam to know that. But digital advertising doesn't start and finish with online; other kinds of advertising have undergone the same transformation too, from outdoor advertising, to hotel lobby macromedia, to (crucially) the retail experience.
And the phenomenon that is both driving and supporting much of this growth? Digital signage.
"Growth" is most certainly the right word for it, too. Just to put this in context for a moment, consider the following:
• A recent study by MarketsandMarkets, announced here, has estimated that the global digital signage market will reach almost $14.9bn by 2020.
• PQ Media research, featured on digital signage blog Sixteen-Nine, suggests that digital signage is '"on the cusp" of its big breakout phase.
• It is also stated in the same report on PQ Media's research that digital signage is now "the world's second-fastest growing ad medium, and it is quickly becoming a vital component of the transitioning media ecosystem."
So, there seems to be no doubt – whichever way you slice it, digital signage is going large.
But actually, it's also going small. That is to say, the way digital signage is being used – particularly in retail environments – is becoming more demanding of signage solutions that are not just about large-format media players performing the role of macro-advertising.
As Dave Haynes, of Sixteen-Nine, writes, digital signage in retail is all about "orchestrating visuals and engagement that starts pretty much the minute people pull into a parking lot and sticks with them through the aisles..."
It's this last phrase that is really significant. Retailers have found that persuasive digital advertising on the shelves – that is, at the moment of the actual product purchase impulse – is far more likely to convert to a sale than large-format digital advertising elsewhere in the store. In fact, in a recent trial in Sweden, some stores found that the presence of 10" - 12" digital advertising screens on the shelves boosted sales by some 15 – 20 percent!
The OS – a critical choice...
And this is where it all comes back to Android. Developed for small devices, like tablets, that can be adapted for use as mini digital signage units, Android has already been deployed by many retailers seeking to deliver on-shelf advertising.
Arguably one of the most influential technology developments of our time, Android has been in existence since 2008, has been successfully delivered in 17 different varieties since its introduction, and, according to Gartner, continues to be "the OS of choice across all devices."
It also delivers benefits that are specifically applicable to digital signage solutions, including:
• Powerful performance in ultra-compact form factors
• Intuitive touch-screen capabilities that work in ways users are already familiar with from their phones and tablets
• Open architecture, enabling easy display of real-time content and dynamic feeds from the Cloud
• Application compatibility, enabling add-ons and apps to be incorporated into signage displays
Yet we have to be open and honest here; despite its impeccable pedigree and wide-ranging qualities, Android has historically also had to undergo a degree of modification and adaptation for digital signage use, with attendant maintenance implications.
An insightful blog in DigitalSignageToday.com sums a few of these issues up. The Android source code often had to be modified to make it more robust and secure; the tablets (being used as display units) were not sufficiently physically resilient to withstand in-store deployment; the display sometimes exposed sensitive functions to public view, or reduced the physical area available for advertising messages.
At the same time, retail is a hugely demanding digital advertising environment, with extremely high standards of uptime and availability. The blog's author notes that "if a customer gets one failure per month it is already unacceptable by industry standards."
The question, therefore, is this: how can Android-driven digital signage now move to the next level of retail suitability – that is to say, deployment with the absolute minimum of modification, integrated with displays that are physically robust, and delivering maximum availability, stability and reliability?
Android goes embedded
We don't have to search far for this next level, in fact – it is already upon us. Advertising has gone digital – Android has gone embedded.
To understand exactly what this means, we have to move some way back along the supply chain, from the retail end-users to the digital signage hardware vendors, software services partners and integrators.
These specialists can now produce an embedded version of Android, especially for use on smaller digital signage devices, delivering features, functions and benefits specifically required in the deployments in question, with no hacks, modifications, or plug-ins necessary.
Result: content that is stable, robust, reliable, and so, from the point of view of the retailer or advertiser, pays its way all the time.
Of course, specific, fit-for-retail small signage units (media players) and the controlling "boxes" are now made available as part of this proposition, too; no retailer can convert sales from a screen that is no longer working following an unfortunate encounter with a member of the public!
Moving further forward along the supply chain again, the OEMs and other manufacturers that build and sell digital signage devices (and, by definition, the OS and software contained within them) can now target the retail market more effectively than ever before.
The retail end-user, for their part, gets an Android-based, on-shelf signage solution that is effective, robust, combines software and hardware, and is low-maintenance.
This is, I believe, what you might call a "win-win" situation!
Android everywhere?
To return to some industry research for a moment, MarketsandMarkets have written recently about a "paradigm shift in the demand for digital signage products and its applications for many of the sectors such as retail, education, government, corporate, sports, and transport."
Strong words indeed – and if, as I've tried to show in the rest of this piece, embedded Android is now arguably the most viable choice for a fast-growing trend within that retail phenomenon, (i.e. the use of smaller screens for on-shelf advertising), then its ascendancy in that sector seems assured.
Now all retailers have to do is choose a partner who can deliver it...
Mats Sjöbrand is director, Northern Europe & marketing director, display solutions, Avnet Embedded EMEA
Stay up to date with the latest Channel industry news and analysis with our twice-weekly newsletter