Intel to invest €33 billion in EU chip manufacturing
This will include the long-rumoured €17 billion semiconductor fab mega-site in Magdeburg, Germany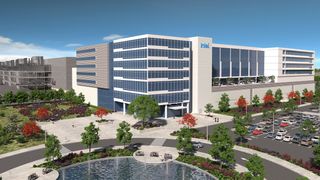 (Image credit: Intel)
Intel has announced an initial investment of €33 billion (£27.7bn) that will go towards semiconductor research and development (R&D) and manufacturing in the European Union (EU).
This will include the long-rumoured €17 billion (£14.3bn) semiconductor fab mega-site in Magdeburg, Germany, alongside a new R&D and design hub in Plateau de Saclay, France as well as a €4.5 billion (£3.8bn) factory in Italy.
Intel's investment in Italy is supported by its recently-announced $5.4 billion (£3.98 billion) acquisition of Tower Semiconductor. The deal has enabled Intel to gain access to Tower's partner STMicroelectronics, which has a chip plant Agrate Brianza, Italy.
Additionally, the American semiconductor giant will also invest billions of euros in expanding its R&D, manufacturing, and foundry services across Ireland, Poland, and Spain.
Overall, the €33 billion investment is expected to create at least 16,450 jobs across the EU, out of which approximately 6,000 are set to be permanent Intel positions.
Intel's 50% lab expansion in Gdansk, Poland, which will focus on deep neural networks, audio, graphics, data centre, and cloud computing, is expected to be completed first – in 2023.
France will follow, and is expected to start delivering high-performance computing (HPC) and artificial intelligence (AI) design capabilities in 2024.
RELATED RESOURCE
Flexible IT models drive efficiency and innovation
A modern approach to infrastructure management
Meanwhile, Intel's new Magdeburg mega-plant is only expected to begin production in 2027, with construction set to commence in the first half of 2023, subject to EU approval.
Commenting on the announcement, Intel CEO Pat Gelsinger described the planned investments as "a major step both for Intel and for Europe".
"The EU Chips Act will empower private companies and governments to work together to drastically advance Europe's position in the semiconductor sector. This broad initiative will boost Europe's R&D innovation and bring leading-edge manufacturing to the region for the benefit of our customers and partners around the world. We are committed to playing an essential role in shaping Europe's digital future for decades to come," he added.
Proposed in February, the European Chips Act aims to bolster the bloc's chip industry through billions of euros of investment and reduce its reliance on foreign supply chains of these components.
The news comes months after Intel abandoned plans to build a factory in the UK, with Gelsinger stating that, prior to Brexit, the country "would have been a site that we would have considered". The company has also invested in new chip factories in Arizona and Ohio.
A daily dose of IT news, reviews, features and insights, straight to your inbox!
A daily dose of IT news, reviews, features and insights, straight to your inbox!
Thank you for signing up to ITPro. You will receive a verification email shortly.
There was a problem. Please refresh the page and try again.