HPE announces new services from Pointnext to help businesses get back to work
Products include employee tracking and temperature reading to help prevent the spread of coronavirus in the workplace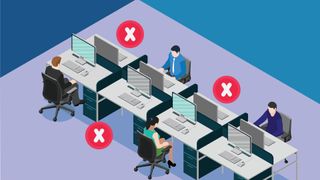 (Image credit: Shutterstock)
As it gears up for its first virtual Discover conference, HPE has announced five new offerings to help businesses in their efforts to recover from the COVID-19 crisis.
Delivered through the company's Pointnext Technology Services division, the "return-to-work as a Service solutions" use HPE Proliant Servers, EdgeLine Converged Edge Systems and Aruba AI-powered network infrastructure, as well as technology from partners like Kognition and Venzo Secure, to enable organisations to safely bring workers back into the office as they reopen.
This includes a fever detection system, touchless entry, social distancing enforcement and tracking, augmented reality for more effective communication with remote workers – of which there will likely be many even once offices reopen – and workplace alerts.
For contactless building entry, the system uses biometrics – facial recognition in particular – multi-factor access control, and identity verification. This will reduce or eliminate the amount that workers are touching shared access points like doors, ensuring a more hygienic workplace, the company said.
The fever detection system, meanwhile, uses thermal cameras, machine learning and video analytics to pick out and alert anyone with a high temperature in the office, and the social distancing pillar uses Bluetooth technology to alert workers if they're getting too close to each other, track the location of specific employees and facilitate contact tracing.
While the technical element of the AR/VR system is relatively well defined – an AR system provided in partnership with PTC and HPE's Visual Remote Guidance (VRG) product – the use case is a little fuzzier, although the company says it can provide better learning and collaborative experiences, as well as allowing users to be guided through a complex procedure like replacing a gas valve remotely.
Finally, there's the workplace alert system. This is already part of the company's Intelligent Workplace offering, which the company said this initiative builds on, and allows organisations to push notifications to workers using dashboards and apps. This could be particularly useful to notify those in a particular building if someone there had tested positive for COVID-19 and that they should begin isolation, rather than sending a company-wide message incorporating people working at sites that are unaffected, for example.
Saadat Malik, vice president of IoT and Intelligent Edge Services, at HPE, said: "Since the COVID-19 outbreak, our customers have turned to HPE to help them adapt to unique challenges presented by the pandemic to maintain business continuity.
"We have been there for them throughout these difficult times, on everything from supporting a transition to a remote workforce with our comprehensive virtual desktop interface (VDI) solutions, to now helping them return back to work and to a new normal.
"As businesses are reopening and returning employees onsite, our new robust solutions, featuring a range of HPE technologies and partner capabilities, are helping them make this transition safely while building on a highly differentiated, long term workplace digitization strategy."
All five services are available worldwide from HPE's Pointnext professional services business and use Greenlake's as a service subscription consumption model starting today.
A daily dose of IT news, reviews, features and insights, straight to your inbox!
Jane McCallion is ITPro's Deputy Editor, primarily covering security, storage and networking for ITPro, CloudPro and ChannelPro.
Jane joined ITPro and CloudPro in July 2012, having previously written freelance for a number of business and finance magazines. She has also covered current affairs, including the student, public sector workers and TUC protests and strikes in central London while studying a Masters in Journalism at Goldsmiths, University of London.
Prior to becoming a journalist, Jane studied Applied Languages at the University of Portsmouth.
A daily dose of IT news, reviews, features and insights, straight to your inbox!
Thank you for signing up to ITPro. You will receive a verification email shortly.
There was a problem. Please refresh the page and try again.