Choosing a distributor - what to ask!
Sean Fane looks at the questions you should ask any potential European distribution partner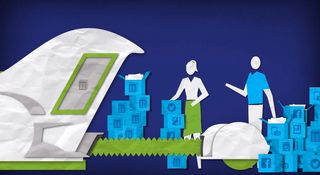 So what are the reasons for appointing a distributor in the first place?
Reasons usully include credit management, inventory and logistics skills, to leverage existing relationships, "attach" to an adjacent product or technology or a desire to maintain a vendor business that is as small and flexible as possible (by outsourcing everything except product development).
Other reasons are market driven; The speed of technology change, scale of margins and the ease in which software can be implemented and utilised (in most cases) means that WARMC (wide and rapid market coverage) is often the primary reason for appointing a distributor.
1. How is your business funded?
It is important, especially more recently, that distributors have the scale of "credit-worthiness" to take on a vendor and grow sales in line with expectations and commitments.
It is becoming more common for vendors to credit insure, and this sometimes limits the ability of a distributor to buy the quantities of products from the vendor that they might be capable of (or committed to) selling.
A plan needs to be in place then for what will happen as credit limits are exceeded, as nothing is more frustrating as a distributor, than outperforming your targets and then spending valuable management time finding what may prove to be expensive finance solutions to buying additional products from the vendor.
From a vendors point of view, their credit "risk" strategies need to be realistic, and their choice of the number of distribution partners and type of partners, in line with that strategy.
2. How is your business structured?
Is the distributor a privately-owned, stand-alone, pure-play, product-focussed distributor? Is it a publicly quoted, group company, selling products, services and training and also owning a reseller?
The different company motivations and ambitions can make a big difference to a vendors ability to motivate the channel.
For example…imagine appointing three specialists distributors to sell your software, who cover 90 percent of the addressable market between them. After six months of investment developing skills within the channel, distributor A decides that they need more sales of training that quarter in order to meet services targets that their organisation has committed to so that their share price is maintained.
In order to do this they run a quarterly incentive to sell your product at cost for the quarter if training is purchased at the same time. (You can imagine there are many variants of this type of incentive, structured to avoid any pricing commitments the distributor might have in place with you).
Distributors B and C continue to sell at standard rates and see their share and revenues plummet or their customers insist on a price reduction to match distributor A. When the quarter is over the resellers all have an expectation of the price that they can achieve on your product (distributor cost), some have switched distribution partners, and the distributor that cares least about your products legitimate sales development has the largest share of the market.
It won't take long for this kind of activity to permanently damage your relationships in the channel as well as your sales, as distributors B and C decide to sell your competitors products instead, or baulk at investing in developing sales in the future for fear of the same thing happening again .
Vendors can avoid this through a combination of choosing the distribution partners whose structure actually suits their product sales ambitions, and through tight controls and motivational tools.
3. What is your company's value proposition?
This question clearly needs to be supplemented by direct research, but if your product needs technical demonstrations and "proof of concept" installed in each project before a sale will result, then it is pointless appointing a distributor (regardless of their market share of the addressable market) if they have the best tele-marketing organisation and no technical pre-sales ability.
Conversely, if the product needs to reach a broad market very quickly, and users/resellers just need guiding through a price list or license scheme, then appointing a distributor with the most technically-skilled pre-sales resources is not going to help you meet your objectives.
Misaligned value propositions in channel partners is one of the biggest causes of frustration and poor performance in the channel.
4. What market do you address, and what share do you have?
It seems like an obvious question, and you should always ask (or better still research) this.
It is pointless appointing a distributor that has no existing position in your chosen market, except if they have the value proposition, incentives, skills and ambitions to attack your market from a standing start….and that will only work if you have the time to wait while they do this.
5. What similar products and services do you sell?
Do you want to appoint a distributor that already sells another similar product to yours?
Ironically this can either be a very good thing to do, or a disaster.
If the distributor has experience and skills and existing relationships where they can introduce your product, because it has been selling a similar product in that market for a while, then this can save a lot of time. It would make sense to ensure that the personnel in the distributor that manage your product are different from those that manage your competitors product, and that your distributor acts with the utmost integrity when inevitable conflicts arise.
This is a difficult situation to manage but can work well in the right circumstances with the right distributor.
Generally, however, selling another similar product is something that will cause an issue, and your decision to go with that distributor will be more based on your confidence that they will sell your product rather than your competitors.
So for example…if your competitors product is:
better than yours
has more marketing funds
creates more margin for the channel participants
is cheaper to the user
or if they have the ability (through greater financial strength as a business) to discount their product heavily when needed
…then it is likely to result in poor sales or an apathetic partner, but if the reverse is true, then you can take advantage of this situation and appoint your competitors distributor and fast-track your sales.
6. What other territories do you operate in?
If you want to expand throughout Europe this can be an advantage, but be wary.
A distributor with the perfect market coverage, value-proposition and motivations in one country might own a distributor with a very different set of circumstances in another country, so approach each location as a new agreement with separate due diligence on that territory and which distributor you appoint.
Stay up to date with the latest Channel industry news and analysis with our twice-weekly newsletter
ITPro is a global business technology website providing the latest news, analysis, and business insight for IT decision-makers. Whether it's cyber security, cloud computing, IT infrastructure, or business strategy, we aim to equip leaders with the data they need to make informed IT investments.
For regular updates delivered to your inbox and social feeds, be sure to sign up to our daily newsletter and follow on us LinkedIn and Twitter.
Stay up to date with the latest Channel industry news and analysis with our twice-weekly newsletter
Thank you for signing up to Channel Pro. You will receive a verification email shortly.
There was a problem. Please refresh the page and try again.