Six factors in customer retention
In this sixth article in the series, Paul Fileman focuses on Operations and Service Delivery.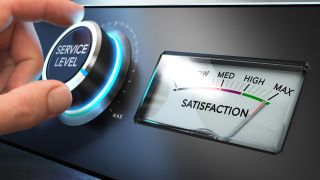 Here are some of the customer retention factors that you need to consider when transitioning from a traditional break fix model to a successful managed service provider.
Here are some facts that should get your attention:
The average unhappy customer will tell eight to 16 people about it. Hundreds (even thousands) more if they publish their experience on a social networking site
Unhappy customers will not convert from ad hoc services to recurring revenue contracts
It costs five times more to attract a new customer than to keep a current one
If you do not ask your customers how you are doing, they will keep problems to themselves – the first you may know about an unhappy customer is when you receive a notice to terminate the contract
If you make a real and sincere effort to remedy customer's complaints, more than 80 percent of them will stay with you
Six Factors
Value
Offer good value wherever possible, if customers believe they are getting a good deal they will be much more likely to stay with you. Some businesses try to charge extortionate prices to customers, this brings extra money at the time; but in the long run, customers will have no loyalty to them, and eventually they will have no customers at all.
Make sure that your customers feel they have got their money's worth – while being sure to price things at a sustainable level (apart from on special offers).
Demonstrate the value delivered with honest reporting and updates together with timely notice of equipment that may need to be replaced.
Consistency
Be sure to remember why your customers came to you in the first place.
What was it about your IT business that attracted them? You need to be sure that while you change in order to attract new customers, you do not alienate the older customers that you want to keep.
Communication
It's extremely important to ensure that your existing customers understand how much you value their custom. Offering unique discounts on new products or services to these people is a great way to show appreciation -- and a strong line of communication will help keep them in the loop and reinforce this relationship.
Sincerity
When extending special offers to your existing customers, it is paramount that you are sincere and that you also appear so. If you're not and the move is simply to disguise an alternate agenda, more often than not customers will see straight through it and they'll disengage.
Relationship
They key to maintaining your customer relationships is your workforce; employees, such as those that make up the Help Desk and Operations, are essentially the "shop window" for your IT business -- and if they flourish, so too will the company. Friendly staff will help ensure your customers feel valued and, when partnered with great service, this will help create a personal bond with your business.
Creating friendly working relationships is perhaps the single most important way that a small IT business can make its way in a busy marketplace. A simple polite greeting can go a long way, and just a minute of friendly conversation can be enough to begin or maintain that all-important customer relationship.
Trust
It may seem obvious, but by far the most effective way to make customers loyal is to treat them well. Provide good services at a reasonable cost, provide friendly customer service at all times, and deal with complaints as quickly and effectively as possible. Be honest, and give the customer reason to trust you. Loyalty rarely exists without trust.
Next Steps
Talk to your customers and ask them what they want. When next you meet a client, ask them open questions about how they feel about one of the six factors above in your case. Get to know your customers. Ideally so that they feel like they have a friend who happens to provide their IT services and products.
Article 1. Controlling the wheel of fortune
Article 2: Strategy: The Foundation of Growth
Article 3: A sales strategy for accelerating growth
Article 4: Marketing and Your Proposition
Article 5: Help Desk - a profit centre or a cost?
Stay up to date with the latest Channel industry news and analysis with our twice-weekly newsletter
Stay up to date with the latest Channel industry news and analysis with our twice-weekly newsletter
Thank you for signing up to Channel Pro. You will receive a verification email shortly.
There was a problem. Please refresh the page and try again.