Knowledge is power: Truer than ever for the channel in 2021
Why this year was the most important for knowing yourself and your customers better than ever before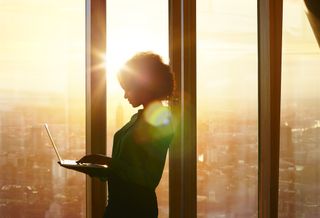 (Image credit: Getty Images)
"Who are you? I really gotta know". Way back in 1978, those Who lyrics were allegedly inspired by guitarist Pete Townshend's confusion on waking up hungover in Soho after seeing the Sex Pistols.
Channel pros rounding off a frantic 2021 might relate because this year, knowing yourself, your strengths, and your customers, has been critical to preventing headaches in a 'noisy' and COVID-ridden market.
Knowing who's who in the channel
Channel companies have always risked being seen simply as middlemen, inserting themselves into the supply chain to guarantee themselves a piece of the pie.
Success for resellers, distributors and all manner of third-party partners, meanwhile, has always involved knowing their value and showing end-users they have more to gain from working with the channel than by going direct. The human "X" must be solved for, in every channel sales equation.
In 2021, however, COVID-19 and Brexit highlighted various supply chain and skills constraints. Remote working in a hybrid environment not only erased the network perimeter, but pointed out the need to support and understand staff, ensuring they can maximise their contribution.
The firms that failed to successfully furlough, communicate and bring staff back this year as lockdowns were lifted could see more staff leaving serve as an example. All this was happening at a time companies needed to retain skilled workers and control costs.
Customers often needed more help than ever – partly because they, too, were suffering from many of the same problems. Much of this tallies with what Canalys chief analyst Alastair Edwards has seen. "The role that partners have played throughout this whole period has been central," Edwards tells Channel Pro. "The core roles of the channel have come to the fore. This year, probably more than any time in history of IT, reinforced the importance of a strong channel."
Resellers, meanwhile, who know their customers better, can do more of the running. Amid constrained and broken supply chains, the channel has increasingly tried to anctipate, figure out and locate the best alternatives to their first choices, whle managing customer expectations and navigating vendor relationships.
"The period we've been through has strengthened customer relationships with partners. It has made customers realise the importance of ideal IT partners that have stepped up in terms of customer engagement and support," Edwards adds.
"The channel has been the front line, keeping businesses operating. There were lots of situations when customers just didn't have enough internal resources to manage IT, the workforce and getting workers equipped, secured and working remotely."
Hardworking channel sales teams going above and beyond have also increasingly required understanding, nurturing and protection from burnout. Differentiating themselves by researching customer needs and aligning themselves more closely with requirements of specific customer segments and solutions, too, has proven a key approach. One result is the channel itself implementing more automation and digital tools. After all, by the time a sales call happens, it's now likelier to be short and sandwiched between Zoom meetings.
Edwards notes, too, that customers also typically know more than they used to. It's become critical to know who you're dealing with and their interests from the start of a customer engagement. Managed services, cloud services and subscription sales have held their value, with partners looking to build customer experience success in the longer term.
Face-to-face contact is still so important
Those who worked every day in the sales office are now likely to prefer to work from home at least two days a week, while home-workers are looking forward to developing face-to-face relationships. Channel staff, as well as customers, are also seeking ways to improve their work-life balance, but there are different approaches – knowing what will work for an individual business is key.
"We polled 300-odd partners globally and 44% said that as a result of the global pandemic, they have a much more balanced approach between virtual and face to face sales. Though I suspect that the share here in the UK is probably higher," Edwards says.
The hybrid ways of working that businesses bedded in this year look set to continue, though, not least because virtual meetings and events have saved a lot of travelling time and money. Vendors, meanwhile, have been stepping up more to support partners, with some coming out with creative financing agreements to solve cash flow problems for the channel. Overall, however, the channel has performed "pretty financially strongly" throughout the crisis, and has come out the other side.
"Profitability has been improved and margins have gone up. A lot of partners are in a better financial position today – so some of the financial initiatives that were initially put in the market were probably not even that necessary," notes Edwards.
Years back, observers sometimes thought IT resellers – let alone distributors – could eventually wither and disappear, with software, services and cloud computing leading customers to favour direct engagements with vendors instead. Today's pressures, including the race for digital transformation and the complexities of an increasingly software-defined world, look to have proven this idea wrong, at least so long as the channel retains and develops its ability to know itself, its business, and how to best serve customers.
Stay up to date with the latest Channel industry news and analysis with our twice-weekly newsletter
Fleur Doidge is a journalist with more than twenty years of experience, mainly writing features and news for B2B technology or business magazines and websites. She writes on a shifting assortment of topics, including the IT reseller channel, manufacturing, datacentre, cloud computing and communications. You can follow Fleur on Twitter.
Stay up to date with the latest Channel industry news and analysis with our twice-weekly newsletter
Thank you for signing up to Channel Pro. You will receive a verification email shortly.
There was a problem. Please refresh the page and try again.