NetSuite CEO: The cloud has won
NetSuite talks up market gains; reveals integration with Microsoft Office and Azure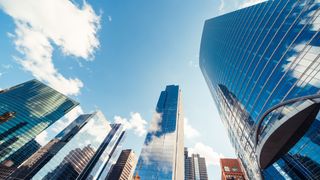 NetSuite (NYSE:N) CEO Zach Nelson took to the stage yesterday at the cloud software vendor's annual customer and partner event and declared "the cloud has won".
The exec, who is known for taking pot shots at his on-premise rivals in the financial and ERP software space, said: "The question over whether the cloud is going to happen or not is over. The cloud has won....The debate about the cloud is over."
While Sage continues to dominate the financial management system (FMS) market in the UK, NetSuite says a recent Gartner report positions them as the fastest-growing vendor among the top 10 vendors globally, both by market share and revenue growth in 2014.
Globally, NetSuite's FMS market share growth rate of 46.6 percent was more than six times the rates of its closest competitor within the top 10 by market share.
"This is what's happening in the market; this is the data that proves where the world is going," says Nelson.
In a surprise announcement, Nelson also revealed a new partnership with Microsoft (NASDAQ:MSFT) that will see NetSuite's cloud ERP integrated with Microsoft's Office and Azure platforms.
"The world is changing, and not just us, but traditional software vendors. Usually I have this Microsoft slide that's in the competitive section. Today it moves into the partner section," he said.
The announcement raised some eyebrows as NetSuite competes with Microsoft's Dynamics or Great Plains products, but Nelson credits the software giant's CEO Satya Nadella for embracing the cloud in a way Microsoft didn't do under Steve Ballmer's tenure.
"It does make for strange bedfellows, what's happening in the cloud. We have to work with a variety of new partners."
He added: "Historically we hadn't found a way to find common ground. When Satya came in I could see a sea-change, what they were doing, their willingness to partner...We saw all the great changes he was making we connected with him and we found some amazing places to partner."
In a recorded video message, Nadella said: "The integration between NetSuite and Office365 will bring together ERP and productivity in the cloud to transform how people work."
The integration between NetSuite and Azure Active Directory enables single sign-on (SSO) for customers, eliminating the need for users to manage and use multiple passwords. The integration also gives administrators centralised control of user authentication and password management.
In the coming months NetSuite and Microsoft will start cloud-to-cloud integration between NetSuite and Office 365, "opening the doors of front and back offices," according to Nadella.
By the end of 2015, NetSuite says it will have migrated from AWS and on-premise deployments to leverage Azure as its preferred cloud infrastructure platform.
NetSuite recently announced its Q1 2015 earnings, revealing revenues for first quarter of 2015 totalling $164.8m, representing a 34 percent increase over the same period in 2014.
Stay up to date with the latest Channel industry news and analysis with our twice-weekly newsletter
Christine has been a tech journalist for over 20 years, 10 of which she spent exclusively covering the IT Channel. From 2006-2009 she worked as the editor of Channel Business, before moving on to ChannelPro where she was editor and, latterly, senior editor.
Since 2016, she has been a freelance writer, editor, and copywriter and continues to cover the channel in addition to broader IT themes. Additionally, she provides media training explaining what the channel is and why it's important to businesses.
Stay up to date with the latest Channel industry news and analysis with our twice-weekly newsletter
Thank you for signing up to Channel Pro. You will receive a verification email shortly.
There was a problem. Please refresh the page and try again.