HPE updates flexible consumption model for channel partners
Partners can grow annual revenue streams by 25% each year, HPE claims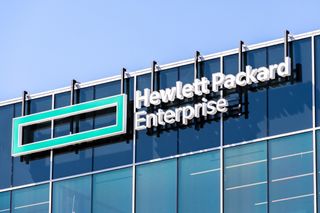 (Image credit: Shutterstock)
HPE has launched a channel-centric version of its GreenLake Flex Capacity IaaS offering, allowing partners to offer it to customers on a consumption-based purchasing model.
Launched at the company's flagship annual Discover conference in Las Vegas, the new GreenLake Flex Capacity model comprises seven pre-built packages covering what HPE has identified as its most popular offerings. The flexible consumption models are designed to allow customers to pay only for the infrastructure that they actually use, rather than wasting money on over-provisioning hardware they don't need.
HPE said that the move is prompted by a growing trend within the market as customers move from capital expenditure (CapEx) to operational expenditure (OpEx), as IT departments look to turn their spending into a predictable monthly cost, rather than expensive one-off payments every three to five years.
According to HPE, this represents an opportunity for partners to build an annuity revenue stream with a year-on-year growth rate of 25%.
"You're going to see the market shift there anyway," HPE's global head of field and channel marketing, Chris Ogburn, told Channel Pro, citing an IDC stat predicting that 40% of enterprises' infrastructure spending will be based on consumption-based procurement by 2020.
"This is going to happen; the trend will continue, and it helps with the over- and under-provisioning concerns you have when you just buy it from a CapEx perspective and bring the technology in, so this trend is going to accelerate very, very quickly."
Customers will pay for the infrastructure they use, with built-in headroom to scale up on a short-term basis. This usage rate will be determined from metrics powered by Cloud Cruiser, a cloud cost management platform that HPE acquired at the start of 2017.
"What we're announcing today is a true consumption, proper consumption model that will be sold through the channel the same way that it's procured by the customer - as a service," said Max Ramos, HPE's channel sales lead for flexible capacity and consumption. "It's designed to help customer quickly scope and sell these services with much better economics than what they currently have today."
The seven bundles on offer comprise HPE's most popular infrastructure products, including ProLiant Microsoft Azure Stack, Synergy 480 Compute Modules, SimpliVity 380, ProLiant BL460c Server Blade, 3PAR StoreServ 8200, 3PAR StoreServ 9450 and StoreOnce 5100.
These bundles each contain different tiers based on the level of demand, and are all pre-priced and pre-configured. Partners are in control of the final price for end customers, meaning they can set their own margins, and they're also free to combine these with their own added-value or managed services products.
Rather than being an entirely new offering, the new programme is actually an updated version of HPE's pre-existing flexible consumption model. HPE told Channel Pro that the main advantages that partners can expect to see from the new model are increased speed, as deals no longer have to be co-sold by HPE, and the pre-set price banding for each package means that quotes can be obtained much faster.
Instead of having to generate a custom quote through HPE's Pointnext Pursuit portal, partners can now give customers a proposal with a binding price based around one of the seven bundles within 30 minutes, dramatically expediting a process that previously took up to a fortnight.
Another attractive prospect for channel partners is the fact that the partner will fully own the contract with the customer, who will go solely through the partner for any future changes. In addition, the rebate that HPE is offering for partners taking advantage of this programme is 17% - larger than any other rebate the company is currently offering.
According to HPE, the offering is aimed predominantly at mid-size to large enterprise customers - the minimum contract for the Flex Consumption model is envisioned to be around $100,000, which puts it out of the price range of many smaller businesses.
Certain partners have been participating in an early pilot programme since January, but the model is now being made available in the UK and Germany starting today, with further expansion to other territories planned throughout Q3 and Q4.
Stay up to date with the latest Channel industry news and analysis with our twice-weekly newsletter
Adam Shepherd has been a technology journalist since 2015, covering everything from cloud storage and security, to smartphones and servers. Over the course of his career, he's seen the spread of 5G, the growing ubiquity of wireless devices, and the start of the connected revolution. He's also been to more trade shows and technology conferences than he cares to count.
As reviews and community editor, he's responsible for leading IT Pro's wide-ranging product coverage, and is an avid follower of the latest hardware innovations. He's never happier than when tinkering with complex network configurations, or exploring a new Linux distro.
In addition to managing the IT Pro Panel and working with the community of IT leaders that make it up, he co-hosts the IT Pro Podcast, where you can hear him ranting about his love of strange gadgets, his disdain for Windows Mobile, and everything in between.
You can find Adam tweeting about enterprise technology (or more often bad jokes) @AdamShepherUK, or you can email him at adam.shepherd@futurenet.com.
Stay up to date with the latest Channel industry news and analysis with our twice-weekly newsletter
Thank you for signing up to Channel Pro. You will receive a verification email shortly.
There was a problem. Please refresh the page and try again.