The Microsoft Azure opportunity in a 'cloud-first' culture
Ed Jones looks at the opportunities around Azure in a world charging headlong towards cloud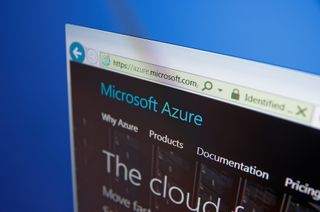 (Image credit: Bigstock)
Microsoft CEO, Satya Nadella, gave his first talk on British soil this week during Future Decoded. Introducing himself to a theatre filled with Microsoft partners and employees, Nadella took the opportunity to reinforce the company's vision of a mobile-first, cloud-first world.
Focusing on the emerging cloud-first culture, Microsoft is a huge driving force creating huge opportunity for resellers. Commercial cloud revenue for Microsoft just exceeded a $4.4bn annual run-rate according to the company's 2014 Annual Report.
Microsoft Azure opportunity in numbers
As Microsoft continue to express their commitment to cloud with the launch of two new Azure focused certifications, this growing opportunity takes on an added level of clarity when you look at Microsoft by the Numbers:
A $15m investment from Microsoft in their cloud infrastructure (highlighting a long-term commitment to cloud)
Microsoft host more than 1 million servers in its datacentres
50 percent of Fortune 500 companies use Microsoft Azure
1000 customers are signing up to Microsoft Azure every day
Cloud offerings from Microsoft continue to gain unparalleled traction. In the Earnings Release FY14 Q4, Kevin Turner, chief operating officer at Microsoft, said of the company's cloud growth:
"Our results reflect our customers' long-term commitments to our products and services, and strong execution by our field teams. We are thrilled with the tremendous momentum of our cloud offerings with Office 365 and Azure both growing over 100 percent again."
The Windows Server 2003 end of life opportunity
Adding to existing cloud adoption, Windows Server 2003 end of life presents another huge opportunity. Come July 14, 2015, support will end for Windows Server 2003/R2. This means no more patches or bug fixes for security vulnerabilities in the aging server platform exposing users to high risk from cyber-attacks and data loss.
Non-compliance will also be a huge issue, continuing to run Windows Server 2003 at this stage could prove damaging to business. As an example, when End of Life arrives, business running the legacy server platform will no longer adhere to the PCI compliance standards required to host Visa and MasterCard transactions on their websites.
Those wishing to stick with Windows Server 2003, past end of life, will face a hefty financial burden. Customised intrusion detection systems, advanced firewalls and network segmentation required to protect the platform, in its now vulnerable state, cost on average $200,000 a year.
With all this in mind, the logical business option is to migrate away from soon defunct platform. With a reported 11 million systems still running Windows Server 2003, there is substantial migration market emerging. So as IT decision makers decide on alternative platforms for migration, there is a huge opportunity for those in the channel to recommend a transition to Microsoft Azure as well as alternative platforms including Windows Server 2012 R2, SQL Server 2014 and System Center.
New Azure features to rival Amazon and Google cloud offerings
In late October, Microsoft announced a series of new Azure features and products during TechEd Europe. The features will hit hard at competitors like Amazon and Google and Microsoft look to further differentiate their cloud offering. If you missed them, key announcements include:
Azure G-series virtual machines - powered by Intel Xeon processors and retrofitted with Premium Storage of 32GB and 50,000 IOPS per VM, these are the largest VMs available. To give context, the G-series offers 3x the memory of a Google Compute machine, and with 450 GB of and 6.5 TB local SSD, the G-series is quickly emerging as a front runner in the cloud market.
Microsoft Cloud Platform System (CPS) – unveiled almost as an afterthought, the Cloud Platform System (CPS) has the potential to be a game changer in private/hybrid cloud world. The integrated system combining Azure-consistent on premise cloud with an optimized hardware stack from Dell is a powerful offering.
Microsoft Azure Marketplace – the new Azure Marketplace offers a collection of Virtual Machines, Applications and Services (data& apps) accessible to anyone using an Operating System, Mobile Device or programming language.
So there we have it, abundant Azure opportunities in a world charging headlong towards the cloud-first ethos of Nadella. Keep your eyes peeled though, this is a rapidly expanding market and it's only a matter of time before more upgrades and offerings are unveiled.
Stay up to date with the latest Channel industry news and analysis with our twice-weekly newsletter
Stay up to date with the latest Channel industry news and analysis with our twice-weekly newsletter
Thank you for signing up to Channel Pro. You will receive a verification email shortly.
There was a problem. Please refresh the page and try again.