Cloud storage: A quick guide
With analysts predicting tremendous growth in spending, it's time IT leaders embraced cloud storage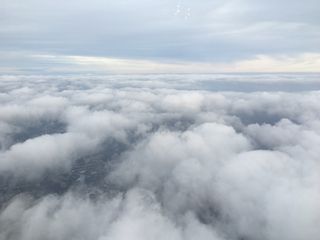 What is cloud storage?
Modern cloud storage can be traced back to the early 1990s, when technology firm CompuServe offered its consumer users 128k of disk space to upload stored files.
That space might represent a measly amount when compared to the terabytes of data individuals create and store today on an annual basis, but CompuServe's approach provided an important stage post towards the modern form of cloud storage.
What such initial developments reveal is how the modern cloud is actually an evolution in technology. Cloud storage – where data is held on virtual servers by third parties – is only possible today because of the coming together of various factors, most notably stellar progress in terms of computing power, storage availability and networking technology.
Who is it aimed at?
Cloud storage comes in two distinct flavours: enterprise-focused approaches and consumer grade services. Consumer file hosting services act like online storage lockers, allowing individuals to store and potentially share data with other users on connected devices.
At the enterprise-focused level are huge suppliers who provide infrastructure-as-a service (IaaS). Market leading services, such as Amazon Web Services, Microsoft Azure and Google Compute Platform, provide elastic storage that business users access through the network. Storage can be reduced or increased on-demand.
Beneath these enterprise providers rests a layer of popular cloud storage specialists. Facilities such as Dropbox, Box, Microsoft OneDrive, Google Drive, Apple iCloud and Amazon Cloud Drive offer a small amount of storage provision that can be increased via a monthly subscription. Users can access their information online through dedicated apps and portals.
There is, however, a large amount of crossover between enterprise-focused provision and the more popular services. Box, for example, started as an enterprise specialist before moving into the consumer market. Dropbox, on the other hand, became hugely popular amongst consumers, many of who then wanted to download the service onto their enterprise devices.
Many of the larger cloud storage specialists are starting to expand their offering to offer wider flexibility for customers, enabling them to mix and match vendors to get the best of all worlds. Microsoft, for example, rolled out an update for the StorSimple 8000 series, allowing customers to use their preferred cloud services as the backend storage for their StorSimple solution.
The update now supports Amazon S3, Amazon S3 with RRS, and OpenStack-based clouds, such as HPCS - HP's cloud solution that offers public, private, hybrid, and managed private clouds based on OpenStack technology. Data, backups and other management processes can be carried out from the Azure StorSimple service, making it easier to manage, too.
Guru Panga, general manager of Hybrid Storage at Microsoft explains: "At Microsoft we continue to deliver innovative and important hybrid cloud storage solutions globally – and I am excited to see our customers embracing our new innovations. With StorSimple Update 1 we can now deliver even more cloud connectivity, automation, redundancy and data migration capabilities to our customers."
How does it impact the market?
Spending on the cloud is such that Gartner recently lowered its growth expectations for the traditional server and storage systems market. This reduction was due to a higher than previously anticipated switch to cloud-based services. The analyst says the cloud storage market continues to evolve rapidly, with increased signs of price competition and consolidation amongst suppliers.
Cloud services will remain a hotbed of enterprise activity in 2015, reports IDC, with $118bn in spending directed towards the greater cloud ecosystem. The research says there will be brisk growth (36 percent) in the adoption of IaaS provision. It also expects market leader Amazon to come under attack from a range of directions, as suppliers focus on new services.
Growth is such that IDC expects spending on public cloud services to grow from $56.6bn in 2014 to more than $127bn through 2018. This represents a five-year annual growth rate of 22.8 percent, which is about six times the level for the overall IT market. By 2018, IDC estimates public cloud services will account for more than half of worldwide software, server, and storage spending growth.
However security still remains to be a big concern for organisations and it could be sticking point for some organisations in the months ahead. A report by CTERA revealed that almost three quarters of businesses are considering an alternative to public file sync and share technologies and this is providing a huge opportunity for private cloud storage service providers.
In fact, a report, by the Cloud Industry Forum explains that security is the biggest barrier to companies signing on to use cloud services in the UK. 70 per cent of those surveyed said data security was the biggest thing stopping them from moving their infrastructure to the cloud.
Data privacy was the biggest single concern, with 61 per cent of respondents saying it was preventing them from exploring the cloud, while 40 per cent said loss of control/manageability of their IT systems was a key issue.
CIF chief executive Alex Hilton said: "As stated previously, hybrid will be the modus operandi for the majority of organisations for the foreseeable future, being either not yet ready to move everything to the cloud, or unwilling to.
"There are a number of contributing factors here: fear of losing control of IT systems, security and privacy concerns, and lack of budget currently stand in the way of greater adoption of cloud by businesses."
This means private cloud infrastructures are becoming more prevalent, with the report revealing that 59 per cent of companies prefer to a sign up to a private cloud FSS solution run either on hosted private infrastructure or in their own datacentre.
Rani Osnat, VP of Strategic Marketing at CTERA comments: "Cloud storage is simplifying and accelerating data services across the enterprise. However, an increasing number of data leakage events, and a desire to exercise more control over file sharing and data protection are forcing organizations to investigate and deploy alternatives to public cloud storage services.
"In our second year of research, the trend continues, demonstrating that organizations are leveraging cloud storage for efficiency gains and cost savings, while combatting security, control and governance requirements with virtual-private or fully-private topologies."
Points of interest
As with other areas of the cloud, security concerns remain paramount for IT leaders who are dealing with online storage, particularly when it comes to the blurred interface between personal and enterprise cloud storage. CIOs must dedicate time to people and policies, outlining carefully which cloud storage providers can be used and what information can be stored online.
Even then, errant individuals will still find ways to circumnavigate policies. The risk of an information compromise will be huge for a business, both in terms of reputation and the potential cost of a fine from the Information Commissioner's Office. The perceived security risk of the public cloud means a large sub-market exists for companies who provide specialist tools and training.
Channel Pro opinion
Cloud storage has transformed the way individuals and companies store and use data. The speed of that transformation has been rapid and the pace is only likely to quicken. With analysts pointing to tremendous growth in cloud storage spending during the next few years, IT leaders must embrace the change and work with employees, senior executive and technology partners. Successful businesses will create a cloud storage strategy that provides flexible, yet secure, access to information from any location.
Stay up to date with the latest Channel industry news and analysis with our twice-weekly newsletter
Stay up to date with the latest Channel industry news and analysis with our twice-weekly newsletter
Thank you for signing up to Channel Pro. You will receive a verification email shortly.
There was a problem. Please refresh the page and try again.