Hybrid cloud: A quick guide
With analysts suggesting continued growth, it's likely hybrid cloud will develop into a mainstay of IT environments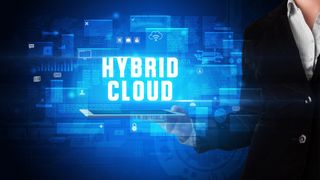 What is hybrid cloud?
The great benefit of the public cloud is the ability to scale resources up and down in response to business demand. The great downside is the perceived security risk – the financial and reputational costs of an information leak mean many organisations are reticent about a full move on-demand.
There is, however, another way. The hybrid cloud offers an alternative for executives who are looking to gain more flexibility than is offered through a private cloud initiative, but without the risk sometimes associated to a full public installation.
In a hybrid cloud, an organisation provides and manages some resources in-house and has others provided externally. Businesses can use the hybrid cloud to combine various on-demand services and create an integrated computing environment. Hybrid cloud allows for cloud bursting, where an application runs in a private cloud and bursts to a public environment when demand requires.
Who is it aimed at?
The answer is just about every private and public sector organisation. Initial excitement about the potential of the cloud was tempered when IT executives recognised a raft of regulatory and business concerns meant pushing data online was not necessarily the golden ticket.
Cloud suppliers quickly realised the growing level of reticence and presented the hybrid cloud as a solution to the business challenges faced by technology chiefs. In truth, almost every organisation will use a hybrid approach to storage that draws on both private and public cloud-based mechanisms.
However, a hybrid cloud is distinct from a hybrid approach. The hybrid cloud offers a way for IT managers to design a business process as a single service. The resulting environment allows business users to pass information securely between public and private clouds.
How does it impact the market?
Analyst Gartner says the use of cloud computing is rising sharply, and by 2016 this growth will represent the bulk of new IT spending by businesses. Researcher IDC says will be an 11 percent shift of IT budget away from traditional in-house delivery and towards various versions of the cloud by the end of next year.
The hybrid cloud will form of crucial component of this spending. Tech Pro Research reports that 93 percent of IT decision makers have heard of hybrid cloud and, out of this group, one third have already implemented a solution in their organisations.
Gartner estimates almost half of large businesses will have implemented a hybrid cloud environment by the end of 2017. And such interest leads analyst Research and Markets to forecast that global spending on the hybrid cloud will continue to increase rapidly, with an annual growth rate of 30 percent through to 2018.
Points of interest
Companies looking to take advantage of the hybrid cloud must first build a private cloud. That sounds somewhat anomalous, given that the hybrid cloud emerged as an alternative to the restrictions of the private approach and to the potential challenges associated with a public approach. However, a hybrid cloud works by allowing information to pass between public and private clouds.
Gartner suggests the requirement for the construction of a private cloud is a potential sticking point for hybrid success. The analyst says many organisations struggle to demonstrate the value of private clouds because their implementation requires a shift in how IT is delivered, involving changes to people, processes and business management.
On the public side of the equation, the community cloud – where like-minded firms use on-demand technology that meets sector-specific-standards – is seen as a potential way to meet the hybrid demands of modern business. But progress is unlikely to be rapid, with just 17 percent of CIOs believing the community cloud will be the dominant on-demand model by 2017.
IT Pro opinion
Cloud computing has evolved quickly, from its original inception and hype in vendor marketing literature, through to its position today as a key element of enterprise IT. That evolution continues apace. The hybrid cloud has developed as a means to help technology decision makers take advantage of the cloud. And with analysts suggesting continued growth in adoption rates, it is reasonable to conclude that the hybrid cloud will develop into a mainstay of public and private sector IT environments.
Stay up to date with the latest Channel industry news and analysis with our twice-weekly newsletter
Stay up to date with the latest Channel industry news and analysis with our twice-weekly newsletter
Thank you for signing up to Channel Pro. You will receive a verification email shortly.
There was a problem. Please refresh the page and try again.