Is private cloud dead? Not at all, say cloud providers
While hybrid and public clouds may be gaining in popularity, there are still reasons to stay private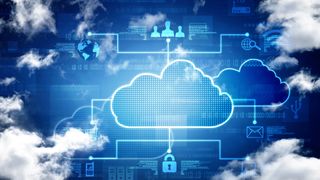 (Image credit: Shutterstock)
With the shapes of public and hybrid cloud evolving, some might wonder whether anyone really needs private cloud anymore – especially if the customers in question don't have difficult-to-migrate applications to manage.
US hybrid cloud sales have been tipped to almost triple to $145 billion by 2026 versus 2020, according to a recent Mordor Intelligence forecast. With public cloud growing too, fully private infrastructures look set to shrink.
Robert Rutherford, chief executive officer at managed services provider QuoStar, confirms that most of its customers either have or will move over time to public or hybrid infrastructures. Private cloud network bottlenecks and disk restrictions make management and servicing potentially more costly, if not more complex.
"We used to do a lot more testing when we had more in private cloud. Automated load testing, obviously, was part of that, and you would need to do it and keep doing it," Rutherford explains.
"A lot of people still provide private cloud but typically they're sweating legacy assets which they perhaps spent on heavily years ago – and those margins won't be around much longer."
Private cloud often suits fairly static and predictable workloads, yet companies today typically seek dynamic scalability, he says. Also, solutions are appearing that will over time solve critical questions about the handling of sensitive data – removing more of the remaining barriers to public cloud.
If applications can be migrated and there aren't specific security, privacy or location related data restrictions, public or some variety of hybrid infrastructure typically makes more sense as a "long term fit", Rutherford says – although customers still demand private cloud, so the channel must respond.
Hiren Parekh, Northern Europe vice president at cloud provider OVHcloud, points out that cloud adoption is increasing generally overall. Certainly, customers are typically looking for more agility, but specific choices on cloud can be more about where they are on their digital transformation journey.
"I wouldn't say that private cloud is dropping off, as such. Overall, private cloud adoption is equally increasing," Parekh confirms.
It's all about customer workloads
Even if many might superficially favour public cloud, not all workloads can be refactored or repurposed to fit. Applications that cannot be migrated easily aren't ready for public cloud, Parekh adds.
"Private cloud does give you a bit more ability to migrate those native workloads in a native format. Probably less conformity is needed if you're using VMware on premises and VMware as a cloud solution. In the end your workloads are more transferable," he says.
On the other hand, hybrid cloud can make it easier to choose a preferred flavour of cloud solution for specific workloads, especially when open standards and open software can be adopted to avoid the need to conform to a specific provider or way of working.
"The channel as a trusted advisor then helps those organisations understand the right solution for them in a completely complex landscape with the different fragmentation of applications that everyone has these days," Parekh says.
The differentiation comes when public cloud gives customers new functionality and fast scaleability – but that also typically comes at a cost. On the other hand, private cloud can deliver slightly more stability in some ways, according to Parekh.
If customers need truly automated additional resources or automatic scaling, the best solution may involve a certain amount of public cloud. However, when the customer requires an additional layer of security, strict requirements around specific certifications, data sovereignty, or compliance with the likes of the Payment Card Industry Data Security Standard (PCI DSS), such as fintech firms, a hosted private cloud might be a better choice.
"We firmly believe there is a place for both private and public cloud and we offer both solutions. And we still offer bare-metal dedicated servers, which also give true hybrid capabilities, if you like. It's horses for courses," Parekh says.
"Hospitals, government, defence. They don't want it to be as open as public cloud and this is the right platform for them."
Those private cloud customers will also benefit from knowing the resources they're getting and what they're paying for. They can make use of a cloud environment, but with more dedicated resources and without the experience of having "noisy neighbours".
Customers shouldn't, however, assume they can't trust something running in public cloud, especially with the gap narrowing between public and private cloud when it comes to security and compliance.
Carl Lehmann, senior research analyst at 451 Research (part of S&P Global), also believes that the choice depends primarily on the types of applications that customers are looking to run and how they want to run them – especially with vendors still launching new private cloud services.
"The company needs to understand the nature of their workloads. When considering private cloud, they need to be cloud native, modern, stable, predictable, and operate within predictable performance boundaries and budget constraints. If you know all of that, a private cloud makes a lot of sense."
Stay up to date with the latest Channel industry news and analysis with our twice-weekly newsletter
Fleur Doidge is a journalist with more than twenty years of experience, mainly writing features and news for B2B technology or business magazines and websites. She writes on a shifting assortment of topics, including the IT reseller channel, manufacturing, datacentre, cloud computing and communications. You can follow Fleur on Twitter.
Stay up to date with the latest Channel industry news and analysis with our twice-weekly newsletter
Thank you for signing up to Channel Pro. You will receive a verification email shortly.
There was a problem. Please refresh the page and try again.