How smarter SaaS management will unlock growth in cloud services revenue
SaaSops has been cited as a big trend for 2020, but what is it, and why should the channel care?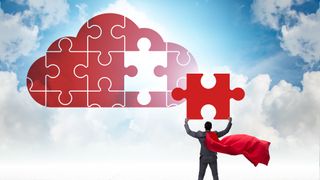 (Image credit: Shutterstock)
Gartner has predicted an overall contraction of 8% in global IT spend in 2020 from the coronavirus crisis. This looks set to make it tougher than ever for channel partners, raising the stakes in the neverending race to commercialise innovation. One area forecast to deliver increasing business value from this year onwards, however, is SaaSops, on the back of ramped-up cloud transformation. Increasingly, application-level processes can benefit from better support offerings across developing hybrid and multi-cloud infrastructures.
IT ops in a cloudier world
Carl Lehmann, principal analyst for applied infrastructure and devops at 451 Research, explains that while SaaSops is at its heart just operations management for software as a service (SaaS) applications through automation, it's becoming increasingly important.
"For a while, we've had cloud management systems to govern and control our multi-clouds – typically a combination of services for things like IaaS and PaaS," Lehmann says. "Most cloud management platforms manage cloud services from AWS or Google or Microsoft. What they don't do is manage SaaS applications, which differ from infrastructure services."
SaaSops looks at user rights and privileges: types of users, who has administration rights, and what those capabilities are. Different SaaS applications have different "personas", charged differently. And organisations can have hundreds of different SaaS applications in their environment.
"For example, a user might sign up to a free service and have an access procurement card. Suddenly that free service expires and they get charged. Theoretically, under a SaaSops platform, you'd control some of that," Lehmann says.
Specialists in SaaSops today include the likes of BetterCloud, Blissfully, or Zylo, with capabilities beyond "traditional" services management players like BMC or CA. SaaS vendors themselves have similar tooling, but it's typically for their own platform only.
And therein lies the opportunity for the channel.
Gary Bennion is chief product officer at CloudM, the migration-focused arm of Cloud Technology Solutions (CTS). The company's SaaSops offering developed out of its initial migration and has expanded to 50% of their business since 2018.
"It was led by customers we were doing little bits of extra work for, after they'd migrated to the cloud. We spotted a common problem so built a product that solved it. Uptake has been fantastic," Bennion says.
The CloudM platform moves customers from on-prem into cloud, and also around the cloud – for example, between different cloud vendors. CloudM can also begin solving some of the typical problems organisations have once they're in the cloud.
"We can automate the on- and off-boarding of users, with dynamic rule-sets using 'if this, then that' criteria to match users and provision them into the right shared folders, shared calendars, making sure they have the right email signatures and all that good stuff," he says. "When they leave – and I think this what is really driving SaaSops – de-provisioning is a real challenge, especially managing all the data."
Cloud's dirty little secret
Financial services and human resources typically have volumes of business-critical data. Managed deprovisioning can move data into a cheaper location or in lighter form to a manager's or the next hire's user account to ensure business continuity. While large providers like Microsoft and Google offer cheaper SKUs to help firms retain data in compliant and more convenient ways, it's still an additional cost.
"We refer to it as cloud's dirty little secret: one thing that cloud vendors have got on customers now is what to do with all the data. You end up with thousands of users who have left your organisation but you're still paying for their licences, just so you can keep access to their data," Bennion says. "And our unique selling point is that we move data too."
A sweet spot is mid-market organisations with around 1,000 users; these firms might see 20% staff churn, which can mean spending thousands of pounds annually on leavers' licenses. That doesn't mean only servicing companies of this size, though. CloudM's biggest customer is Veolia, with 100,000 users, and they also have small, cost-conscious customers with just 20 users.
Meanwhile, MSP offerings with SaaSops are a chance to create recurring revenue.
Bennion says 70% of its business hails from the USA, based with Google migration partners including SADA Systems, Onix and Maven Wave. It's now looking to grow its UK business through new reseller partnerships, hitting 100% channel in the next 12 months. He agrees, too, that the pandemic is likely to boost cloud services for months and perhaps years ahead.
As 451 Research's Lehmann says: "SaaSops can help administer all those different applications for hundreds or thousands of users. This could yield considerable returns in the short term if managed properly."
SaaSops as a subset of cloud management platforms which over time, he says, will likely evolve into unified infrastructure management platforms that span multiple cloud services and hybrid IT architecture – managing more cloud services across different cloud services providers. Meanwhile, organisations trying to consolidate and rationalise cloud services will be looking to invest in tools that can assist, at the very least from a planning perspective.
Stay up to date with the latest Channel industry news and analysis with our twice-weekly newsletter
Fleur Doidge is a journalist with more than twenty years of experience, mainly writing features and news for B2B technology or business magazines and websites. She writes on a shifting assortment of topics, including the IT reseller channel, manufacturing, datacentre, cloud computing and communications. You can follow Fleur on Twitter.