Windows 8 vs Mac OS X Mountain Lion head-to-head review
A comprehensive look at the UI, software, security and business features to see which OS is top dog.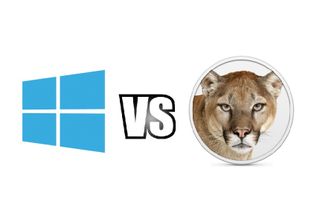 The battle between Windows and OS X is one of the fiercest in technology, with advocates from both sides insisting their OS is superior.
Both have their advantages, and we aim to help you find out which is best suited to your needs. We've used Windows 8 and Mac OS X Mountain Lion as the basis for our comparison. With upgrades including Windows 8.1 and OS X Mavericks due to land later this year, we've also included features you can expect in the forthcoming releases.
User Interface
Most PC users have grown up with the classic Windows desktop UI, including the Start menu, taskbar and windows. That's all changed with Windows 8: the desktop is hidden behind the touch-focussed Start screen, and the Start button was scrapped in the initial release.
Windows 8 is one of the biggest changes in the history of the OS, and a clear indication of Microsoft's intentions to try and modernise the UI. The focus is on the large finger-friendly Live Tiles and finger-friendly menus.
The desktop remains largely unchanged, to the relief of power users. Microsoft's changes mean the new OS works well with touchscreen devices but, for business users without touch functionality, it's awkward: the Start screen is tricky to use with a mouse and keyboard, the Start screen's full-screen apps aren't conducive to multi-monitor working, and we're no fans of switching between the Start screen and the desktop.
Thankfully, Microsoft has listened to some of the scathing feedback and changes will be released in the autumn via a Windows 8.1 update.
The free update will allow Windows 8 to boot directly to the desktop, which bypasses the Start screen entirely. A Start button has been added, although it's still impotent compared to the original. A left-click allows users to jumps back between the Start screen and desktop. A more useful right-click brings up a set of shortcuts to access features such as the Control Panel or Task Manager. However, the list of programs appears gone for good.
The Start screen itself hasn't been left alone, with more versatile split-screen options to aid multitasking, more Live Tile sizes and better search.
The end result should be an OS that's a more comfortable mix between traditional Windows and the touch-focussed future, even if it's more of a compromise than Microsoft would like. That means Windows 8.1 will be much easier to use for office workers who use keyboard and mouse, prefer multiple monitors and like to work with several applications at once.
Apple doesn't make sweeping changes to OS X, instead introducing incremental upgrades every year. The latest version retains the familiar taskbar full of icons at the bottom of the screen, and the OS remains based on a traditional desktop full of windows. The Finder app is used to navigate documents, applications and the file system, and a bar at the top of the screen houses notifications, networking information and menus unique to each application. Ironically, some Windows users may feel more at home with OS X than Windows 8, at least initially.
The current version, Mountain Lion, introduced the Notification Center, Messages app and automatic application updates. MobileMe was replaced by iCloud, which handles storage and synchronisation of email, contacts, photos across OS X and the iOS platforms.
Mavericks is the next version of OS X and it will be the first to be named after Californian places rather than big cats. Multiple display will support be upgraded, the Mission Control app supports multiple workspaces, and Finder now works with tabs. Mavericks will also add iBooks and iMaps apps to the desktop, and brings several other tweaks including interactive notifications and an encrypted iCloud Keychain. The latter aims to encrypt passwords, save them and then automatically populate them.
It's no coincidence that many of OS X's latest features have been borrowed from iOS, but OS X's UI is firmly rooted to keyboards and mice. Concessions to touch have been made, but they've sensibly been left on trackpads: slick gestures can be used to scroll, zoom and open the Mission Control app.
If Microsoft wasn't introducing the upgrades with Windows 8.1 then Apple would be taking home the prize in this category. But Microsoft's changes including boot-to-desktop, more Start screen versatility and the return of a Start button give Redmond the edge. Just.
WINNER: Microsoft
Get the ITPro. daily newsletter
Receive our latest news, industry updates, featured resources and more. Sign up today to receive our FREE report on AI cyber crime & security - newly updated for 2023.
Mike Jennings has worked as a technology journalist for more than a decade and has been fascinated by computers since childhood, when he spent far too long building terrible websites. He loves desktop PCs, components, laptops and anything to do with the latest hardware.
Mike worked as a staff writer at PC Pro magazine in London for seven years, and during that time wrote for a variety of other tech titles, including Custom PC, Micro Mart and Computer Shopper. Since 2013, he's been a freelance tech writer, and writes regularly for titles like Wired, TechRadar, Stuff, TechSpot, IT Pro, TrustedReviews and TechAdvisor. He still loves tech and covers everything from the latest business hardware and software to high-end gaming gear, and you'll find him on plenty of sites writing reviews, features and guides on a vast range of topics.
You can email Mike at mike@mike-jennings.net, or find him on Twitter at @mikejjennings