Government-as-a-Platform: What it means for public sector IT procurement
Whitehall sets out plans to prototype three common IT platforms to improve public services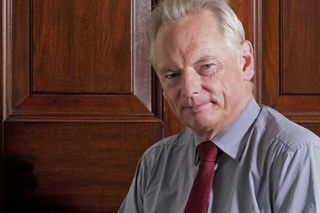 Government-as-a-Platform (GaaP) will eradicate data silos and usher in a new age of digital government, Cabinet Office minister Francis Maude has claimed.
The Government Digital Service (GDS) will replace departments' customised IT systems with shared, standardised platforms as it seeks to transform public sector IT, he announced at digital public sector conference Sprint15.
GDS will start by building an Amazon-like payments platform for public transactions, with a prototype due early next Parliament, said Maude.
The outgoing minister, who will resign come May's general election, said: "Right now there are hundreds of agencies and arms-length bodies with their own payment system. This makes no sense. If you buy a bicycle or book on Amazon, you pay the same way. There's no reason for government to be any different.
"The system should be the same whether you're paying for a driving licence or a fishing licence, because it's simpler and cheaper that way."
This will be followed by an appointment-booking platform and a messaging platform, he added, which should all have working prototypes early next Parliament.
GDS chief Mike Bracken said he could think of at least 30 more services that should become platforms.
The Cabinet Office's aim with GaaP is to break down the expensive, siloed IT systems running in government by replacing them with common components that can be adopted and shared by different departments.
Examples of platforms so far include Gov.uk, which now hosts more than 300 government agencies' websites, and the Digital Marketplace, the storefront for public sector cloud procurement.
Another is Gov.uk Verify, Whitehall's identity assurance platform, which helped 11,000 people avoid penalties for submitting their self-assessment tax forms late, during a recent HMRC trial, said Mark Dearnley, HMRC's chief digital and information officer.
Not only would more common platforms like these allow government to share more data, but they would eliminate costly duplicated projects.
An infamous example of this occurred last summer when the Ministry of Justice wrote off a 56 million ERP project with Steria, after it found out the Cabinet Office was already building such a system with the same supplier.
And Jessica Figueras, analyst at Kable, told IT Pro the focus on GaaP could establish the Cabinet Office as the main gatekeeper for the IT that departments can adopt.
She said: "During this government we've seen a very strong Cabinet Office wresting control of IT from the departments in various ways, putting in place standards, even pushing senior IT people out.
"I see the importance of GaaP as being more important along the lines of driving how government as a whole uses technology."
Legacy investments
On stage, Maude blasted old government contracts for being "too long, too big and too opaque", saying Whitehall aims to be rid of its last legacy contract by 2020.
He added: "Departments thought they were unique and distinctive and convinced themselves that only the most expensive bespoke systems would do.
"But it's nonsense. [We will create] common systems that can be used by departments and agencies across Whitehall, removing duplication, minimising risks and cutting costs."
Instead of signing big contracts then, departments could utilise these common platforms to put together services as required.
However, Ovum analyst Chris Pennell warned the government could become its own "monopoly supplier", adding "the irony will not be lost on some vendors, I am sure".
He voiced caution over some vagueness in the government's plans for GaaP, saying: "Adopting a platform approach could save the government money, but there are a lot of unanswered questions about how you would scale up services, what about service support agreements, etc."
But it will be early days for GaaP for some time to come, and it appears to have much support from key current and former Whitehall figures.
The government's drive to transform its IT started after its then-digital champion, Martha Lane Fox, made a series of recommendations to put user needs ahead of departments' needs back in 2010.
Yesterday she took to the stage to hail the concept of GaaP as being a modernising technology for the government.
"There's still a huge opportunity to create a platform from which a whole load more services can grow and bloom," she said. "From which government can use the incredible intellectual property that it has created, to open up, to share through other people and enable them to collaborate with themselves and vice versa.
"That to me then takes government from this broadcast mode to being properly something that is exciting and fit for the modern age."
Local government and APIs
Maude outlined the potential for extending common platforms to local government, as well as opening up APIs to let developers widen the capabilities of the platforms.
The minister cited council tax and parking tickets as two possible use cases for councils seeking to adopt the payments platform.
But Kable's Figueras pointed out that councils will already have payment systems in place, and won't dump them before the contracts end.
"With the best will in the world, they can't force local authorities to use this service," she said. "It'd be fantastic to get local authorities to come on board slowly once their current systems expire.
"There will be a really long transition period."
She agreed that opening up APIs could add value to the government platforms with additional functionality, but added that progress on opening up APIs has so far been slow.
Ovum's Pennell, meanwhile, added: "The likelihood of local government using a central platform is limited.
"Also, what happens if you want to link your appointment booking data with your facilities management systems? [Would] it not make more sense to open up the data through APIs, and push platforms for open data rather than specific systems?"
GaaP the key to better digital government?
GDS chief Bracken, however, has an ambitious vision for the future of GaaP, even suggesting people could update their personal details on a central address and contact platform.
He ended the day by claiming GaaP could prove critical to creating a better, more digital government.
"We do need platforms and more and we'll get more joined-up government," he said. " It represents a fundamental change to the way we deliver public services."
Get the ITPro. daily newsletter
Receive our latest news, industry updates, featured resources and more. Sign up today to receive our FREE report on AI cyber crime & security - newly updated for 2023.