What is a GPU?
We explain what a GPU is, and what their business applications are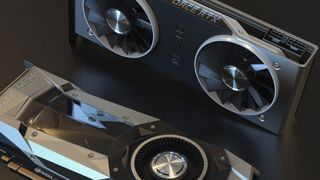 (Image credit: Unsplash)
Knowing what a graphics processing unit (GPU) is can help one make crucial decisions when it comes to device purchases. The GPU is a vital piece of hardware that is specially designed to handle image rendering for a display peripheral.
In human terms, if the central processing unit (CPU) could be considered the logical side of a PC, the GPU would be its creative side.
Most CPUs come bundled with integrated graphics so that users are provided with a legible user interface. However, for more intensive graphical tasks like video editing or graphics design a discreet GPU is a necessary additional component.
Nvidia and AMD are the two main players in the graphics card arena, while Intel's own Iris Plus and UHD-integrated GPUs tend to carry out a lot of lightweight work in laptops without dedicated graphics.
On the mobile side, the likes of Qualcomm and MediaTek provide lightweight GPUs for handheld devices, though these often come in system-on-a-chip (SoC) designs where the GPU is on the same chip as the CPU and other core mobile chipset components.
Apple's M1 and M2 chips are also examples of SoCs used for more powerful use cases, and have received widespread praise.
What is a GPU and what does it do?
Simply put, the GPU is responsible for handling the computational demands of graphics-intensive functions on a computer.
This can be things as basic as displaying the desktop on the monitor - drawing all the pixels in the right order at the right time.
GPUs are also used when more strenuous graphics tasks are required such as delivering sharp, smooth imagery while playing video games or in the business world, running programs like 3D and 4D rendering software, and video editing software like Adobe Premiere Pro.
RELATED RESOURCE
Achieving transformative business results with machine learning
Resolve key challenges and reveal new opportunities
GPUs tend to come in two different forms. The first and most recognizable are the modular 'cards' that are most often found in desktop tower PCs and are primarily made by either Nvidia or AMD.
The manufacturers typically release a new series of GPUs every year and these are plugged into a PC's motherboard via its PCIe slots.
These cards can often be 'daisy-chained' together for better performance using proprietary technology from Nvidia or AMD known as SLI and CrossFire respectively, though performance boosts decrease with every card that's added to the motherboard.
Alternatively, some smaller computers like laptops and tablets rely on the basic graphics capabilities baked into the single processing chip. Larger laptops sometimes have dedicated GPUs but come in the form of mobile chips which are less bulky than a full desktop-style GPU but offer better graphics performance than a CPU's built-in graphics power alone.
Like a CPU, the GPU is a chip in and of itself and performs many calculations at speed. One of the more recent uses of GPUs has been borne out of the interest in cryptocurrencies and blockchain technologies in the past decade.
As GPUs have become more powerful over time, enthusiasts have adopted them as powerful cryptocurrency mining tools due to them being able to complete the necessary blockchain computation to earn rewards.
The uptake in using GPUs for crypto mining was not received well by the major manufacturers, and in 2021 Nvidia instituted changes so that hardware will self-throttle when Ether mining is detected.
What are GPUs used for?
There are many examples of business software that require users to have a decent GPU in order to run as intended. Autodesk's AutoCAD, the design and drafting software, requires users to have a dedicated graphics card and a powerful GPU is essential for 4k video editing.
A recent addition to common business use cases for GPUs is for training neural networks and machine learning (ML) algorithms. For efficient training with a GPU, high-performance business-grade GPUs are preferable.
The majority of the most popular and powerful GPUs on the market are made by just a handful of companies. Nvidia and AMD are known for providing high-level components for many big tech companies, while also offering specialized hardware for specific organizations.
An example of this is the Nvidia A100 Tensor Core GPU, built specifically for data centers to power artificial intelligence (AI) and data analytics.
Who are the biggest GPU companies?
Nvidia
Nvidia is a US technology company based in California, founded in 1993, that designs GPUs for gaming and professional markets, as well as system-on-a-chip units (SoCs) for the mobile computing and automotive markets.
Its primary GPU line is GeForce, which is a direct competitor to AMD's Radeon.
Some of its well-known GPUs include the GeForce RTX 4090 and 3090, which can handle a range of sophisticated tasks, as well as it's incredibly popular GeForce RTX 3070 line of cards.
RELATED RESOURCE
Driving digital innovation with intelligent infrastructure
Strong infrastructure investment is driving digital in all industries
In July 2021, Nvidia switched on what it claimed to be the UK's fastest supercomputer, the Cambridge-1, which contained a number of NVIDIA A100 Tensor Core GPUs. It has since embarked on a multi-year project with Microsoft to create an AI supercomputer, which may rank amongst the world's most powerful once it is released.
The firm has also become a go-to partner for AI amongst big tech companies, with its strong hardware and cloud architecture credentials complemented by its forgiving CUDA development framework, resulting in an attractive package for firms looking to train their own generative AI models.
AMD
Advanced Micro Devices, also known as AMD, was founded in 1969 and is another US tech company based in California. It develops computer processors and other products for business and consumer markets.
It originally manufactured semiconductors before spinning off this division in 2008, which was then formed into GlobalFoundries.
AMD's main products include motherboard chipsets, microprocessors, graphics processors, and embedded processors. Some of its products include the AMD Radeon graphics series and the Ryzen processor range.
In March 2021, the company announced it would launch the Ryzen 5000 Pro series of mobile processors for thin and light business laptops. This consists of three chips: the Ryzen 7 Pro 5850U, Ryzen 5 Pro 5650U, and Ryzen 3 5450U.
The 5850 is the highest spec of the three, featuring an eight-core, 16-thread design, 20MB cache, and base and boost clock frequencies of 1.9GHz and 4.4GHz, respectively. AMD claimed the chip is the only processor with eight high-performance cores designed for thin and lightweight laptops.
Recent speculation suggests that AMD could launch its next generation of Ryzen desktop processors in early 2024. The Ryzen 8000 could launch as early as January 2024, according to Taiwanese PC hardware manufacturer Gigabyte.
Aftermarket GPU vendors
GPUs tend to be designed by one company such as Nvidia or AMD and then manufactured by another known as an 'aftermarket' GPU vendor. These companies take base 'reference cards' made by the designers as a template, and then make the actual cards and coolers.
As a result, one Nvidia GPU might have subtle differences compared to another, depending on which company manufactured each one.
Sometimes aftermarket manufacturing involves 'overclocking', the practice of running a GPU at a higher speed than the base one the manufacturer set. This can dramatically increase performance and cooling.
Gigabyte
Gigabyte is a company that's more than just an aftermarket GPU vendor. It has a wider portfolio of products than EVGA which includes GPUs and peripherals, but also larger pieces of hardware such as displays, PCs, laptops, motherboards, and other PC components such as solid-state drives (SSDs).
It provides laptops and monitors suitable for the likes of professional photo editing, for example. It also has further ambitions for future expansion into the AI and deep learning spaces too, but these forays are in their infancy.
MSI
Another aftermarket vendor with a diverse product portfolio is MSI. The company is firmly rooted in gaming but branches out in certain areas to cater to creatives, 3D animators, video editors, and more.
MSI also offers a number of enterprise-grade machines as part of its Business & Productivity Series focused on high-performance, high-security computing. A real jack of all trades, and master of many, MSI also has ventures in AI, the Internet of Things (IoT), and cloud servers.
It's one of the most trusted brands in the gaming space and offers aftermarket GPUs for both Nvidia and AMD cards.
ASUS
Like MSI, Asus is another titan of tech, not just PC gaming. The Taiwanese hardware firm was founded in 1989 and claims to be the world's number one motherboard and gaming brand and in the top three notebook vendors globally.
Gamers will be well versed in Asus' efforts in the aftermarket GPU space. It produces cards under its main brand umbrella, as well as its two gaming offshoots TUF and Republic of Gamers. The brands mainly serve Nvidia GPUs but AMD fans also have a number of options to choose from, albeit a comparatively much smaller number than those looking for Nvidia cards.
Get the ITPro. daily newsletter
Receive our latest news, industry updates, featured resources and more. Sign up today to receive our FREE report on AI cyber crime & security - newly updated for 2023.
Adam Shepherd has been a technology journalist since 2015, covering everything from cloud storage and security, to smartphones and servers. Over the course of his career, he's seen the spread of 5G, the growing ubiquity of wireless devices, and the start of the connected revolution. He's also been to more trade shows and technology conferences than he cares to count.
Adam is an avid follower of the latest hardware innovations, and he is never happier than when tinkering with complex network configurations, or exploring a new Linux distro. He was also previously a co-host on the ITPro Podcast, where he was often found ranting about his love of strange gadgets, his disdain for Windows Mobile, and everything in between.
You can find Adam tweeting about enterprise technology (or more often bad jokes) @AdamShepherUK.