Dell announces slew of new hardware
Company unveils new laptops and infrastructure products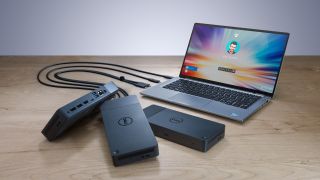 As part of its annual Dell Technologies World conference in Las Vegas, tech giant Dell has unveiled a barrage of new and updated hardware products which are set to hit the market later this year.
With updates to virtually every segment of its portfolio, including storage, servers, laptops, networking and more, the new hardware covers use-cases such as employee mobility, AI development, cloud data backup and more.
The announcements follow a number of updates to the company's software and services businesses, including a VMware-powered data centre-as-a-Service product, support for VMware on Microsoft Azure and a new endpoint management service. All of the company's announcements have been primarily aimed at supporting and enabling digital transformation, with a particular focus on enabling multi-cloud infrastructure deployment model.
Dell Latitude
Across its business laptop portfolio, Dell has updated three of its key ranges: the Latitude, Vostro and Precision families. The new Latitude 3000, 5000 and 7000 ranges offer a number of features designed to make workers more productive while on the move, as well as support for Intel's 8th-gen vPro processors. The 7000-series, which comes in 13in and 14in sizes as well as the 12in Latitude 7200 2-in-1, can be fitted with up to 32GB of RAM and include features such as 4x4 Cat16 cellular antennae and an inbuilt privacy screen to minimise unwanted snooping.
The 5000-series, meanwhile, is available in 13in, 14in and 15in variants, all of which use a reinforced carbon fibre chassis. Configuration options include full HD, narrow-bezel and touchscreen displays, along with 8th-gen Intel processors and dedicated graphics chips. The range also includes the Latitude 5300 2-in-1, a 13in device weighing in at a hefty 1.4kg with a full HD screen, up to 32GB of RAM and 1TB of storage capacity.
At the entry level, the Latitude 3000-series covers 13in, 14in and 15in sizes, and starts at an agreeable $599 (459). The new Latitude portfolio offers a number of additional features, such as fast-charging which Dell says provides up to 80% charge in just one hour or 35% in 20 minutes, as well as intelligent WiFi which automatically connects to the strongest available network. They can also be configured with security features like smart card readers, biometric authentication and Dell's SafeBIOS tool.
Swipe to scroll horizontally
| | |
| --- | --- |
| Product | Starting from |
| Dell Latitude 7000 | $1,200 |
| Dell Latitude 7200 2-in-1 | $999 |
| Dell Latitude 5000 | $819 |
| Dell Latitude 5300 2-in-1 | $949 |
| Dell Latitude 3000 | $599 |
Dell Vostro
Moving onto the Vostro range - primarily geared towards smaller businesses - Dell has launched two new models. The Vostro 13 5000 is a 13in device weighing less than 1.2kg and measuring 14.9mm; Dell claims it's the thinnest and lightest Vostro ever. It features a full HD screen, and super-slim bezels reminiscent of the company's flagship XPS 13.
For those that need slightly more power, the Vostro 15 7000 comes with a 6-core Core i7 Coffee Lake-H processor and built in Nvidia GTX 1650 GPU at the top end. Like its smaller stablemate, it also uses a narrow-bezel full HD display.
Swipe to scroll horizontally
| | |
| --- | --- |
| Product | Starting from |
| Dell Vostro 13 5000 | $849 |
| Dell Vostro 15 7000 | $1,149 |
Dell Precision workstations
In terms of performance, the top end of Dell's laptop range is occupied by its Precision workstations. Some models can go for upwards of 2,500, but Dell is also catering to thriftier businesses (as well as students and amateur creatives) with the newest entries to the Precision family.
The Precision 3540 and 3541 mobile workstations are designed to offer a balance between affordability and processing horsepower. The 3540 supports quad-core 8th-gen Intel processors, 32GB of DDR4 RAM, with 2TB of storage and AMD's Radeon Pro GPUs. The 3541 is even more well-equipped, featuring a maximum spec that includes an 8-core, 9th-gen Intel processor or a 6-core Xeon chip, as well as professional-grade Nvidia Quadro graphics with 4GB of memory.
Both laptops use a 15.6in display and weigh in at less than 2kg. Like all of Dell's workstations, they're also both ISV certified for use with professional software like Solidworks and Autodesk.
Swipe to scroll horizontally
| | |
| --- | --- |
| Product | Starting from |
| Dell Precision 3540 | $799 |
| Dell Precision 3541 | TBA |
Storage
Data centre infrastructure was not neglected, either. New entries have been added to Dell EMC's storage portfolio, data protection and hyperconverged infrastructure ranges, as well as other lines.
Dell's Isilon range of scale-out NAS appliances is being joined by the new Isilon H5600, a 4U appliance which Dell claims offers improved rack density, throughput and memory and SSD caching. The company is touting its applicability for entertainment and media customers in particular, and the new product is supported by updates to its OneFS software which now allows for up to 252 nodes for a total capacity of 58PB.
Dell's PowerMax storage product is also getting updated to support Intel Optane DC persistent memory drives, which Dell says will halve its latency. PowerMax drives with Optane DC memory will be ready to ship by the end of the year. A new PowerMax plugin to manage VMware vRealize Orchestrator has also been made available, while the Container Storage Interface API for container management and Ansible Playbooks are coming this summer.
For organisations that want to adopt a multi-cloud strategy, the company has launched new Dell EMC Cloud Storage Services, which enables customers to consume storage running on Dell's Unity, PowerMax and Isilon appliances on a cloud-like model, connected to AWS, Azure, Google Cloud Platform or VMware on AWS. The appliances are hosted by an MSP and connected directly to the cloud, allowing for on-demand cloud deployment, automated disaster recovery, analytics and other use-cases.
The crown jewel of the company's storage announcements, however, was the new Unity XT appliance. Aimed at the mid-range market, this 2U rack storage box features dual active controllers, dual socket Intel Skylake CPUs and supports NVMe drives. It's user-upgradeable too, and Dell says that it takes just 10 minutes to install and 15 minutes to configure. It's got 50% more drives than the previous generation of Unity storage, delivers twice the performance, 75% better response times and supports more than 50% more VMs. It's also apparently capable of a hefty 5:1 reduction in data rates.
Dell EMC Cloud Storage Services will be generally available starting later this month, with availability for the new Isilon and Unity platforms following in June and July respectively.
Data protection
The power of data was (as always) a key theme at the conference this year, so it's fitting that Dell launched new data protection products as well. First up, the company's all-new PowerProtect software platform offers fast and simple backup and replication functionalities, as well as automated policy-based backups for VMware vSphere environments. This is accompanied by the PowerProtect X400 hardware appliance, a 2U rack-mounted appliance powered by Intel Xeon processors, which is available in all-flash or hybrid configurations with a starting capacity of 64TB and a maximum limit of 448TB on the flash model. It also uses artificial intelligence for automatic load-balancing.
Dell also announced a lower-capacity variant of its Integrated Data Protection Appliance DP4400. Aimed at smaller businesses, the new model offers 8-24TB and can be upgraded to a maximum capacity of 96TB. The DP4400 will be available starting from this month, while the PowerProtect platform is expected in July.
Networking
In addition to storage, new networking products were also shown off. The company announced the Dell EMC SD-WAN Edge, an integrated platform that combines Dell hardware with VMware's SD-WAN software, offering it to customers as a subscription-based package. On top of that, Dell's consulting arm will now offer advisory, design and implementation services to any company looking at rolling out an SD-WAN deployment.
The company's network switch business has been rebranded too: it's now known as the PowerSwitch portfolio, in order to bring it into closer alignment with the PowerEdge, PowerMax and PowerProtect families. The first products under this new umbrella will be the PowerSwitch S5200-ON range, available in 12-port, 24-port and half-width versions and supposedly offering a 2.5x improvement in performance versus previous models.
HCI and servers
Finally, the company's server and compute portfolios also grew. Dell's hyperconverged infrastructure family is joined by a new rack-mounted 2U VxFlex appliance to complement the VxFlex integrated rack, which was formerly known as VxRack FLEX. Powered by Intel's Xeon Scalable chips, these HCI products allow customers to take advantage of Dell's offering without the need to be fully standardised on VMware infrastructure.
For customers exploring machine learning, the Dell EMC DSS 8440 is a monster dual-socket 4U server designed for training AI models. It features twin Intel processors, up to 10 NVMe and SAS drives and a maximum of ten Nvidia Tesla V100 Tensor Core machine learning processors, and Dell has partnered with an accelerator startup to optimise it for model training tasks. The DSS 8440 will be hitting the market in Q2 this year, and the new VxFlex appliance will arrive in July.
Get the ITPro. daily newsletter
Receive our latest news, industry updates, featured resources and more. Sign up today to receive our FREE report on AI cyber crime & security - newly updated for 2023.
Adam Shepherd has been a technology journalist since 2015, covering everything from cloud storage and security, to smartphones and servers. Over the course of his career, he's seen the spread of 5G, the growing ubiquity of wireless devices, and the start of the connected revolution. He's also been to more trade shows and technology conferences than he cares to count.
Adam is an avid follower of the latest hardware innovations, and he is never happier than when tinkering with complex network configurations, or exploring a new Linux distro. He was also previously a co-host on the ITPro Podcast, where he was often found ranting about his love of strange gadgets, his disdain for Windows Mobile, and everything in between.
You can find Adam tweeting about enterprise technology (or more often bad jokes) @AdamShepherUK.
Get the ITPro. daily newsletter
Receive our latest news, industry updates, featured resources and more. Sign up today to receive our FREE report on AI cyber crime & security - newly updated for 2023.
Thank you for signing up to ITPro.. You will receive a verification email shortly.
There was a problem. Please refresh the page and try again.