PC Pro Excellence Awards 2019
We reveal the very best brands across 13 different categories according to readers – before announcing our own favourites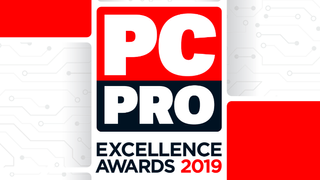 Every year our sister title PC Pro asks its readers to contribute to a comprehensive three-month survey that seeks to find the best products and services released over the past 12 months and the results are in.
Readers are asked everything from how satisfied they are with the quality of their prints to the reliability of their broadband, and even the length of their device's battery life, with each score collated to create a percentage. The maximum score a company can receive is 100%, where a reader declares themselves "very satisfied" with, say, customer support for their desktop PC. If they merely select satisfied, that's 80%. And so on, until they reach "very dissatisfied", which is 0%.
The awards also use methods to protect against "stuffing" that is, where a manufacturer may try to bias results by encouraging only positive feedback. As a result, the scores below are ones you can trust.
Also included in this roundup are a handful of products chosen by editors from our sister titles PC Pro and Expert Reviews, as well as IT Pro staff. These are the standout products from the hundreds we've collectively tested over the past 12 months.
Best PC Brand PC Specialist
Highly commended: Cyberpower, Chillblast
PC Specialist has leapt over last year's winner Chillblast to take home the coveted Best PC Brand title and it's done so with aplomb, with a swath of 90%-plus scores across all categories.
Readers consistently praised PC Specialist's attention to detail, with 96% saying they would buy from the company again. Aside from its large selection of available components, the company was hailed for its highly communicative support team that kept readers informed at each stage of the build process.
Second-place Cyberpower actually beat PC Specialist in the customer support category, mainly because the company offers support through a Discord channel, even helping one reader at midnight on a weekend.
Best Laptop Brand Apple
Highly commended: Asus, Microsoft
The race for the 2018 Best Laptop Brand was a close run thing, with a mere three percentage points separating the top six. This year, the result is more clear-cut with Apple storming ahead on customer support, reliability, battery life and performance. And it's still gathering new customers, with many readers being converts even if they were reluctant initially.
However, as with the iPads (below), the word that came up time and again with Apple was "expensive".
Microsoft's Surface Laptop also scored highly, with one reader describing it as "absolutely superb, fast, versatile and easy to use," while Asus received praise for its value: "I have owned many Asus items and I think they push the boundaries both for innovation and cost," said another reader.
Best Tablet Brand Apple, Microsoft
This year's results suggest Apple's dominance is nearly over, with the iPad having to share our award with Microsoft's Surface, which won in the customer support, choice of accessories and "buy again" categories. Still, readers gushed over the sheer quality of iPads.
But the murmurs of discontent about Apple's high prices are growing louder: "Apple produce excellent tablets at inflated prices," said one reader. Meanwhile, Microsoft's Surface devices are continuing to impress, including the recent Surface Go device.
Best NAS Brand Synology
Highly commended: Qnap
A regular entry in these awards, Synology takes home the NAS award once again. The brand was referred to as being the "de facto gold standard" for NAS products, praised for its large feature set, reliability and value, even on the more basic devices.
The reviews of Qnap's devices, on the other hand, often came with caveats, reflecting its second-place position. Although many praised its products, including a stellar web UI, some said they lacked the speed offered by rival brands.
Best Router Brand AVM Fritz!Box, Ubiquiti, DrayTek
It may be a three-way tie in our Best Router Brand award, but each winner took a different path to the top. AVM Fritz!Box impressed in the speed, reliability and customer support categories, but fell down on range, while customer support and range were the weak points of Ubiquiti and DrayTek respectively.
Many respondents received their AVM Fritz!Box router via Zen Internet and the praise was high: "Wi-Fi is excellent, customer service is second to none, really nice people, and at a really good price," commented one reader.
Best Web Host Zen Internet
To win an award by ten percentage points is simply Zen-sational. It's even more impressive given that Zen Internet didn't have enough responses to be featured in last year's web host roundup. Not so this year. "Zen is always there for anyone with a problem. Their service is excellent. They have never let me down and I would wholeheartedly recommend them," said one reader. Another described Zen as "excellent and knowledgeable. Very friendly and helpful."
Fasthosts was a huge 17% behind in the customer support category and 16% below in speed, but that's more in line with the rest of the pack and, again, just underlines the superiority of Zen.
Best Cloud Storage Amazon Drive, Google Drive
What a difference a year makes. In 2018, cloud storage giant Dropbox finished in a strong second place, but now it's been pushed to fourth by the Amazon offerings. Google Drive still rules the roost although it has to share the honours with Amazon Drive. That said, this year's competition was one of fine margins, with very little to separate the top six providers.
For example, Dropbox actually has a higher ease of use rating than Google Drive, but fell behind on the vital "would you recommend it?" question. There has also been improvement by OneDrive and Apple's iCloud. In last year's survey, they posted overall scores of 77% and 74% respectively way behind this year's 85% and 83%. One thing's for sure: the cloud storage provider market is getting more and more competitive.
Best Broadband Zen Internet
Highly commended: Utility Warehouse
Not content with strolling to the Best Web Host award, Zen Internet has retained the Best Broadband title once again. "Never had a single complaint about Zen, the line never drops and whenever I've contacted them they've been polite, friendly and willing to joke. Wish all companies were like them," remarked one reader.
At the bottom, TalkTalk posted the lowest overall total of the entire survey, scoring a mere 56% in the customer support category. The company was repeatedly criticised for its "terrible" customer support, and some readers alleged the company breached its contract terms by failing to provide a stable working connection.
Best Mobile Data Giffgaff
Highly commended: Tesco Mobile
For the third year running, Giffgaff takes the prize for best mobile network, scoring 93% in the value for money category. "I have been with Giffgaff for years and I have never had any issues with coverage costs or packages. It is overall a great pay-as-you-go provider," wrote one reader.
Meanwhile, users praised Tesco Mobile for having a customer service that was helpful and highly reliable.
Best Phone Brand OnePlus
Highly commended: Google
OnePlus and Google retain the top two places in this year's smartphone award, scoring highly for ease of use and in the "would you buy again?" question. OnePlus was especially praised for its quality and exceptional value for money, although some questioned whether the company was starting to inflate its prices to capitalise on this newfound popularity.
Meanwhile, respondents praised Google's emphasis on value for money, which has attracted a number of readers way from rival companies like Huawei.
Elsewhere, the big story is the stratospheric rise of Honor, which is three places above its parent Huawei, and Xiaomi. Oh, and there's the small matter of Apple finishing in fifth, undone by the second-lowest battery life score.
Best Monitor Brand Asus, Iiyama
Proving that it's the Rocky Balboa of monitors, previous champion Iiyama has staged a dramatic comeback to win the Best Monitor Brand title a year after falling down to fifth place. Meanwhile, readers also praised the screen's flexibility and high quality.
But Iiyama isn't on the podium alone: 2018's winner Asus is looking as strong as ever: "Unbelievable awesomeness! 165Hz, one-second response time, curved 27in what's not to like?" enthused one reader.
Best Printer Brand Brother
Highly commended: HP
It's "as you were" in the printer award, with Brother again holding the top spot and HP in second place. The word that came up again and again was "reliable". "This is the second Brother printer I have owned and think they provide a reliable, value-for-money printer that gives good print quality," wrote one respondent. Another self-confessed repeat Brother customer said "their online support and software are very comprehensive".
HP also scored consistently highly across the board, with many praising its Instant Ink service where users sign up to a plan depending on how many pages they actually print per month and HP sends ink direct to their door.
Get the ITPro. daily newsletter
Receive our latest news, industry updates, featured resources and more. Sign up today to receive our FREE report on AI cyber crime & security - newly updated for 2023.
Maggie has been a journalist since 1999, starting her career as an editorial assistant on then-weekly magazine Computing, before working her way up to senior reporter level. In 2006, just weeks before ITPro was launched, Maggie joined Dennis Publishing as a reporter. Having worked her way up to editor of ITPro, she was appointed group editor of CloudPro and ITPro in April 2012. She became the editorial director and took responsibility for ChannelPro, in 2016.
Her areas of particular interest, aside from cloud, include management and C-level issues, the business value of technology, green and environmental issues and careers to name but a few.