Why the channel must commit to radical sustainability
Michael O'Hara outlines what vendors and resellers can do to reduce their environmental footprint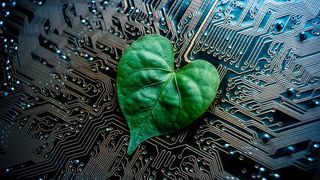 COVID-19 and its effects have dominated our thoughts, dictated our actions and reshaped our lives in ways we could never have imagined. Grappling with the impact of the pandemic has taken a collective, concerted effort and all our ingenuity.
But with our attention fixed on one crisis, we've forgotten the rapid escalation of another. Catastrophes don't wait in queues and the climate emergency only grows more critical day by day. 2020 has already shown us the desperate consequences of our global warming inaction, with the IFRC responding to a record number of climate disasters in the Asia Pacific and Arctic sea ice shrinking to the second-lowest levels on record over the summer.
The climate crisis will have even more devastating consequences than coronavirus but because these consequences aren't as immediately visible, we think they won't occur. This thinking isn't just flawed, it's fatal, and if we want to protect the planet, we need to replicate the energy and urgency we saw when tackling coronavirus.
The power of technology
Technology will and is having a huge part to play in responding to global warming, at both macro and micro levels. Indeed, important climate action and innovation have been occurring already - we just need to be intentional about embracing these new ideas and pushing them even further.
Lowering the costs of renewable energy has had a great impact, especially as it makes them an attractive alternative to oil and gas. Tech advancements have also helped cut carbon emissions too. Electric cars are gaining more and more traction, and are helping reduce our reliance on polluting petrol and diesel. The spread of cloud technology is also helping businesses transform their processes and go paperless, although more work must be done to ensure the large amount of energy needed to power large data centres is drawn from renewable energy sources. Individual choices may seem insignificant on their own, but their collective impact is immense.
Yet it would be a mistake to pin all our hopes on technology alone. Innovation is great but, by itself, it won't save us from the consequences of historic climate inaction. What's needed is a simultaneous innovation in our thinking; a cultural transformation where we each recognise the critical role we play in responding to the climate crisis and make an unshakeable commitment to radical sustainability. We need to see this cultural transformation within governments, within businesses of every sector and within ourselves.
A little less conversation
It's easy to say the right things, but change only happens with action, which is why our company's setting ambitious, concrete targets to track and reduce our environmental footprint, aiming to become the first carbon-neutral IT distributor by 2022. Practically, this means changing our ERP system and moving to the cloud, cutting down business travel, encouraging working from home to reduce employee travel and choosing electrical-based heating for our offices, over gas options. This is by no means a finite list; we know we need to be continually searching for new, sustainable ways of doing things as part of our commitment to the earth and to each other.
The wider business community isn't doing enough to tackle climate change, however. There's no point in all of us working hard to maximise our salaries and our business profits if we end up killing our planet off in the process. Traditional business thinking wasn't sustainability-friendly at all, and indeed, back in 1970 the world-famous economist Milton Friedman argued it was the "sole" purpose of business to generate profits for its shareholders. We've come a long way since then, and we now recognise the value to the reputation of a business and trustworthiness from being seen to adopt good sustainability goals. Our customers want and expect this. Businesses today need to adopt the same focus on sustainability as it does profits.
Playing out part
Much of our inspiration also comes from our vendor partners, with a large number of them having developed technologies solutions that many would rely on to reduce their carbon footprint. In addition, guiding our reseller partners on how they can decarbonise their businesses is of huge importance to us. We've established an IT industry-based community called Techies Go Green, which aims to build awareness while informing the public on what tech firms are doing to tackle climate change.
We're also helping partners take action by signing up to a 'three-year carbon pledge', the goal of which being to achieve carbon neutrality within three years. This is bold, not not as difficult as you may think. It starts with each business measuring their own carbon footprint and once they know where their emissions are coming from, they can then identify the positive actions necessary to reduce them. Based on initial discussions with partners, nearly everyone we talked to was willing to sign up to become a member of the community, which is hugely encouraging. It shows the industry is taking steps forward as one.
Coronavirus has been devastating but it's also shown us how much is possible through working collaboratively and how quickly we can adapt our behaviour to help protect others. The climate crisis is no different, even though the challenge is much bigger. We are at an early stage where the awareness and realisation of the need to take action is recognised, but meaningful actions haven't really started yet. We can still slow down global warming, but we'll need urgency, accountability and sustained commitment to achieve it. And each one of us must play our part.
Michael O'Hara is group managing director at DataSolutions
Stay up to date with the latest Channel industry news and analysis with our twice-weekly newsletter