iPad Pro specs, price, release date: Apple raises price of certain iPad Pro models
iPad Pro review, plus latest news and rumours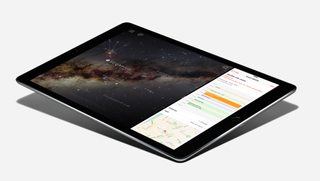 The iPad Pro, which was released in late 2015, sees Apple take on the likes of Microsoft and Lenovo in the laptop-tablet hybrid market, but, with a focus on the needs of designers and graphic artists, also harks back to the company's long-time core market.
Here you can find out everything there is to know about Apple's massive new tablet, the iPad Pro.
iPad Pro latest news
04/10/2017
Apple raises price of certain iPad Pro models
Apple has raised the price of certain iPad Pro models due to the rising cost of NAND flash memory chips, with prospective buyers now required to pay up to £80 more for the same product.
The price of the 256GB 10.5-inch iPad Pro has risen from £709 ($749) to £769 ($799), whilst the 512GB configuration of the 10.5-inch tablet has also increased to £969 ($999), up from £889 ($949).
The 12.9-inch (2017) models have also fallen victim to the increase, with the 256GB version rising from £859 ($899) to £919 ($949). Buyers looking to purchase the 512GB iteration will similarly have to pay more, with the tablet now costing £1,119 ($1,149), up from £1,039 ($1,099).
Apple has not commented on the price changes, but sources "in the know" told 9to5Mac that the increases were down to a dramatic hike in the cost of NAND flash storage.
As also noted by the website, however, Apple CFO Luca Maestri did previously hint at the situation during Apple's Q2 earnings call.
"We started to experience some level of cost pressure on the memory side, particularly on NAND and DRAM," Maestri said. "To offset that and actually do better than that, we had very good cost performance and other commodities.
"The impact on NAND and DRAM will continue to be there and we expect it to be there.
Despite the increases, the smaller capacity 64GB iPad Pro models remain unchanged and can still be purchased at the usual price.
08/09/2017
iPad sales continue to grow in Q3
Sales of Apple's iPad range registered year-on-year growth for the first time since 2013 in Q3, according to stock market watcher Amigo Bulls, with the Cupertino firm also registering its highest market share in four years.
Apple shipped 11.45 million tablets during the third quarter of 2017 - marking a 14.8% increase over the 9.95 million units it shifted in the corresponding quarter of 2016, while quarter-on-quarter growth also stood at 28%.
Shipments in the education sector also performed well and saw a strong increase, rising 32% year-over-year to over 1 million iPad sales.
"Our iPad product lineup is stronger than ever," Apple CEO Tim Cook said in the company's earnings call, transcribed by Seeking Alpha. "The new iPad we launched in March offers great value and performance. And the all-new 10.5-inch iPad Pro, launched in June, features the world's most advanced display with ProMotion technology and is more powerful than most PC desktops.
"iPad is the perfect tool for teaching in new and compelling ways, and our iPad results were especially strong in the U.S. education market, where sales were up 32% year over year to over 1 million units."
As Amigo Bulls notes, however, overall revenue did increase at a slower rate of 1.9% - but this was attributed to large sales of lower-cost iPad models.
16/08/2017
New Smart Connector Accessories for the iPad Pro are on the way
A number of peripheral manufacturers are working on new accessories for the iPad Pro's Smart Connector, Apple has revealed.
Accessories for the Smart Connector are currently only available from Apple itself or Logitech -- but the Cupertino firm told Fast Company that "multiple companies" are working on add-ons for the port.
It wasn't revealed what the accessories are or when they would hit the shelves – but The Mac Observer speculated that it "seems likely" these will arrive in the form of more keyboards and docks.
Fast Company spoke to a number of manufacturers regarding the low number of Smart Connector accessories for the iPad Pro, with the firms stating a number of causes – including market appetite, component sourcing and limitations of the Smart Connector's design.
"The thing with the pogo pin design, in particular with the way that Apple's implemented it on the iPad, is it's incredibly limiting," Brydge CEO Nicholas Smith told Fast Company.
"Looking ahead, there is no reason why the Smart Connector wouldn't be considered for future Brydge products --if the application is right."
The improvement of Bluetooth capabilities was also cited as another reason. Salman Sajid, creator of the Touchtype iPad keyboard, said Bluetooth connectivity allowed users to detach their keyboard and improve iPad functionality.
"I'm trying to go for the people who really like the distraction-free environment of portrait typing," Sajid said. "To use [the Smart Connector], you have to go back to that traditional laptop form factor, which is taking away a whole selling point of the iPad."
03/08/2017
Microsoft lets slip details of iPad Touch Cover
Microsoft may have indirectly revealed that it has been developing a keyboard cover accessory for the iPad.
German website WinFuture recently found references to an unknown "iPad Touch Cover (Model1719)" in a Lithium Battery Transportation document, which was originally posted back in April.
Although the reference now appears to have been removed, it suggests the Redmond firm may have at least considered producing the accessory for the rival device. Other devices listed in the document include the Surface Pro range, Microsoft's HoloLens and multiple Lumia devices.
The presence of a battery inside the proposed iPad Touch Cover suggests the keyboard would function using Bluetooth as opposed to utilising the tablet's Smart Connector.
However, with very little information included in the post, it is unclear whether Microsoft plans to release the iPad Touch Cover - or whether it was simply considered and then scrapped.
As noted by Apple Insider, Microsoft has rebranded its Touch Cover as the Surface Type Cover – and the presence of the older name could be a hint that the reference is out-of-date.
Alternatively, with Apple only offering a smart keyboard for the iPad Pro, The Verge reasons that Microsoft could simply be targeting the base iPad which does not possess the Smart Connector.
24/07/2017
Apple releases iOS 10.3.3 for iPad
Apple has released iOS version 10.3.3 for iPad and iPhone, bringing a selection of security patches and bug fixes for apps such as Safari, Messages, Contacts and Notifications.
Available to install now, the latest iteration of the operating system does not offer any new features for devices, with Apple's major iOS 11 release expected in the autumn.
The Cupertino company only provided vague information in the update's release notes but, as revealed by Forbes, iOS 10.3.3 does include a number of new wallpapers for the 12.9-inch iPad Pro.
Amongst the security fixes, Apple Insider also reports that the update protects against the harmful Wi-Fi vulnerability known as Broadpwn - rated as 9.8 out of 10 in severity by the US National Institute of Standards and Technology.
Discovered by Exodus Intelligence security researcher Nitay Artenstein, the Broadpwn vulnerability allows hackers to access a device as it searches for a Wi-Fi connection, ultimately crashing the device.
Apple is due to release iOS 11 this autumn, with the next iteration expected to include an overhaul of the Control Centre, a new Files app, Siri improvements, a refreshed App Store and more.
iOS 11, which is now in its second public beta, does not currently have a release date.
01/06/2017
Apple steps up production on 10.5-inch iPad Pro
Apple has reportedly increased production on its upcoming 10.5-inch iPad Pro tablet, sources in the Taiwanese supply chain have told a publication, adding that shipments are set to top 600,000 units in July.
The figure is a considerable increase on the 500,000 estimated shipments in May, Digitimes reports, while annual shipments are predicted to reach 5 million.
Industry observers suggest that this could mean the tablet will hit the market in the coming weeks - with a possible unveiling at Apple's WWDC on 5 June.
As noted by MacRumors, the information appears to confirm a previous claim from KGI Securities analyst Ming-Chi Kuo who also suggested that there is a "greater than 70% chance" the tablet will debut at this year's WWDC.
In a "2017 WWDC highlights" report, the analyst also tipped the new 10.5-inch iPad Pro to have a similar form factor to 9.7-inch iteration.
"The newly designed 10.5in iPad Pro will have a similar form factor to the 9.7in model, but will feature a larger display thanks to narrow bezels," Kuo predicted. "The new design should improve the user experience and help gain traction in the corporate/ commercial sectors. We forecast 10.5in iPad shipments of 5.0-6.0m units in 2017F, accounting for 15% of total 2017F
iPad shipments."
07/04/2017
Apple launches cheaper 9.7-inch iPad
The long-rumoured iPad Pro 2 is yet to surface - but Apple has launched a new 9.7-inch tablet that targets users with a lower budget.
With prices starting from $329 (32GB), the new iPad is Apple's lowest-priced tablet on the market. Designed with casual users in mind, the company said the device delivers all the processing and graphics performance required for apps and games - whilst providing the battery power customers expect from the iPad range.
The new tablet runs on Apple's A9 processor chip and sports a Retina display with the same 2,048 x 1,536 resolution as the existing 9.7-inch iPad Pro iteration. Unlike its pricier siblings, however, the new configuration's screen is not fully laminated and lacks the anti-reflective coating that other models boast.
The device also trims down in the camera specs department, featuring an 8MP camera (1080p video) as opposed to the 12MP (4k video) version found on the 9.7-inch iPad Pro. Apple has also built two speakers into the tablet in contrast to the four found on the Pro model.
The new model does, however, replace the older, A8-powered iPad Air 2 device in the iPad line-up - which Apple has since pulled from its website.
Whilst the Cupertino company made no mention of the much-anticipated iPad Pro 2, Tech Times suggests the next-generation tablet could be unveiled sometime in April alongside a new iPad Mini 5.
15/03/2017
Apple to unveil new products next week?
Apple could be gearing up to announce new products as early as next week if the latest rumour proves accurate.
According to MacRumors, "reputable supply chain analysts" told the website that the new products are expected to be revealed between Monday 20th and Friday 24th March.
The sources asked to remain anonymous - but stated their information is from their own sources rather than originating from other reports.
The analysts did not specify which products would be unveiled - but the website notes these could include the long-speculated trio of new iPads.
Other sources - including renowned KGI analyst Ming-Chi Kuo - have previously predicted that Apple will release all-new 9.7-inch, 10.5-inch and 12.9-inch iPad models as part of a product refresh.
MacRumors also cites Japanese website Mac Otakara's recent predictions of a March event for the unveiling of the refreshed iPads, larger iPhone SE and new Apple watch bands. The website adds caution, however, noting that the media have not received invitations as yet - and Apple would be cutting it fine should one take place next week.
Three "plausible scenarios" are therefore put forward: a March event with invites rolling out soon, a more-general spring event - or Apple will unveil its new products during the suggested time frame via a press release.
22/02/2017: 12.9-In iPad Pro stock running low
The 12.9-inch iPad Pro is reportedly in short supply as Apple readies three refreshed models.
As noted by MacRumors, the estimated shipping time in the US, UK, Australia, Canada France, Germany and Japan has increased on the Apple website – estimating 2-3 weeks for its 12.9in range. The estimate previously stood at 1-2 weeks.
In many locations, the in-store pickup option also states that most of the larger iPad Pro devices are available for collection from 3-6 March. The same models are also largely out of stock on various reseller websites – whereas the 9.7in iteration continues to be stocked as usual.
However, MacRumors does also note that the shortage could be the fault of the supply chain, with Apple CEO Tim Cook previously admitting that the tech giant had "underestimated" iPad demand.
The company is rumoured to be gearing up to unveil three brand new iPads in 2017 – and a release as early as March has been touted by various industry observers.
Renowned Apple analyst Ming-Chi Kuo previously stated his belief that these will arrive in the form of a 12.9in iPad Pro 2, a lower-priced 9.7in version and a new 10.5in narrow-bezel, premium model.
08/02/2017: Apple stays at the top of the tablet market
Apple has remained the world's top tablet manufacturer despite an overall market decline in sales.
The market saw a 9% drop in shipments, according to research firm Strategy Analytics, with heavyweights Apple and Samsung suffering "double-digit declines" as the market looked to more affordable alternatives.
Apple ended Q4 2016 leading the way, boasting a 20.6% market share - but a decline of 19% over the same period of 2015. Rival Samsung was the second largest in the market with 12.8% - despite sales also taking a 10% hit over the previous year.
In its recent fiscal report, Apple said it sold 13.1 million iPads during the holiday quarter. Out of this total, however, research firm IDC reports that the company's iPad Pro flagship only accounted for approximately one out of every 10 tablets sold.
"The iPad Pro lineup made up only a small portion of overall shipments as the iPad Air 2 and Mini tablets continued to account for the majority of the shipments for Apple," the research firm reported. "For every 10 slate tablets shipped, Apple only sold one iPad Pro tablet."
IDC similarly estimated a large overall market decline (20%).
Ryan Reith, program vice president overseeing IDC's Worldwide Quarterly Mobile Device Tracker, said: "Typical tablets without a dedicated keyboard... are continuing to lose relevancy across all regions and, as a result, we see the decline happening globally.
"We do see future growth in some emerging markets like the Middle East & Africa as well as Central & Eastern Europe with the sole catalysts being simplicity and low cost. Unfortunately for the industry, these are the devices that don't equate to large revenues."
11/01/17
iPad Pro 2 amongst new tablets for 2017
Apple is planning to release three new iPad models this year, according to renowned analyst Ming-Chi Kuo.
As reported by MacRumors, Kuo laid out his expectations in a recent research report - revealing his belief that one of the new models will come in the form of a new 12.9-inch iPad Pro 2. It is also predicted that the other two tablets will consist of a "low-priced" 9.7-inch iPad as well as a 10-10.5-inch high-end, narrow-bezel model.
The 12.9-inch and 10-10.5-inch devices will ship with an A10X chip (TSMC), it is claimed, whereas the more affordable 9.7-inch iteration will come with an A9 chip (Samsung LSI).
Whilst iPad sales will continue to drop overall, Kuo says that the "worst has passed" for Apple. The analyst predicts the company can expect a smaller year-on-year decline of 10 percent for the coming year (compared with a 20% fall in 2016) - thanks to less exposure to the iPad Mini, a better product mix and improved production cost structure.
"The 10-10.5" model may see more demand from commercial/enterprises and tender markets," Kuo added, "while the low-priced 9.7" model may have a greater shipment contribution and likely account for 50-60% of total shipments of new iPads."
28/07/16
Apple revenue boosted by iPad Pro sales
Sales figures for Apple's iPad Pro helped boost the company's revenue in the third quarter of 2016, it has been revealed.
Results released by the company showed that, despite the number of units sold actually declining, the higher price of the iPad Pro meant revenues actually increased by 10 per cent since Q2.
Apple stated that 9.95 million iPads were sold in the quarter ending in June, marking a year-over-year decline of nine percent.
However, the higher-priced 9.7-inch and 12.9-inch iPad Pro devices meant that tablet revenue hit $4.9 billion – a significant increase over the $4.5 billion recorded in the corresponding quarter of 2015 and a seven percent increase year-over-year.
The iPad revenue growth bucks a long trend for Apple, after 10 quarters of decline since Q2 2014.
"We are pleased to report third quarter results that reflect stronger customer demand and business performance than we anticipated at the start of the quarter," Apple CEO Tim Cook said in a press release.
Apple also posted a significant growth in within its services business. Chief financial officer Luca Maestri added: "Our services business grew 19 percent year-over-year and App Store revenue was the highest ever, as our installed base continued to grow and transacting customers hit an all-time record.
"We returned over $13 billion to investors through share repurchases and dividends, and we have now completed almost $177 billion of our 250 billion capital return program."
Apple also posted total revenue figures of $42.4 billion for its third quarter, exceeding the $42.09 billion that had been expected.
07/06/16
New iOS 9 update for iPad Pro
Apple has released a new iOS 9 update for the 9.7-inch iPad Pro.
The update appears to have been designed to rectify the bricking issue that occurred upon installation of the original iOS 9.3.2 update, according to Mac Rumors.
The latest version – featuring build number 13F72 – is now available to download over the air on the smaller of the iPad Pro devices.
Apple recently cancelled its original iOS 9.3.2 update after receiving numerous reports that the tablets were displaying an "error 56" message after installation.
Affected customers were originally advised to contact Apple Support. Apple commented to Rene Ritchie of iMore: "We're looking into a small number of reports that some iPad units are receiving an error when updating the software.
"Those unable to restore their device through iTunes should contact Apple support."
However, with no fix available, many devices were simply replaced by the company. It was then announced the issue would be resolved "as quickly as possible."
Now, alongside the new update, Apple has released a support document for users upgrading their 9.7-inch iPad Pro from iOS 9.3 or iOS 9.3.1 – including step-by-step instructions for updating over the air or via iTunes.
Apple also states that users may need to set the time again once the device has updated.
Last month Apple released the latest iOS 9.3.3 beta update for iPhones, iPads and iPod Touch devices registered to test iOS pre-releases.
The 9.7-inch iPad Pro fix means this beta –which had so far not been available to users of the smaller tablet due to the bricking issue – may now become available to device owners.
25/05/16
Surface Pro outsells iPad Pro in Q1
Microsoft's Surface Pro series outsold Apple's iPad Pro in the first quarter of 2016, according to The Register.
24/05/16
iPad Pro update shelved
The latest system update for the 9.7-inch iPad Pro has been pulled by Apple following reports the update was breaking devices.
The recently released iOS 9.3.2 had been designed to fix system bugs for the iPad, IPhone and iPod.
However, some 9.7-inch iPad Pro owners reported that the update was causing more issues and "bricking" their devices. The Independent reports that the affected users "seem to have updated their iPads 'over the air', rather than by connecting them to a computer."
Apple has now announced they are currently working on solution to the problem. They said: "We're working on a fix for an issue impacting a small number of iPad units that are receiving an error when trying to update the software.
"We'll issue an update as quickly as possible."
Users reporting the issue received an "Error 56" message after the update had downloaded and were instructed to connect their device to iTunes. However, the solution did not work for many.
Apple had initially responded to the complaints by instructing users to contact support.
They said: "We're looking into a small number of reports that some iPad units are receiving an error when updating the software. Those unable to restore their device through iTunes should contact Apple support."
It is not the first time Apple has had to pull updates for its devices. Several versions of iOS9 were re-released after various issues and an iOS 9.3 update for iPad 2 was also shelved due to bricking issues.
9 to 5 Mac suggests it is "likely Apple will re-release iOS 9.3.2 for the relevant models soon."
15/05/16
Improved iPad Pro smart cover in the pipeline?
Apple has been granted a patent for a new iPad Smart Cover, boasting a selection of potential new features.
The patent hints at future iPad Pro devices possibly sporting a second display, solar panels and a built-in keyboard.
A secondary display on upcoming iPad Pro models would provide extra functionality to the tablet – enabling text notifications when the iPad is closed and even doubling up as a touch/drawing pad when combined with the Apple Pencil.
The abstract for the patent – originally filed in August 2011 - summarises: "A tablet device with a flexible cover is disclosed. Thin flexible display technology can be integrated into the flexible cover without affecting the overall form factor of the cover or tablet device.
"Adding the integrated display to the flexible cover greatly enhances the overall functionality of the tablet device."
This could mean that the next-generation iPad Pro could come with a "setup officially sanctioned by Apple and which is comparable to the manner in which several laptops work currently," according to Yibada.
The patent goes on to state that tablet accessories "can be improved" by including features such as a power source, a communications protocol, an input method and an independent storage medium.
It also states that the inclusion of solar panels "spread across the surface" of a cover accessory could extend the amount of time the device can be used between recharging.
The inclusion of a battery and "small amount of storage space" could also enable the accessory to continue operating at a low level even when detached from the tablet.
05/05/16
iPad Pro leads the way in detachables market
The iPad Pro is beating Microsoft "at its own game", a new report has found.
According to market research firm IDC, first quarter figures for 2016 show the Apple devices to be making quick gains on its Surface Pro rivals in the detachable market.
IDC announced the findings in a recent report - titled "Apple Beats Microsoft at Their Own Game" – and stated that the iPad Pro has taken an "impressive lead".
Senior research analyst Jitesh Ubrani said: "Microsoft arguably created the market for detachable tablets with the launch of their Surface line of products.
"With the PC industry in decline, the detachable market stands to benefit as consumers and enterprises seek to replace their aging PCs with detachables.
"Apple's recent foray into this segment has garnered them an impressive lead in the short term, although continued long-term success may prove challenging as a higher entry price point staves off consumers and iOS has yet to prove its enterprise-readiness, leaving plenty of room for Microsoft and their hardware partners to re-establish themselves."
It was also concluded that this was purely down to the sales of the iPad Pro and that iPad Air and iPad Mini sales were not contributing factors. Jitesh Ubrani told Foxnews.com: "This quarter they were number one. The growth [for iPads] is coming solely from iPad Pros."
IDC said that more than 4.9m detachables were sold in the first quarter of 2016, whilst overall tablet sales declined by 14.7 percent to 39.6m units.
Apple's share of the overall market reduced to 25.9 percent (from 27.2) but continued to lead the way in terms of units sold – shifting 10.3m.
21/03/16
Apple launches 9.7-inch iPad Pro
Apple has unveiled a smaller version of its professional iPad Pro.The 9.7-inch iPad Pro has a number of technologies borrowed from its bigger sibling, such as True Tone, which uses new four-channel sensors to dynamically adjust the white balance of the display to match the light around. The Retina display is 25 percent brighter and 40 percent less reflective than previous iPad displays.
Find the latest news and updates about the new iPad Pro here.
11/03/16
March 21 confirmed for Apple launches
Apple has confirmed an event will be taking place on 21 March, when the new iPad is expected to launch.
02/03/2016
Apple to launch new iPad on March 21?
Apple looks like it's set to make a major change to its iPad line-up.
With very strong rumours that Cupertino will host an event on March 21 to launch possibly four new products, one of which will be a new iPad. It will be the first mid-sized iPad launch since October 2014.
According to 9to5Mac, a new iPad (which may be called iPad Air 3 or possible iPad Pro mini) will be the same size as the current iPad Air 2 but sport a smart connector for a smaller keyboard, Apple Pencil support and an A9X processor with 4GB of RAM. It will come in the same 32GB, 128GB Wi-Fi only and 128GB with Wi-Fi and mobile capabilities as the full-size Pro.
Like the iPad Pro, the new tablet will also feature quad stereo speakers and will have the same storage models and colour options as its bigger sibling. However, the new iPad is said to lack 3D Touch. But there could be a rear flash for improved photography as well as a 12-megapixal camera. It should also be capable of 4K recording. Prices are likely to start from £450.
The launch looks set to spell the end of the original iPad Air model and the iPad Mini 2. According to AppleInsider, stocks of some iPad models are running low with customers finding it difficult to lay their hands on stock ahead of the anticipated launch.
At the same event, it is expected that Apple will launch the iPhone 5se, which sports the same design as the iPhone 5s but with the innards of an iPhone 6s. Also expected are a few updates to the Apple Watch range including a Space Black watch with a Milanese loop, new Sport Band colours, and line of NATO-style nylon straps.
25/02/16
Apple not removing Pencil functionality
Apple has said it has no plans to permanently remove the Pencil accessory for the iPad Pro after recent iOS 9.3 betas removed the ability to navigate around iOS with the add-on.
In a statement reported by The Verge, Apple said: "Apple Pencil has been a huge hit with iPad Pro users, who love it for drawing, annotating and taking notes. We believe a finger will always be the primary way users navigate on an iPad, but we understand that some customers like to use Apple Pencil for this as well and we've been working on ways to better implement this while maintaining compatibility during this latest beta cycle. We will add this functionality back in the next beta of iOS 9.3."
03/02/16
iPad Pro clear winner in battle with Microsfoft Surface
The iPad Pro has been declared "the clear winner" in a recent battle of the tablets – including its beating Microsoft's Surface Pro, hands down.
According to latest figures from analyst IDC, the iPad Pro was the Christmas period's top selling detachable, surpassing Microsoft and other PC vendors.
"One of the biggest reasons why detachables are growing so fast is because end users are seeing those devices as PC replacements," says Jean Philippe Bouchard, research director, of tablets at IDC.
"We believe Apple sold just over two million iPad Pros while Microsoft sold around 1.6m Surface devices, a majority of which were Surface Pro and not the more affordable Surface 3. With these results, it's clear that price is not the most important feature considered when acquiring a detachable – performance is."
Apple's reign as market leader continued in 4Q15 though the company faced a -24.8 percent year-over-year decline. With the successful launch of the iPad Pro, the company was able to curb the decline in iPad revenues as its model mix shifted towards higher priced iPads.
27/01/16
iPad Pro can't stop falling iPad sales
Apple says it sold 16.1m iPad tablets in the last quarter of 2015, according to Apple's latest earnings report. This is well short of the 21.4m it sold in the same period in 2014, and short of the 18.2 million unit sales analysts had expected.
This equates to a 25 percent dip in sales in the Christmas shopping period that not even the iPad Pro could stop.
In fact, some say that quantities of the iPad Pro were limited after the device launched in November, which contributed to the problem.
Others believe that iPad sales have been hurt by the introduction of larger-screened iPhones.
There has been a shrinkage in the overall tablet market. An Accenture survey reports that the number of people who said they plan to buy a new TV or a tablet PC this year – 30 percent and 29 percent, respectively – also dropped from 38 percent last year for both device types.
20/01/16
OneDrive updated to work with the iPad Pro
OneDrive, Microsoft's cloud storage platform, has now been optimised and updated to work with the iPad Pro.
The update adds pressure sensitivity to PDF annotations within the app, and also introduces contextual support for 3D Touch and the Apple Pencil.
This means that when adding edits, users can draw lines of variable thickness, depending on how hard they press.
A litany of bug fixes and stability improvements has also been introduced with the update, which pushes the software to version 6.8.
19/01/16
iPad 2 may not be revealed till 2017
Manufacturing issues could delay the iPad Pro 2 until 2017, according to semiconductor specialists.
The reason for this, says Motley Fool, is that the iPad Pro's 16nm A9X CPU is still very large for a tablet, coming in at 14.7cm.
In order to squeeze out the performance boost necessary to justify a full refresh, the chip would need to be larger, more expensive and more taxing to the battery.
However, Taiwan Semiconductor Manufacturing – the company responsible for the production technology behind the A9X – had confirmed that it will be delivering a 10nm fabrication system around the start on next year.
This would allow Apple to fit twice as many transistors on a chip with roughly the same footprint as the A9X.
Because of this, Motley Fool claims, Apple is going to forgo its usual annual upgrade cycle with its tablet range and release new iterations every two years instead.
The report cites the fact that a new iPad Air, last updated in 2014, is expected in the first half of this year, having skipped 2015 entirely.
As iPads are currently a shrinking market, and not as central to the company's business as the iPhone, this release model would see a new iPad Air and a fresh iPad Pro released in alternate years.
07/12/15
iPad Pro "only reason" Apple will gain tablet market share
IDC's latest Worldwide Tablet Market Forecast estimates tablet sales will to decline in 2015, detachable tablets will continue to represent a growing portion of total shipments.
Further, IDC sys the iPad Pro is the only reason why Apple will gain tablet market share in the coming years among business users.
"The transition to detachable tablets also ushers in two other key trends: the growth of Windows and a turnaround for Apple's iPad device line," explains Jitesh Ubrani, senior research analyst, Worldwide Mobile Device Trackers.
"Though early reviews for the iPad Pro have been mixed, we believe the Pro to be the only reason for Apple to gain tablet market share in the coming years as they target select enterprise and prosumer audiences. At the same time we expect Windows-based devices – slates and detachables combined – to more than double its market share by 2019, driven by a combination of traditional PC OEMs as well as more household smartphone vendors."
27/11/2015
iPad revenue etimated at $2.4bn
The iPad Pro could have a $2.4bn near-term revenue potential, according to RBC Capital Markets.
The firm estimates that Apple will earn $200 profit on every iPad Pro sold, based on the assumption that Apple can sell roughly three million iPad Pro units (which have an average selling price of roughly $800) in the first three months from the tablet's November 11 release.
If Apple is able to sell that many units of the 12.9-inch iPad Pro, the device would account for roughly half of the $5.2bn in iPad sales analysts are forecasting for the second quarter, according to FactSet.
16/11/15
iPad Pro: first impressions
The iPad Pro, Apple's long-awaited jumbo-sized tablet, was finally released this week.
The company is positioning it as the ultimate all-in-one device, with CEO Tim Cook stating in a Telegraph interview that when people start using it, they will "conclude they no longer need to use anything else".
We had a look at the new tablet, to see whether or not Apple's new device really can do it all. The first thing that strikes you is the sheer size of the thing – at 12.9in, it's the size of many laptops. Of course, it's as slim, sleek and well-made as you'd expect for an Apple product, but it's still taken something of a hit on the portability front.
It's carrying a little extra weight compared to older iPads, thanks again to the increased size. It's not overweight by any means, but it's significant enough that carrying it around for any length of time is likely to get tiresome.
It's also effectively nixed some of the old-school input methods, too. Older tablets like the iPad Mini - and even the iPad Air to a certain extent – could be held like a phone, using the thumbs for typing. Unfortunately, the sheer size of the iPad Pro makes this concept laughable.
In order to compensate for this, Apple has produced an official keyboard cover similar to the one seen on Microsoft's Surface range. Although it's sold separately – at £129 – it's being billed very much as an essential part of the package.
Apple's not wrong, either. An official keyboard cover has been the main thing missing from the iPad range since its inception, and it's the thing that finally gives it some weight as a legitimate business tool.
Aside from its mere existence, the keyboard has some useful features. The fact that it attaches via Apple's new 'smart connector' means that it doesn't need charging or Bluetooth. Most importantly of all, the full-size keyboard comes complete with a command button, so you can use Mac-style keyboard shortcuts for things like copy and paste.
However, it's not perfect. The keyboard itself has a weird fabric-style covering, which for us felt odd and uncomfortable to type on. It's also very thin, and while that ensures that the device maintains a nice svelte profile, it also means that the keys have next to no travel depth, which we found frustrating.
The other major addition in terms of input mechanisms is the new Apple Pencil. After much pleading from fans, the company has released a stylus, targeted primarily at creatives and people that want to jot down quick notes.
As we're not particularly artistic, it's unlikely that we got the full benefit from the Pencil, but what we did notice was spectacular latency and pressure sensitivity. Aside from the lack of friction, it felt surprisingly close to using a physical pencil and paper.
Once again, though, it's not an unmitigated success. The fact that there's no physical hardware buttons – as there are on the Surface Pen – means that erasing mistakes requires switching to a different tool and back again. It's a quick task, but after doing the same thing instantly at the push of a button with the Surface Pro 3, we found it to be a mis-step.
The screen is – as expected – gorgeous. Images are a joy, and we're sure that artists will love it for the justice it does their creations. Movies are also represented well – not only is the retina screen great to look at, but the speakers at each corner of the device pump out deep, rich sound.
Performance is excellent, too. The A9X chip and 4GB of RAM Apple has stuffed into the Pro ensures that not only can it handle anything you'd care to throw at it now, it'll likely remain on top form for a fair few years to come.
In terms of software, it's a little more backwards in some respects. It's running iOS 9, and while this is Apple's most advanced and capable software to date, it's definitely not designed for laptop-style use.
The home screen, for example, feels like a waste of all that space, as app icons are scaled up and spaced out, rather than allowing you to fit more on one screen. The split-screen feature does come into its own here though, as it allows you to use two apps with absolutely no compromising on scaling or detail.
On balance, we'd have loved to see Apple offering the iPad Pro with an option to have a touch-enabled El Capitan as the OS, or possible dual-booting the two. However, failing that, it's now largely up to app developers to make the most of the Pro's considerable strengths.
The iPad Pro is an undeniably great device, and we were impressed by the brief time we had with it. Overall, though, we suspect that it will struggle as a professional device due to a lack of fine-grained enterprise functionality and stiff competition from Windows 10-based hybrids.
9/11/15
It's coming! Apple today confirmed that the iPad Pro will be available to order online this Wednesday, November 11 from Apple.com and will arrive at Apple's retail stores, select carriers and Apple Authorised Resellers starting later this week. (Retail chain Sam's Club had already let slip that the iPad Pro is set for release on November 13.)
"The early response to iPad Pro from app developers and our customers has been incredible, and we're excited to get iPad Pro into the hands of customers around the world this week," says Philip Schiller, Apple's senior vice president of worldwide marketing, in a release.
"iPad Pro is the most powerful iPad we've ever made, giving users the ability to be even more creative and more productive with the epic 12.9-inch Retina display, powerful 64-bit A9X chip and groundbreaking Apple Pencil and new Smart Keyboard. We can't wait to see what they do with iPad Pro."
iPad Pro release date
The iPad Pro was released alongside the iPhone 6s and 6s Plus in September 2015, but didn't go on sale until 11 November 2015. It is now available to buy directly from Apple online or in store, and can also be bought at other major electronics retailers Apple works in partnership with.
iPad Pro Price
The iPad pro costs from £679 for a 32GB WiFi-only version up to £899 for a 128GB WiFi and cellular model. All prices include tax (VAT) and there is no variation in price by colour.
iPad Pro features
Apple appears to have taken a couple of leaves out of Microsoft's Surface book (no, not that one). The big headline features for the iPad Pro are the addition of a stylus and keyboard cover, dubbed the Apple Pencil and Apple Smart Keyboard respectively.
The Pencil will allegedly let users "touch a single pixel", and is rechargeable, connecting directly to the device's Lightning port. The Smart Keyboard attaches via a Surface-style connector on the side, and features a full-size keyboard and stand.
Both are be sold separately and UK customers can expect to pay £79 for the Apple Pencil and £139 for the Smart Keyboard.
Complementing the larger 12.9in display, this appears to be Apple's attempt to bridge the gap between its iMac and iPad ranges, enabling both creatives and business professionals to get more done with their tablets.
The iPad Pro also features four speakers – a first for Apple's mobile devices. This reportedly delivers much better volume and sound quality, and automatically adjusts the output based on the device's position and orientation.
Naturally, it's also packing a Touch ID sensor in the home button, but we doubt the massive size will be conducive to using it with the company's Apple Pay technology.
iPad Pro specs
Apple is competing primarily with the recently released Surface Pro 4 with its latest tablet, and is pulling out the big guns as a result. The iPad Pro is powered by an A9X CPU, which is an updated version of the A8X chip seen in the iPad Air 2.
Apple claims the new processor is 1.8 times faster than its predecessor, with double the memory bandwidth and storage performance. More impressively, the company also asserts that the iPad Pro is faster than 80 percent of portable PCs, with better performance in graphics benchmarks than 90 percent.
The iPad Pro will naturally be well-outfitted in the graphical department, and has a 12.9in panel with a retina display resolution of 2732 x 2048 pixels. The larger amount of screen real-estate will be put to good use thanks to iOS 9's split-screen multitasking, allowing users to run two separate full-size apps on the same display.
The battery life will reportedly be in the region of 10 hours, partially thanks to the fact that the device can automatically scale down its refresh rate when there's little screen activity, allowing it to conserve power.
As expected from Apple, the iPad Pro's dimensions are predictably svelte. It weighs just 710g, almost 100g lighter than Microsoft's Surface Pro 3, and is the same thickness as the iPhone 6s, despite its much larger screen.
iPad Pro verdict
Consumers and professionals alike have been clamouring for a larger iPad model for years, and the iPad Pro looks to deliver on their hopes. However, it's aiming for a market segment that's being hotly contested by the likes of Microsoft, Lenovo and others.
On its own merits, it appears to be a gorgeous and perfectly capable device, but whether it succeeds in becoming the productivity and mobility tool it apparently wants to be in the face of stiff competition remains to be seen.
Apple (NASDAQ:AAPL) has unveiled a smaller version of its professional iPad Pro, which succeeds the iPad Air 2.
The 9.7-inch iPad Pro has a number of technologies borrowed from its bigger sibling, such as True Tone, which uses new four-channel sensors to dynamically adjust the white balance of the display to match the light around. The Retina display is 25 percent brighter and 40 percent less reflective than previous iPad displays.
Stay up to date with the latest Channel industry news and analysis with our twice-weekly newsletter
Dan is a freelance writer and regular contributor to ChannelPro, covering the latest news stories across the IT, technology, and channel landscapes. Topics regularly cover cloud technologies, cyber security, software and operating system guides, and the latest mergers and acquisitions.
A journalism graduate from Leeds Beckett University, he combines a passion for the written word with a keen interest in the latest technology and its influence in an increasingly connected world.
He started writing for ChannelPro back in 2016, focusing on a mixture of news and technology guides, before becoming a regular contributor to ITPro. Elsewhere, he has previously written news and features across a range of other topics, including sport, music, and general news.
Stay up to date with the latest Channel industry news and analysis with our twice-weekly newsletter
Thank you for signing up to Channel Pro. You will receive a verification email shortly.
There was a problem. Please refresh the page and try again.